Indiana Jones 5 stars and creators celebrate the Academy Award-Winning Composer, John Williams, on his 90th birthday at Star Wars Celebration.
This weekend is Star Wars Celebration 2022 in Anaheim, California. Fans from across the world have traveled across the street of Disneyland, to the Anaheim Convention Center, to celebrate their love and fandom of a galaxy far, far away. In honor and celebration of the franchise, Disney and Lucasfilm are bringing exclusive panels and making some major news announcements in regards to what is next in the franchise, as well as other Lucasfilm projects like Williow, and Indiana Jones 5.
Indiana Jones 5 Celebrates John Williams
RELATED: Thirsty Thursday 5/25 – Obi-Wan Kenobi and The Menacing Sith
Indiana Jones 5 brings back Harrison Ford in his classic fedora and whip on another outing as the famed archaeologist, Indiana Jones. His fifth big-screen adventure is being directed by James Mangold and produced by Kathleen Kennedy and Frank Marshall. This week at Star Wars Celebration, the film's team surprised audiences with a first look at the film and also celebrated the 90th birthday of legendary Academy-Award Winning Composter, John Williams. Williams will compose the score for the fifth film, as he did the previous four. The fifth Indiana Jones film is set to release in theaters on June 30, 2023. Which is only a mere 13 months away.
There are still two days left of Star Wars Celebration 2022 and a lot left to look forward to outside of Indiana Jones 5. We are at the convention celebrating with fans from across the galaxy, being in jaw-dropping awe at the incredible cosplayers, exhibitors, and general love of the franchise from everyone there. Even those who show up in Star Trek attire. Be sure to follow us on our social media, especially Twitter, Instagram, and TikTok to hear all the latest news, see all the latest products, and watch some intergalactic hijinks all weekend long. We'll also live stream a bit here and there to share the experience with fans who couldn't make it.
RELATED: Andor Official Key Art and Trailer Release from Disney+ at Star Wars Celebration 2022
Indiana Jones 5 (wt) will release on June 30, 2023.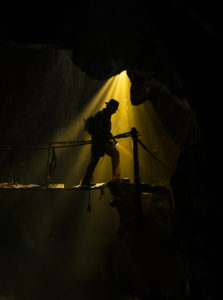 About Indiana Jones 5
Release: June 30, 2023
Director: James Mangold
Executive Producer: Steven Spielberg
Producers: Kathleen Kennedy, Frank Marshall, Simon Emanuel
Cast: Harrison Ford, Phoebe Waller-Bridge, Mads Mikkelsen, Antonio Banderas, Boyd Holbrook, Shaunette Renee Wilson, Thomas Kretschmann, Toby Jones

Description:
Harrison Ford returns to the role of the legendary hero archaeologist for this fifth installment of the iconic franchise. Starring along with Ford are Phoebe Waller-Bridge ("Fleabag"), Mads Mikkelsen ("Fantastic Beasts: The Secrets of Dumbledore"), Antonio Banderas ("Pain and Glory"), Boyd Holbrook ("Logan"), Shaunette Renee Wilson ("Black Panther"), Thomas Kretschmann ("Das Boot") and Toby Jones ("Jurassic World: Fallen Kingdom"). Directed by James Mangold ("Ford v Ferrari,"), Kathleen Kennedy, Frank Marshall and Simon Emanuel serve as producers, with Steven Spielberg as executive producer. 
Are you excited for a fifth Indiana Jones movie? Do you believe it will be better than the fourth one? WIll there be any references or acknowledgment of the fourth film? How surprised do you think fans were to see Harrison Ford appear at Star Wars Celebration? What other surprises do you think we'll learn about at Star Wars Celebration 2022? Let us know what you think in the comments below and be sure to follow our social media to see what's going on in the Anaheim Convention Center this weekend.
Source: Lucasfilm
KEEP READING: Star Wars Micro Galaxy Squadron – Jazwares Will Showcase New Star Wars Microscale Vehicle Line at Star Wars Celebration 2022