For our first Thirsty Thursday, we present a double feature in celebration of Star Wars Celebration and the premiere of Obi-Wan Kenobi
Welcome to Thirsty Thursday, I am your Mix Master Kevin Fenix and I will be sharing my recipes for some nerd-inspired cocktails. These drinks are meant to be consumed responsibly and not in excess. If you do happen to do something unwanted or worse under the influence, that is all on you. That being said, these recipes are to celebrate our many fandoms and be a unique offering to your next get-together, gathering, game night, etc. Also, it is to promote ROKiT Drinks who provide a majority of our spirits. So check out the recipes, make them yourself, and be sure to share your experiences with us.
Without further adieu, here are this week's drinks inspired by Obi-Wan Kenobi and Star Wars Celebration.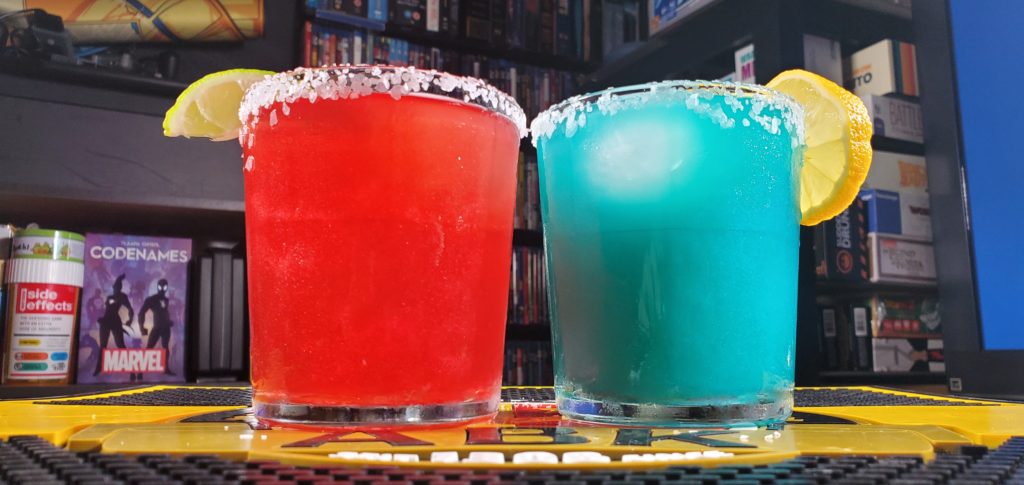 RELATED: New Funko Star Wars Celebration Exclusives 2022
The Sith (for Star Wars Celebration 2022)
The Sith is my dark take on a Paloma. It has Tequila, Whiskey, Grenadine, and Grapefruit Soda served in a Rocks Glass lined with Margarita Salt. You can dye the salt black for a little extra umph, but that's a long process I wasn't willing to do. I initially thought about using Absolut, because only Siths deal in absolutes. But they are not a sponsor and I felt dark liquors should be used for the dark side. Plus I really like tequila. In this particular recipe, I used Teramana, as ROKiT did not provide me with Tequila, and I am a big fan of Dwayne Johnson and his numerous beverages. Check how it's made in the video below.
Ingredients :
2oz Teremana Reposado Tequila
1oz ROKiT Whiskey
1oz Grenadine
4oz Grapefruit Soda
2 Lime Wedges
Salt Rim
Instructions:
Rub a lime wedge around the rim of a rocks glass
Dip rim of the rocks glass into salt to coat
Place ice in the rocks glass and mixing cup
Pour tequila
Pour whiskey
Pour grenadine
Pour grapefruit soda
Mix
Strain and pour into rocks glass
Garnish with a lime wedge
RELATED: Bandai Namco Toys & Collectibles Awesome Star Wars Celebration 2022 Line-Up
The OB1 (inspired by Obi-Wan Kenobi)
My second favorite Jedi, Master Obi-Wan Kenobi, is finally getting more of his story told. Tonight at midnight fans around the world will be able to watch the first two episodes of Obi-Wan Kenobi on Disney+, and what better way to enjoy the series than with a cocktail inspired and named after it. Mainly, it was always in the plan to make a red and blue cocktail. As blue is a really weird color for food, and because it also works with the whole motif of the force, I used light spirits to maintain the Blue Curacao and Light Side of the force. Teremana Tequila Blanco, ROKiT Gin, Blue Curacao, and Pineapple Juice because I love pineapple juice.
Plus, dual lemon wedges represent the dual suns of Tatooine. Let's also say the salt on the rim is for the sand of the planet to really hone in the Obi-Wan Kenobi theme.
Ingredients:
2oz Teremana Tequila Blanco
1oz ROKiT Gin
2oz Blue Curacao
4oz Pineapple Juice
3 Lemon Wedges
Salt Rim
Instructions:
Rub a lemon wedge around the rim of a rocks glass
Dip rim of the rocks glass into salt to coat
Place ice in the rocks glass and mixing cup
Pour tequila
Pour gin
Pour blue curacao
Pour pineapple juice
Mix
Strain and pour into rocks glass
Garnish with lemon wedges
*Note, added dust to make the drinks sparkle for camera/presentation. 0 effect on taste.
The Sith & The OB1 Inspired by Obi-Wan Kenobi & Star Wars Celebration
RELATED: Star Wars Micro Galaxy Squadron – Jazwares Will Showcase New Star Wars Microscale Vehicle Line at Star Wars Celebration 2022
That's it for this edition of Thirsty Thursday. As a reminder, drink responsibly and we are in no way accountable for the actions you take. But otherwise, we hope you enjoy these cocktails and share them with your friends and loved ones. Be sure to watch and check out our numerous programs where we will be consuming these drinks, like We're Always Watching, our various Twitch Streams, and also just subscribe to our YouTube Channel if you just want the video and not read the entire story of the drink. And you can always follow my personal account to see what non-nerd-related recipes I concoct.
Are you going to try to make your own OB1 for the Obi-Wan Kenobi premier? Or maybe just try one after having a Sithy day. Let us know what you think about the drinks in the comments below and be sure to share and tag us on social media when you make the drinks.
KEEP READING: Obi-Wan Kenobi Stars Ewan McGregor And Moses Ingram Talk About Jedi School Stunt Training