The first episode of Ms. Marvel is about to release on Disney+, and The Illuminerdi had the privilege to attend the virtual press conference for the show, which had series directors Adil El Arbi, Billal Fallah, Meera Menon, and Sharmeen Obaid-Chinoy in attendance, alongside Iman Vellani, Rish Shah, Yasmeen Fletcher, Matt Lintz, Mohan Kapur, Zenobia Shroff, and Saagar Shaikh with Kevin Feige, Bisha K. Ali, and Ms. Marvel co-creator Sama Amanat joining them.
During the press conference, director Sharmeen Obaid-Chinoy was asked about balancing the family's story with its superhero elements. The Academy Award-winning director answered that it, first and foremost, was about letting the world know how cool the South Asian culture really is.
Director Sharmeen Obaid-Chinoy on Sharing South Asian Culture in Ms. Marvel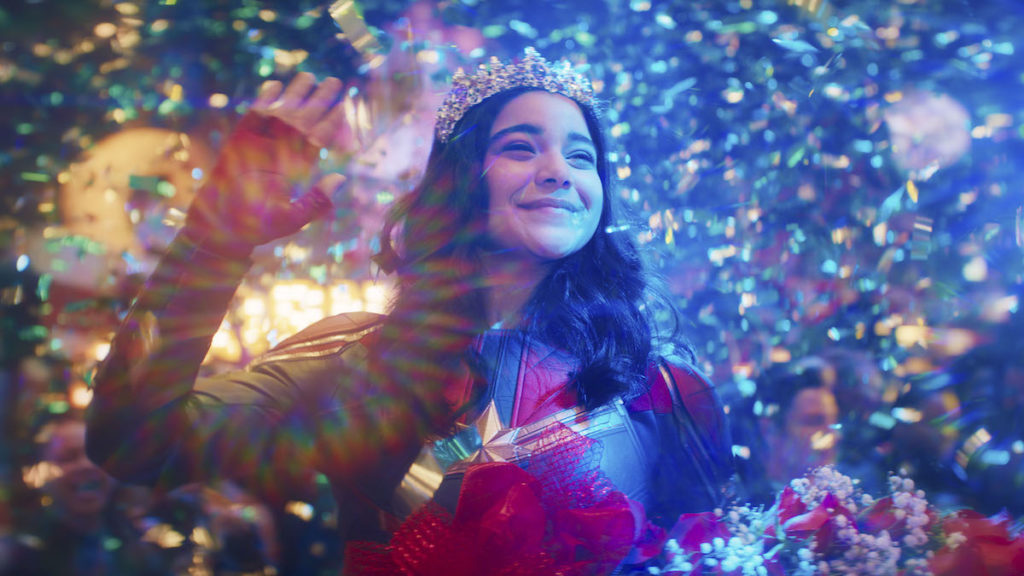 "I think it was about letting the world into the secret that the South Asian culture is pretty freakin' cool. Our food, our music, the parents' relationship with the kids. I wanted to make it cool so that anybody watching it would be like, 'That was my argument with my mom when I wanted to go out!' And she's like,' There are going to be boys there! Stay home.' And make it such that anyone watching beyond the Muslim world or South Asian immigrant families could see a reflection of themselves on screen.

And the superhero part was just that I always believe that everyone has a superhero in them. They just have to activate it. Telling this story is going to change so much for so many people. Because I have two young girls, and I know that when they see Kamala Khan, they too will know that they can also be a superhero."

Sharmeen Obaid-Chinoy, Director of Ms. Marvel

RELATED: Iman Vellani Explains How Ms. Marvel Stands Out From Other Legendary MCU Heroes
When asked about what audiences could expect from Ms. Marvel and Kamala Khan (Iman Vellani)'s journey from the beginning of the show to the end, Obaid-Chinoy mentioned that the main character is going to go through an important journey where she will fully become a superhero, instead of imitating Brie Larson's Carol Danvers/Captain Marvel, the superhero in which the character idolizes.
"I think that in searching for her identity, Kamala Khan is going to go on this journey to reconnect with her family and to understand why it's so important for her to tell her own story. And to craft that story and to feel that she could be that superhero she always wanted to be, except that it would be her being the superhero as opposed to emulating someone else and on that journey of discovery. We, as an audience, are going to go on what I can safely say is going to be a thrill."

Sharmeen Obaid-Chinoy, Director of Ms. Marvel
RELATED: Here Is Why Ms. Marvel's Powers Were Changed For Her New Live-Action Series
The first episode of Ms. Marvel will release on Disney+ on June 8th. Created by Bisha K. Ali, and directed by Adil El Arbi, Billal Fallah, Meera Menon, and Sharmeen Obaid-Chinoy, the series will star Iman Vellani, Matt Lintz, Yasmeen Fletcher, Zenobia Shroff, Mohan Kapur, Saagar Shaikh, Rish Shah, Fawad Khan, Arian Moayed, Alysia Reiner, and Aramis Knight.
What do you think? Will Ms. Marvel open up to a side of the MCU we've never seen before? Will Iman Vellani become the next big star? Let us know in the comments below and be sure to follow us on Twitter!
KEEP READING: Ms. Marvel Episode Titles Have Seemingly Been Uncovered In New Social Media Reveal