We're one month away from seeing Ms. Marvel on Disney Plus, or "Purple Lantern" as many fans would say. The changes in Ms. Marvel's powers and origin have invited confusion and controversy to the Marvel fandom, as if that's anything new, anyway, Kevin Feige finally shed some light on the situation, no pun intended.
It would appear that Kevin Feige and Ms. Marvel's head writer, Bisha K. Ali, opted to take a loose approach to adapt the 2014 comic book run by G. Willow Wilson and Adrian Alphona.
RELATED: MS. MARVEL EPISODE TITLES HAVE SEEMINGLY BEEN UNCOVERED IN NEW SOCIAL MEDIA REVEAL
It's not uncommon for Marvel to divert from comic-book accuracy in favor of more originality or creative liberty. Avengers Age of Ultron, Captain America: Civil War, and most recently Moon Knight among other things dared to change things up a bit. Though I can admit that some of them were met with more successful results than others, we'd never know how the metaphorical dice will roll for Ms. Marvel until we see for ourselves.
Why Is She "Purple Lantern"?
Ever since we saw the leaked promotional art and trailers, fans have been quite vocal about seeing Ms. Marvel have cosmic purple light-based powers similar to DC's Green Lantern instead of her traditional "embiggening" powers that allow her to stretch almost like fellow Marvel hero, Mister Fantastic. Her powers were also of Inhuman origin in the comics, she acquired them after being exposed to Terrigen Mist. Now Ms. Marvel will have a very different story in the MCU, Feige makes that starkly clear.
"We adapt the comics; it's not an exact translation, Kamala came about in a very specific time within the comic-book continuity. She is now coming into a very specific time within the MCU continuity. And those two things didn't match. What we will learn about where those powers come from, and how they come about, is specific to the MCU. You will see great comic splash panels in some of our action sequences. If you want big, giant hands and arms, well they're here in spirit, if not in stretchy, plastic-type ways."

– Kevin Feige
Another reason for this major change was to forge a stronger link with Carol Danvers/Captain Marvel and Monica Rambeau/Spectrum/Photon.
"It taps into the future of her story as it connects to her other friends that she will meet in the upcoming film The Marvels. She's interested in knowing, 'Great, does that mean I'm an Asgardian? Did I get hit with gamma rays?' No, it's seemingly none of those things. It goes to her own past and her heritage and lineage."

– Kevin Feige
No Inhumans, No Problem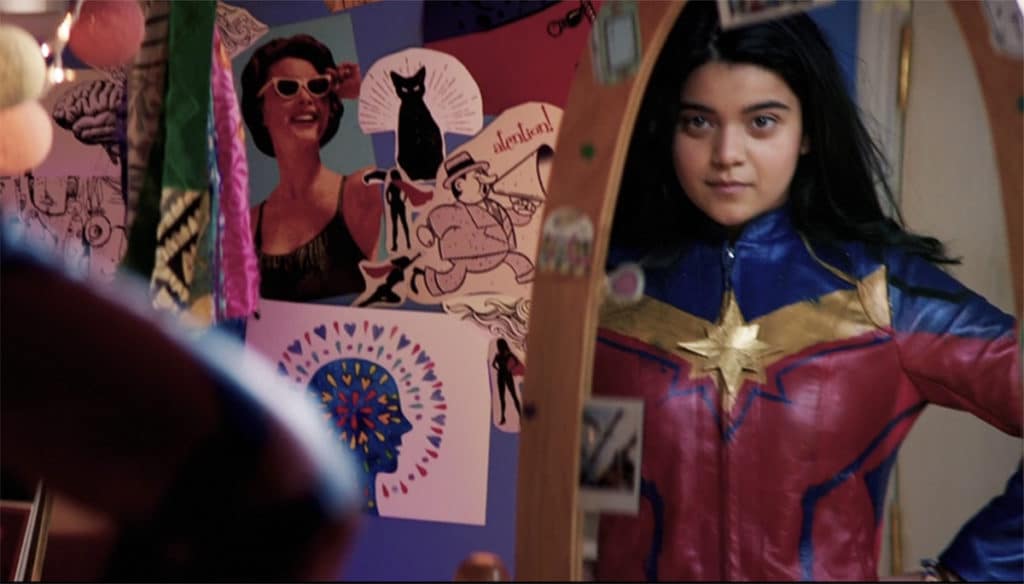 I understand what Feige was saying and I actually agree. The only way to do justice to the source material would be to establish a solid connection to Inhumans, which the MCU does not have as of right now. There were attempts to introduce Inhumans to the MCU with Agents Of Shield and Inhumans on ABC. Both of them failed horrendously. Agents of Shield is no longer canon due to issues regarding continuity, as for Inhumans, that's just the disappointing bastard child Marvel wants to disown.
RELATED: MS. MARVEL: INTRIGUING NEW INFORMATION ON 2022 RESHOOTS AND EPISODE RUNTIMES REVEALED
Apart from the hero-worship, I personally never understood why Kamala Khan called herself Ms. Marvel when her powers were drastically different from Carol Danvers. Then again, it's not like she had many options to choose from. Embigenning Girl does not sound right and I highly doubt that Sue Storm would be happy about a teenage superhero calling herself "Ms. Fantastic".
Do you welcome this change? Do you think they should've stuck with comics? Let us know in the comments below and don't forget to check out Ms. Marvel on Disney Plus on June 8th, 2022. If you're like what you read we're more than happy to keep up to date with more Marvel content like this. Follow us on Twitter or Facebook so you don't miss a thing.
KEEP READING: WHO WILL BE ON THE MCU'S EXCITING YOUNG AVENGERS ROSTER?
Source: Empire