Morbius may be the worst movie to bring back to the theaters, and fans were having a blast with all the memes on Twitter.
The vampiric Spider-Man spin-off is Sony Pictures latest super-sonic speed side story that was meant to sprawl out the smaller characters related to Peter Parker, but to no avail.
RELATED: REEXAMINING THE ALLEGEDLY ATROCIOUS TALE OF MORBIUS AFTER WEEK 2 AT THE BOX OFFICE
While the web slinger is off having fun in the MCU, the Sony Spider-Man Universe has served as a place where the studio can profit from this portfolio of Marvel names without touching base on the Marvel Studios canon – or at least not too much for its own good.
What Went Wrong With Morbius?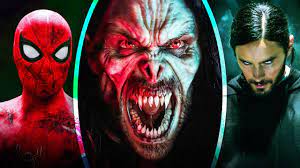 The first two Venom films were huge financial successes, while Morbius came out with a bummer of an all-time low. The film was critically panned upon its initial release in April and went on to do dismal business at the box office as well.
Memes started circling around Twitter causing the fans to show their enthusiasm for the movie. Fans wanted to push Sony to make a move and put the movie back in theaters for some as yet unknown reason.
ComicBook confirmed that after Morbius' viral social media campaign, Jared Leto headed back to pick over 1,000 select theaters worldwide starting on Friday, June 3rd. Obviously, the news about this stunned many fans. It made sense to use this publicity to release again. Sony Pictures used this wave of interest in the movie to make a little bit more money. Morbius did decent at the ticket window, so now is the chance for Sony to make their money back.
A potential Morbius 2 could be in the works. Despite the film setting up a future for Michael Morbius, it's not a stretch to say not a lot of fans are wishing for more of him from this corner of Sony's Spider-Man Universe.
The studio will hopefully see that these calls are not genuine and for them to pursue a sequel would be a mistake. Now that Sony has seen the meme it has created, they will do anything to make a dollar now and it would not be at all surprising if they were to revisit Leto's character again on the big screen.
Morbin' time has come to a close, as fans still can't believe Sony released Morbius to theaters again. We enjoyed all the memes from Twitter, and we cannot be more grateful that fans continue to add to it. Why anyone would want to see a sequel to this movie, though, remains an unfathomable question. The moments we didn't like were some of the transitions and the CGI was kind of notably wonky.
Hopefully Sony takes into consideration that they need to take their time with editing and their computer work. Overall, laughing at the film now and when it first came out due to fans not being excited for it when it first became an idea. Also, it would make more since to have this movie come out before Spider-Man: No Way Home due to the post credit scene set up. We hoped to see Vulture return as his role but he cameoed in Morbius instead and they both decide to team up against the web slinger himself.
What can we expect from Sony now that they released this movie for a second time? Will they make a sequel to Morbius or not? Let us know down in the comments below or on our social media!
KEEP READING: JURASSIC WORLD DOMINION REVIEW – THE BEST FILM SINCE THE 1ST JURASSIC PARK
Source: ComicBook