It's an exciting month, with numerous tentpole films arriving in June 2022. A heavy load of new movies are coming to theaters, streaming platforms, and video on demand in June that we should not miss. These movies cross a wide plethora of genres, that includes action, romance, drama, comedy, adventure, fantasy, sci-fi, horror, and thrillers.
In June 2022, streaming services are piled with an exciting line-up of films. On Netflix, Interceptor; Hustle; Spiderhead; and The Man From Toronto are releasing. On Dinsey+, Hollywood Stargirl, and Rise; on HBO Max, Father of the Bride; on Paramount+, Jerry & Marge Go Large; and on Hulu, Fire Island, and Good Luck to You, Leo Grande will be released. And Cha Cha Real Smooth will release on Apple TV+ & in limited theaters simultaneously.
The intriguing VOD releases of the month are Watcher; White Elephant; Unhuman; Dinner in America; The Righteous; Small Town Wisconsin; The Lost Girls; Murder at Yellowstone City; Press Play; and Doula. Some of these are having a limited theatrical release as well.
MCU's Doctor Strange in the Multiverse of Madness, which was released in May, is the current highest-grossing movie of the year, as it crossed $912M worldwide so far, topping DC's The Batman which was released in March. Top Gun: Maverick which was released in May became a blockbuster hit and it already made more than $580M.
Films that are set to release exclusively in theaters in June are Crimes of the Future; Jurassic World Dominion; Lightyear; Elvis; and The Black Phone. Crimes of the Future will be having a limited theatrical release only. Lightyear will be Pixar's first exclusively theatrical release since Onward, as their recent movies Soul, Luca, and Turning Red have been released on Disney+ skipping theatres.
The summer season tentpole movies coming in June are Universal's Jurassic World Dominion and Pixar's Lightyear. Both Jurassic World Dominion and Lightyear are among the highly anticipated movies of 2022. Both films belong to big blockbuster franchises so they will be having the biggest box office this month.
Check out the synopses and release dates for these new movies below.
NEW MOVIES TO WATCH OUT FOR IN JUNE 2022
Hollywood Stargirl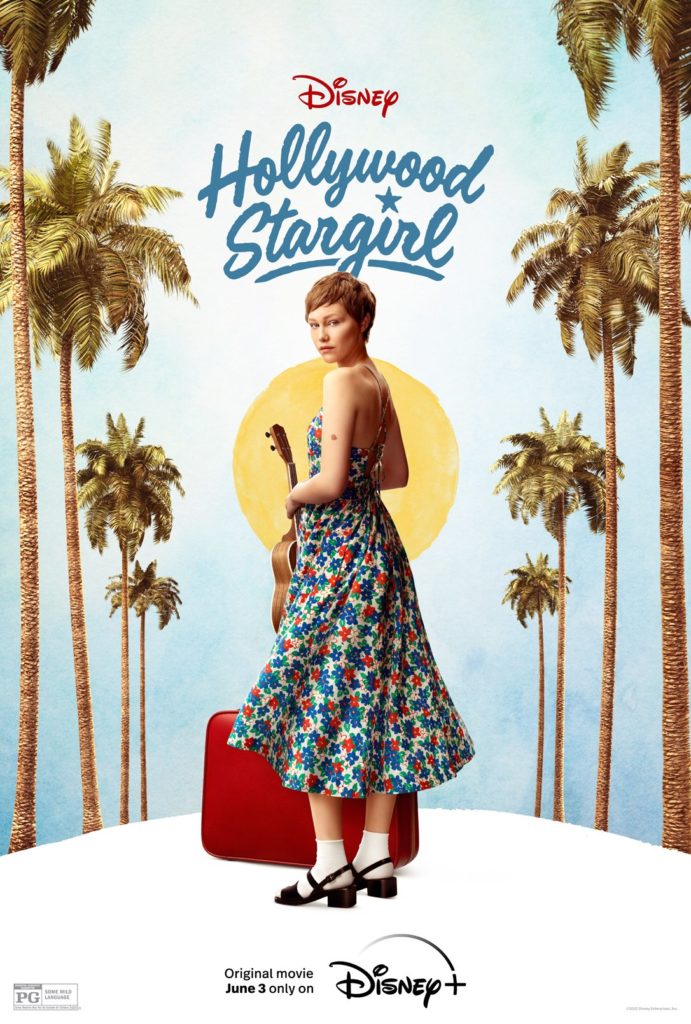 Hollywood Stargirl is a Disney+ teen romantic drama film directed by Julia Hart from a screenplay that she co-wrote with Jordan Horowitz. The film is a sequel to the 2020 Disney+ charming film Stargirl, which was in turn based on Jerry Spinelli's novel of the same name; it is not an adaptation of the novel's sequel Love, Stargirl.
The film stars Grace VanderWaal reprising the title role, Judy Greer, Elijah Richardson, Tyrel Jackson Williams, Al Madrigal, Judd Hirsch, Sarayu Blue, Chris Williams, Nija Okoro, Sara Amini, Heather Grace Hancock, and Uma Thurman. Judy Greer replaces Sara Arrington as Ana, Stargirl's mother.
Synopsis: The story follows Stargirl Caraway's (VanderWaal) journey out of Mica, Arizona, and into a bigger world of music, dreams, and possibilities. When her mother Ana (Greer) is hired as the costume designer for a movie, they relocate to Los Angeles and meet new friends. They include aspiring filmmaking brothers Evan (Richardson) and Terrell (Williams); Mr. Mitchell (Hirsch), one of Stargirl's neighbors; and Roxanne Martel (Thurman), a musician Stargirl admires and encounters on her journey.
RELATED: HOLLYWOOD STARGIRL DIRECTOR EXPLAINS WHY THEY DIDN'T DIRECTLY ADAPT THE SECOND BOOK FOR THE NEW SEQUEL
The film premiered on May 23, 2022, in Los Angeles and is set to be released on Disney+. The first film received a positive response from both critics and the audience. It so far holds a 100% Rotten Tomatoes score based on 11 reviews, showing that the sequel is equally or even more charming than the first one, with praise for the lead actress, director, and story, making this a must-watch film.
Hollywood Stargirl Disney+ release date: June 3, 2022
Crimes of the Future
Crimes of the Future is Neon studio's body horror film written and directed by David Cronenberg. The film has the same title as a 1970 film by Cronenberg but it is not a remake of that film. It marks Cronenberg's return to the science fiction and horror genres for the first time since eXistenZ (1999).
It stars Viggo Mortensen, Léa Seydoux, Kristen Stewart, Scott Speedman, Welket Bungué, Lihi Kornowski, Tanaya Beatty, Yorgos Karamihos, Yorgos Pirpassopoulos, Nadia Litz, Ephie Kantza, Denise Capezza, Sozos Sotiris, and Don McKellar.
Cronenberg is known as the King of Venereal Horror or the Baron of Blood, as he is one of the principal originators of the body horror genre, and his return to this genre will be exciting to watch. This is the 4th film that Cronenberg collaborated with Viggo Mortensen.
The film premiered at the 2022 Cannes Film Festival on May 23, where it was in competition for the Palme d'Or and received a six-minute standing ovation. It so far holds a 78% RT score based on 161 reviews with praise for its theme, the director, and the cast.
The R-rated horror was released in France on May 25 and is now scheduled to be released in limited theatres in the US. Fans of the horror genre and particularly fans of Cronenberg, should not miss this movie.
Read our review for Crimes of the Future below!
RELATED: CRIMES OF THE FUTURE REVIEW: DAVID CRONENBERG'S BODY HORROR RETURN IS PASSABLE
Crimes of the Future (in limited theatres) release date: June 3, 2022
Interceptor
Interceptor is Netflix's original action-adventure drama directed by Matthew Reilly from a screenplay that he co-wrote with Stuart Beattie. The film had a short theatrical release in Australia on 26 May 2022, the week before its worldwide Netflix release. This film is worth a watch for action lovers.
The film stars Elsa Pataky and Luke Bracey, Mayen Mehta, Rhys Muldoon, Belinda Jombwe, Marcus Johnson, Colin Friels, Riley Dandy, Zoe Carides, and Aaron Glenane. It so far holds a 45% RT score based on 33 reviews.
Synopsis: The tough and reality-bruised Captain JJ Collins (Pataky) finds herself in charge of a lone nuclear missile interceptor base in the middle of the Pacific Ocean after she is wrongfully drummed out of her dream job at the Pentagon. When a simultaneous coordinated attack then threatens the base itself, Collins comes face-to-face with the charismatic yet crooked Alexander Kessel (Bracey), a former US military intelligence officer intent on carrying out an unthinkable plan. With only minutes on the clock, Collins must utilize her years of tactical training and military expertise to determine who she can trust and stop Kessel and his covert mercenaries from completing their twisted and terrible mission.
Interceptor Netflix release date: June 3, 2022
Fire Island
Fire Island is Hulu's original romantic comedy film directed by Andrew Ahn and written by and starring Joel Kim Booster, inspired by Jane Austen's Pride and Prejudice. Bowen Yang, Conrad Ricamora, James Scully, Matt Rogers, Tomás Matos, Torian Miller, Nick Adams, Zane Phillips, Michael Graceffa, Aidan Wharton, Peter Smith, Bradley Gibson, and Margaret Cho co-star in the film.
Synopsis: Set in the iconic Pines, the film is an unapologetic, modern-day rom-com showcasing a diverse, multicultural examination of queerness and romance. Inspired by the timeless pursuits from Jane Austen's classic "Pride and Prejudice," the story centers on two best friends (Booster and Yang) who set out to have a legendary summer adventure with the help of cheap rosé and their cadre of eclectic friends.
It is distributed by Searchlight Pictures and will be released on Hulu in the US, Disney+ via Star in international territories, and on Star+ in Latin America. The R-rated comedy so far has a 94% RT score based on 80 reviews with praise for its cast and themes.
Fire Island Hulu release date: June 3, 2022
Watcher
Watcher is IFC Midnight's mystery thriller film directed by Chloe Okuno in her feature film debut, from a screenplay by Zack Ford. The film stars Maika Monroe, Karl Glusman, Madalina Anea, Daniel Nuta, Cristina Deleanu, Tudor Petrut, and Burn Gorman.
Synopsis: Julia (Monroe), a young actress from America, moves to Bucharest with her boyfriend Francis (Glusman). Unable to speak the language, isolated while Francis works, and in fear of a local serial killer, she begins to perceive that she is being constantly watched and followed by a sinister neighbor.
It premiered at the 2022 Sundance Film Festival on January 22. Later, IFC Midnight and Shudder acquired the North American distribution rights to the film. Shortly after, AGC International sold worldwide rights outside North America to Focus Features.
Maika Monroe is known for her work in the horror genre and she has been deemed a scream queen. The R-rated film so far holds an 86% RT score based on 108 reviews with praise for the director and the lead actress. It is scheduled to be released in limited theatres in the US and through VOD on June 3. This is a must-watch film for thriller and horror genre fans.
Watcher (VOD & in limited theatres) release date: June 3, 2022
White Elephant
White Elephant is RLJE Films and AMC+ action thriller directed by Jesse V. Johnson and written by Johnson and Erik Martinez, based on a story by Johnson. It stars Michael Rooker, Bruce Willis, Olga Kurylenko, Josef Cannon, Eric Buarquem, Lauren Buglioli, Lorenzo Antonucci, Louie Ski Carr, Michael Rose, Chris Cleveland, and John Malkovich.
Synopsis: When an assassination attempt is witnessed by two cops, Gabriel Tancredi (Rooker), an ex-marine turned mob enforcer, is ordered by his ruthless mob boss, Arnold Solomon (Willis) to eliminate any and all threats. But Tancredi breaks his code of conduct to save Vanessa (Kurylenko), a police officer. With an eager underling out to prove himself, rival gangs making moves, and a rising body count, every step Tancredi makes threatens lives…including his own.
This is the 2nd film that Bruce Willis has teamed up with Michael Rooker, previously they starred in Corrective Measures, which was released on the Tubi streaming service on April 29, 2022. Director Johnson and stars Willis, Rooker, and Olga Kurylenko are well known for their action flicks.
White Elephant is scheduled to be released in limited theatres in the US and on-demand simultaneously. This is one of the last films to star Bruce Willis as he retired from acting. This action flick is worth a watch for action lovers and for the sake of seeing Willis, Rooker, and Kurylenko together in kick-ass mode.
White Elephant (VOD & in limited theatres) release date: June 3, 2022
Unhuman
Unhuman is Epix and Blumhouse Television's horror flick directed by Marcus Dunstan and written by Patrick Melton and Dunstan. Jason Blum serves as executive producer. It so far holds a 60% RT score based on 15 reviews with some enjoying it and some not, so it depends on the individual. This brutal survival film releases digitally on June 3.
Unhuman features Brianne Tju, Ali Gallo, Drew Scheid, Benjamin Wadsworth, Uriah Shelton, Blake Burt, Lo Graham, Lucy Burvant, Tony Danno, Dana Wing Lau, Joshua Mikel, Angel Lia Spitale, C.J. LeBlanc, and Peter Giles.
Synopsis: The dead will have this club for breakfast. Blumhouse Television and EPIX bring you the story of a high school field trip gone bloody awry. Seven misfit students must band together against a growing gang of unhuman savages. The group's trust in each other is tested to the limit in a brutal, horrifying fight to survive and they must take down the murderous zombie creatures… before they kill each other first.
Read our review for Unhuman below!
RELATED: UNHUMAN REVIEW: FUSES GOOSEBUMPS, EUPHORIA, SAW & WORLD WAR Z BUT SOMEHOW WORKS
Unhuman VOD release date: June 3, 2022
Dinner in America
Dinner in America is Best & Final Releasing's coming-of-age dark comedy-drama written, directed, and edited by Adam Carter Rehmeier. It stars Kyle Gallner, Emily Skeggs, Griffin Gluck, Pat Healy, Mary Lynn Rajskub, David Yow, Hannah Marks, Nick Chinlund, Shelby Alayne Antel, Brittany Sheets, Sophie Bolen, and Lea Thompson.
The plot follows a reckless punk rock singer (Gallner) on the run from the cops who finds sanctuary in the home of an awkward young woman (Skeggs) obsessed with his band. After unexpectedly crossing paths they fall in love and go on an epic journey together through America's decaying Midwestern suburbs.
The film premiered at the Sundance Film Festival on January 24, 2020, as part of the U.S. Dramatic Competition, and it also won a few awards at other film festivals. It was released in select theatres in the US on May 27, 2022. It received universal acclaim from critics for its energy and the performances of the leads. The comedy-drama currently holds a 91% RT score based on 75 reviews. Now it is scheduled to be released through video-on-demand.
Dinner in America VOD release date: June 7, 2022
Hustle
Hustle is Netflix's original sports drama film directed by Jeremiah Zagar, from a screenplay by Taylor Materne and Will Fetters. LeBron James and Adam Sandler produced this film.
The film stars Adam Sandler, Queen Latifah, Juancho Hernangómez, Ben Foster, Jordan Hull, Heidi Gardner, María Botto, Ainhoa Pillet, Anthony Edwards, Kenny Smith, and Robert Duvall. Additionally, NBA players Boban Marjanović, Trae Young, Jordan Clarkson, Khris Middleton, Aaron Gordon, Kyle Lowry, Seth Curry, Tobias Harris, Tyrese Maxey, and Matisse Thybulle also have a role.
Synopsis: Stanley Sugerman's (Sandler) love for basketball is unparalleled, but the travel-weary Philadelphia 76ers scout who has higher ambitions of being a coach remains stuck on the road looking for the next unknown talent. His search around the world leads him to Spain when he discovers Bo Cruz (NBA player Juancho Hernangómez), an incredible streetball player with a troubled past. Stanley and Bo connect on and off the court, with their passion for the game and as loving family men who want to prove they can win, in basketball and life. With the support of Stanley's wife, Teresa (Latifah), can the underdogs come out on top?
Hustle was released in select theaters on June 3, 2022, and is scheduled to be released on Netflix on June 8. The R-rated basketball movie so far holds a 90% RT score based on 78 reviews with praise for the cast and story. This is a must-watch film for all audiences.
Hustle Netflix release date: June 8, 2022
Jurassic World Dominion
Jurassic World Dominion is Universal Pictures' sci-fi action-adventure thriller directed by Colin Trevorrow, who wrote the screenplay with Emily Carmichael, based on a story by Trevorrow and his writing partner, Derek Connolly. It is the sequel to Jurassic World: Fallen Kingdom (2018), the sixth and final installment in the Jurassic Park franchise, the final film in the Jurassic World trilogy, and the conclusion to the storyline started in the original Jurassic Park trilogy. As with its predecessors, Frank Marshall and Patrick Crowley produced the film with Trevorrow and Jurassic Park (1993) director Steven Spielberg acting as executive producers.
The film stars an ensemble cast including Chris Pratt, Bryce Dallas Howard, Laura Dern, Jeff Goldblum, Sam Neill, Isabella Sermon, BD Wong, Omar Sy, Justice Smith, and Daniella Pineda reprising their roles from previous films in the franchise, and this time they are joined by DeWanda Wise, Mamoudou Athie, Campbell Scott, Scott Haze, Kristoffer Polaha, Elva Trill, and Dichen Lachman. Dern, Goldblum, and Neill reprise their roles from the Jurassic Park trilogy, appearing together for the first time since the 1993 film.
The film is set four years after the events of Fallen Kingdom, and dinosaurs are now living alongside humans around the world. The concept of dinosaurs in the outside world along with humans will be very intriguing. The film's musical score was composed by Michael Giacchino, who scored the previous Jurassic World films. Colin Trevorrow co-wrote all films in the new trilogy but he directed only the first film, now he is back in the director's chair for Dominion.
Synopsis: Experience the epic conclusion to the Jurassic era as two generations unite for the first time. Jurassic World Dominion is a bold, timely, and breathtaking new adventure that spans the globe. From Jurassic World architect and director Colin Trevorrow, Dominion takes place four years after Isla Nublar has been destroyed. Dinosaurs now live–and hunt–alongside humans all over the world. This fragile balance will reshape the future and determine, once and for all, whether human beings are to remain the apex predators on a planet they now share with history's most fearsome creatures.
Trevorrow directed a short film titled Battle at Big Rock which is the first live-action short film in the franchise and was released in September 2019. A five-minute prologue of the film was released in June 2021, attached to Universal's F9 film. Trevorrow initially intended for this footage to act as the film's first five minutes, before deciding to remove it from the final cut. The footage was later released online, as a standalone short film and prologue to promote Jurassic World Dominion. The prologue sets up a present-day rivalry between the two animals, as clones, in the main film.
Jurassic World Dominion is one of the biggest tentpole movies of this year so it will be having a huge box office. Its two predecessors had a massive box office gross. The excitement level for this film is tremendous not just because it is one of the biggest franchises but also because it is the culmination of this franchise and also has the old cast and the new cast together. The trailers for this film were great.
Jurassic World Dominion premiered in Mexico City on May 23, 2022. The film was previously set for release on June 11, 2021, but it was delayed due to the pandemic. The film began its theatrical rollout on June 1, 2022, starting in Mexico and South Korea. So far it holds an 88% RT score based on 8 reviews. It is scheduled to be theatrically released worldwide on June 10. This is a must-watch film for everyone.
Read our review for Jurassic World Dominion below!
RELATED: JURASSIC WORLD DOMINION REVIEW – THE BEST FILM SINCE THE 1ST JURASSIC PARK
Jurassic World Dominion release date: June 10, 2022
The Righteous
The Righteous is Vortex Media's psychological mystery thriller drama directed, written, and executive produced by Mark O'Brien. The film stars Henry Czerny, Mimi Kuzyk, Mark O'Brien, Kate Corbett, Mayko Nguyen, and Nigel Bennett.
Synopsis: A unique and darkly engaging spiritual thriller, strikingly shot in black and white, The Righteous tells the story of Frederic Mason (Henry Czerny) and Ethel Mason (Mimi Kuzyk) a former priest and his wife who are grieving the death of their adopted daughter. Frederic struggles with his faith. He helps an injured young man, Aaron Smith (O'Brien) who stumbles onto his property one night, claiming to be lost in the woods. Frederic and Ethel, invite the man to stay for the night, but Frederic soon begins to have doubts about this enigmatic stranger's story — and his motives for being there. When Aaron asks Frederic to commit an unspeakable deed, it becomes clear that the man is not who he seems, and has been sent to test the very limits of Frederic's existence.
The film premiered at the 2021 Fantasia Film Festival where it won Best Screenplay. It was subsequently picked up for streaming distribution in Europe by Arrow Films, while North American distribution will be handled by Vortex Media. It holds a 92% RT score based on 36 reviews with praise for the director and the cast. The film is set to be released on VOD.
The Righteous VOD release date: June 10, 2022
Small Town Wisconsin
Small Town Wisconsin is Quiver Distribution's comedy-drama directed by Niels Mueller and written by Jason Naczek. Alexander Payne and Jinhua Yang served as executive producers of the film. It stars David Sullivan, Kristen Johnston, Bill Heck, Tanya Fischer, Cooper J. Friedman, Braden Andersen, Leah Joy Gayle, Alyssa Davis, Lily Knight, and David Sapiro.
Synopsis: After losing a custody battle, perpetual teenager Wayne Stobierski (Sullivan) steals his son away for one last father-son weekend to the city of their dreams — Milwaukee, Wisconsin. What's supposed to be a light-hearted adventure, transforms into a journey of profound redemption.
The film premiered at the Sarajevo Film Festival in August 2020. It so far holds an 80% RT score based on 5 reviews with praise for the director, cast, and the story. The film is scheduled to have a limited theatrical release on June 3, 2022, and then a VOD release on June 10.
Small Town Wisconsin VOD release date: June 10, 2022
Father of the Bride
Father of the Bride is HBO Max's original romantic comedy directed by Gaz Alazraki and written by Matt Lopez, based on the 1949 novel of the same name by Edward Streeter. Produced by Warner Bros. Pictures, it is scheduled to be released on June 16 by HBO Max in the US, by Warner Bros. Pictures in regions where the streamer is unavailable, and on Binge streaming service in Australia.
The film stars Andy García, Gloria Estefan, Adria Arjona, Isabela Merced, Diego Boneta, Pedro Damián, Enrique Murciano, Macarena Achaga, Ana Fabrega, Matt Walsh, and Chloe Fineman.
Synopsis: You are enthusiastically invited to the love, the food, the music, and the fun of "Father of the Bride," a modern rom-com updated from the timeless classic. A father's coming to grips with his daughter's upcoming wedding through the prism of multiple relationships within a big, sprawling Cuban-American clan. This sparkling story of a family and its unbreakable bonds illustrates the surprising and funny ways the heart can adapt in the name of love.
Father of the Bride HBO Max release date: June 16, 2022
For more June 2022 movies, check the second page!