Guile makes his triumphant return in Street Fighter 6.
Featured during the Summer Game Fest 2022 showcase, Capcom and Street Fighter 6 reveal Guile as the fifth character of the game's roster. Guile joins the ranks of Chun-Li, Ryu, Luke, and Jamie who were the first four members of the roster revealed during the previous PlayStation State of Play broadcast. Guile is no stranger to the franchise and was most recently part of Street Fighter 5. But it is always a more satisfying feeling when it's official. Especially since there were times when Charlie would appear in his stead. Watch the official reveal trailer for absolute confirmation.
Street Fighter 6 Guile Reveal Trailer
Guile is bringing much of his classic move set in Street Fighter 6. His trusty Sonic Boom, Somersault Kick, and Solid Punchers continue his legacy of intensity and power. But, this old dog also has some new tricks. Players can challenge themselves to pull off each of his high-powered attacks with the Classic Control Type or jump straight into the action with the brand new, simplified Modern Control type. There is always the option of button mashing as well, no one will judge you. Check out some of Guile's moves in the stills and list below.
RELATED: Nickelodeon All-Star Brawl's Free New Update Adds Full Character Voice-Over and Battle Items
Guile Move List (Partial)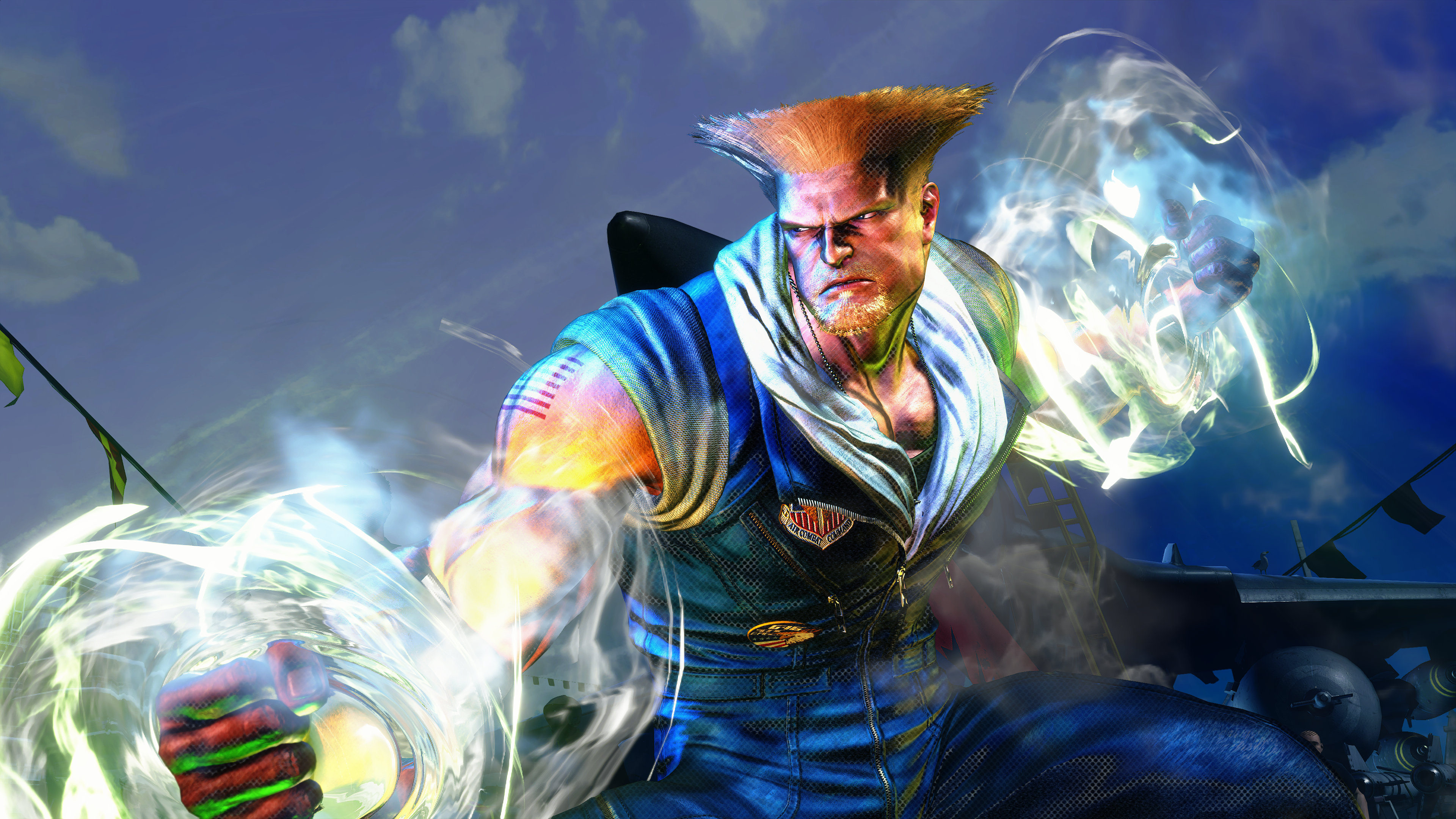 Somersault Kick (Flash Kick) – The classic backflip kick
Sonic Boom – Guile's main projectile ability
Sonic Blade – A stationary aerial slash
Sonic Hurricane – A massive aerial slash that lands directly ahead or diagonally upwards
Solid Puncher – Fires a flurry of small Sonic Boom projectiles
Crossfire Somersault – A brand new Super Art that fires a massive aerial slash followed by a devastating Somersault Kick
RELATED: Here Are the Free Games Coming to PlayStation Plus in June 2022!
Guile continues to be a powerhouse of a character who has the ability to keep opponents at a distance or pound in some punches and booted kicks in close quarters. When Guile utilizes the drive system, splatterings of green and yellow paint will cover the stage, harkening to his original color scheme and look. The OG green tank top, camo pants, and pristine blonde flat top. Fans will get to replay Guile's old moves and experience his new ones when Capcom's Street Fighter 6 come out next year.
Street Fighter 6 launches worldwide on PlayStation®5, PlayStation®4, Xbox Series X|S and PC in 2023
About Street Fighter 6
Release Date: 2023
Genre: Fighting
Engine: RE Engine
Developer: Capcom
Publisher: Capcom
Series: Street Fighter
Platforms: PlayStation®5, PlayStation®4, Xbox Series X|S and PC
Rating: Rating Pending

Description:
Powered by Capcom's proprietary RE ENGINE Street Fighter 6 spans three distinct game modes including Fighting Ground, World Tour and Battle Hub. The experience also includes innovative new gameplay features, plus enhanced visuals for every aspect of the game. With more ways than ever to play, Street Fighter 6 has something for everyone – new and old fans alike – and will be ready to take on all contenders when it launches in 2023 on PlayStation®5, PlayStation®4, Xbox Series X|S and PC.
Are you hyped for Guile's return in Street Fighter 6? Do you also think it looks like Guile is wearing a denim romper? Will the game finally utilize his flat top as a base to strike with all four limbs at once? Let us know what you think in the comments below and share what other characters you hope to return with us on Twitter.
Source: Capcom
KEEP READING: Teenage Mutant Ninja Turtles: Shredder's Revenge Unveil Casey Jones, 6-Player Co-Op, and Release Date