This Thirsty Thursday adds another alliteration at is it Turtles Thirsty Thursday as today we have a TMNT-inspired cocktail to celebrate the release of Teenage Mutant Ninja Turtles: Shredder's Revenge.
Welcome to Thirsty Thursday, I am your Mix Master Kevin Fenix and I will be sharing my recipes for some nerd-inspired cocktails. These drinks are meant to be consumed responsibly and not in excess. If you do happen to do something unwanted or worse under the influence, that is all on you. That being said, these recipes are to celebrate our many fandoms and be a unique offering to your next get-together, gathering, game night, etc. Also, it is to promote ROKiT Drinks who provide a majority of our spirits. So check out the recipes, make them yourself, and be sure to share your experiences with us by tagging us or using the hashtags #Illuminerdi & #illdrinks.
Without further adieu, here are this week's drinks inspired by my favorite TMNT movie and to celebrate the release of Teenage Mutant Ninja Turtles: Shredder's Revenge.
TGRI – inspired by TMNT II: Secret of the Ooze to celebrate the release of Teenage Mutant Ninja Turtles: Shredder's Revenge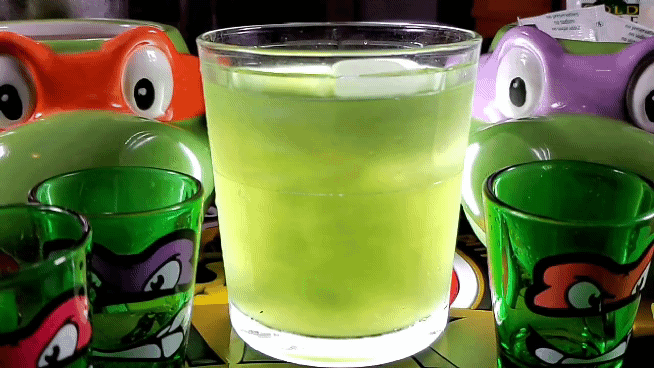 The TMNT has been my longest and, according to my wallet, my most dedicated fandom. Something about the Turtles just resonates with me to this day. Teenage Mutant Ninja Turtles II: Secret of the Ooze was the first movie I remember seeing in theaters. Something about Michelangelo yelling, "Combat cold cuts!" Raph being a little too Raph, and the "Ninja Rap" just makes it my favorite movie. Plus after playing Teenage Mutant Ninja Turtles: Shredder's Revenge, my shell was itching for more Turtles! Which inspired the TGRI.
RELATED: Thirsty Thursday 5/25 – Obi-Wan Kenobi and The Menacing Sith
TCRI, the Techno Cosmic Research Institute, is the creator of what is often referred to as "the ooze" in TMNT. The ooze is what doused the pet shop turtles and mutated them into teenage ninjas. It's a glowing green thick liquid that is a pretty big staple of the franchise. In Teenage Mutant Ninja Turtles II: Secret of the Ooze, TCRI was changed to TGRI, the Techno Global Research Institue, to remove the alien origin of the company and ooze. (Michael Bay's alien origin TMNT doesn't seem so weird now right?). Since the cocktail I concocted is green, why not just call it the ooze?
If anyone wants to call this drink The Ooze, I'm totally okay with it because I did consider it. However, as I took direct inspiration from the second live-action film, there is a bit more to TGRI than just being the makers of the ooze. TGRI is made up of Tequila, Gin, Rum, and Indica Infused Soda. Tequila, Gin, Rum, and Indica create TGRI. The acronym actually stands for the key ingredients of the drink. I thought it was clever and very layered, much like the flavors of the drink.
RELATED: Teenage Mutant Ninja Turtles: Shredder's Revenge Review [STEAM] – Pure Turtles Excellence
This is also my first time mixing a Cannabis-infused beverage with my cocktails, something I will likely start doing more of, so if you make them, send me some and I'll incorporate it into a nerd drink. Also, as you can see I have totally radical TMNT table, kitchen, and barware. If you would like your own set of TMNT Salt and pepper shakers, TMNT shots glasses, or TMNT candy bowls, well just click on the links over the words. Or just search on Amazon. But without further delay, the semi-satisfying ASMR video and recipe for the TGRI.
Ingredients:
1.5oz Teremana Tequila Blanco
1.5oz ROKiT Gin
1.5oz Spice Rum (give me your rum and you can be named here)
1.5oz Habit Sparkling Cannabis-Infused Kiwi Cooler
3oz Melon Liqueur
3oz Limeade
1.5oz Calamansi Juice
Instructions:
Premix Calamansi and Limeade
Place ice in a rocks glass and the mixing cup
Pour tequila
Pour gin
Pour rum
Pour Habit Sparkling Kiwi Cooler
Pour melon liqueur
Pour Calamansi and Limeade mixture
Mix
Strain and pour into rocks glass
*Note, added dust to make the drinks sparkle for camera/presentation. 0 effect on taste.
TGRI | A TMNT-Inspired and Cannabis-Infused Cocktail
RELATED: Teenage Mutant Ninja Turtles: Shredder's Revenge Offers 1 Free Pizza And More Epic Bonuses with Pre-Order
That's it for this edition of Thirsty Thursday. As a reminder, drink responsibly and we are in no way accountable for the actions you take. But otherwise, we hope you enjoy these cocktails and share them with your friends and loved ones. Be sure to watch and check out our numerous programs where we will be consuming these drinks, like We're Always Watching, our various Twitch Streams, and also just subscribe to our YouTube Channel if you just want the video and not read the entire story of the drink. And you can always follow my personal account to see what non-nerd-related recipes I concoct.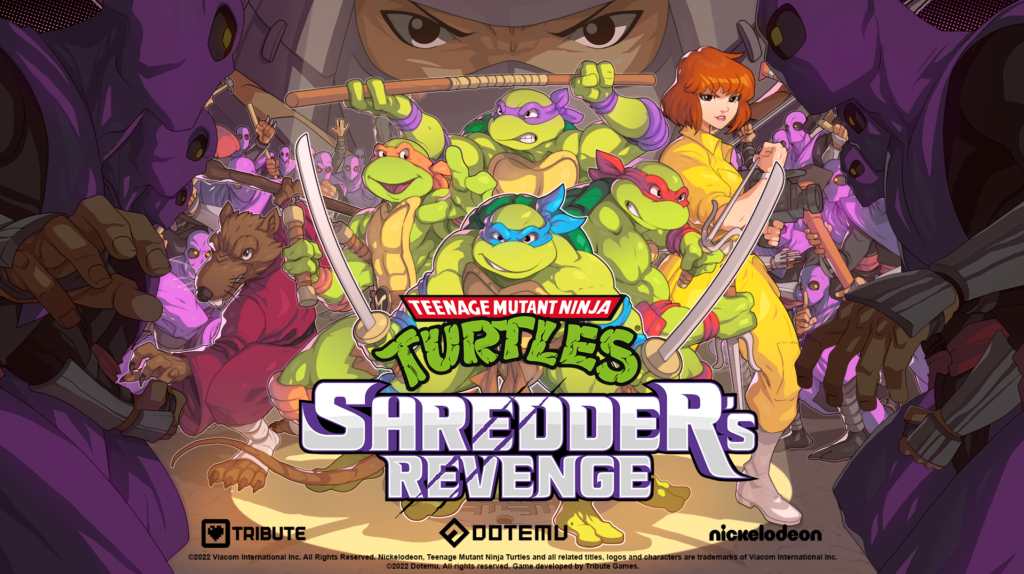 Are you going to try to make some TGRI to enjoy while you play Teenage Mutant Ninja Turtles: Shredder's Revenge? Do you already have your 6-person squad ready to take on Shredder and his hordes of Foot Soldiers? How many pizzas are you ordering? Let us know what you think about the drinks in the comments below and be sure to share and tag us on social media when you make the drinks and use the hashtags #Illuminerdi #illDrinks.
KEEP READING: TMNT: The Cowabunga Collection is Now Available for Pre-Order for Unknown 2022 Release