Twenty-six years after the release of Beavis and Butt-Head Do America, Mike Judge's iconic animated duo returns to Paramount+ with a brand new movie in Beavis and Butt-Head Do the Universe, which can be summed up as Judge's response to the plethora of multiversal films we have gotten over the past few years.
It's another film to add to this year's "Multiverse of Madness" roster with Everything Everywhere All At Once and Sam Raimi's Doctor Strange sequel. And the laughs start from the very minute our two protagonists (both voiced by Judge) appear in CGI form in a knock-off action sequence riffing on George Lucas' Star Wars to open the film.
RELATED: WHAT'S NEXT FOR AMERICA CHAVEZ AFTER DOCTOR STRANGE 2?
After destroying their school's gymnasium during its science fair, Beavis and Butt-Head are leniently sentenced to eight weeks at NASA Space Camp. Over at the camp, they are immediately attracted by a docking simulator with phallic subtleties. The two play around with the simulator for a whole night, imagining something else entirely while docking, which leads astronaut Serena Ryan (Andrea Savage) to believe that they are geniuses and will be able to perform the docking maneuver in space. 
Beavis And Butt-Head Do It For Real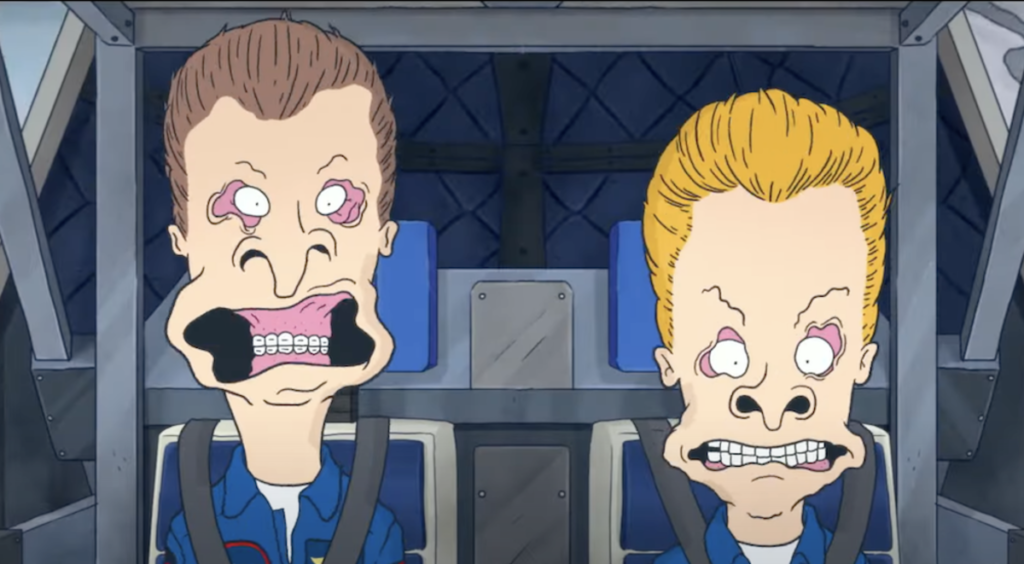 However, Beavis and Butt-Head believe Serena's invitation to "do it for real in space" means having sex in space, and a slew of misunderstandings ensue, ultimately leading to Serena stranding Beavis and Butt-Head in space. Unfortunately, she did not calculate that the protagonists would land in a black hole and transport themselves to 2022, where Serena is currently running for re-election as Texas governor.
When she learns of Beavis and Butt-Head's reappearance, she makes it her mission to kill them before the media finds out what happened during the space mission in 1998. 
And then, two alternate versions of Beavis and Butt-Head arrived, dubbed Smart Beavis and Smart Butt-Head, and are the weakest parts of the movie. The conceit of having Beavis and Butt-Head transport themselves to 2022, where they discover smartphones and misinterpret social issues like white privilege, was funny enough that they didn't need to shove in a half-baked subplot (and commentary) on multiverses and the current state of our content habits.
Unfortunately, whenever Smart Beavis and Smart Butt-Head appear, the movie stops dead in its tracks, trying to divert our protagonists to reach a portal, but the jokes don't land and feel completely out of place. Of course, the running gag is that the two ignore their alternate selves because they have no idea what they're talking about, but the movie would've been stronger without them.
Because the rest of the film is terrific–a classic Beavis and Butt-Head adventure with Judge's signature style of comedy (and animation) shining every ounce of the frame through and through. Unfortunately, the animation feels more televisual than Do America's authentic, hand-drawn style. Still, most of the jokes involving our protagonists land impeccably well that it's hard not to laugh at anything Beavis and Butt-Head do.
They're foolish, but their stupidity has a certain charm that makes everything they say (or do) immensely funny. Whether they're interpreting anything as an invitation to sex, completely missing the point of what white privilege is after being lectured by a tenured professor (Tig Notaro), or thinking Siri (Susan Bennett) is Serena telling them to go home, every single bit is as funny as the last, and progressively leads to a scene where Judge celebrates Beavis and Butt-Head's most incredible running gag and gives it a well-deserved payoff in the process.
Nothing is funnier than seeing Beavis consume a bag full of drugs at once and become The Great Cornholio. Judge's timing of Cornholio's iconic line ("T.P. for my bunghole"), which incites a prison riot, is brilliant and perfectly showcases Beavis and Butt-Head's comedic style, which deftly balances stupid and funny to an exciting degree. "T.P for my bunghole" is a silly line; Cornholio is a stupid, stupid alter ego.
Yet, every time Beavis takes a large amount of sugar, caffeine, or drugs, we know exactly what will happen, and it gets us every single time. But Cornholio represents the exact style Judge has always aimed for in his series and the previous film. So even if we find Beavis and Butt-Head stupid, and they certainly are, their coincidental antics will, at some point, make us laugh. There's no stopping the inevitable. Just enjoy the ride.
And while Beavis and Butt-Head Do the Universe isn't perfect, it is a better movie than the first and a non-stop laugh riot from start to finish. In these hectic times, sometimes all we need is a distraction and urgently unplug from our dire reality. Beavis and Butt-Head is the perfect cure, giving us a gratuitous amount of uncontrollable laughter through some of the stupidest, childish antics you'll ever see in your life.
And with a series revival coming our way shortly after the movie was released, we're in for a good run (once again) with Beavis and Butt-Head as they will attempt (and fail) to score again.
4/5
Beavis and Butt-Head Do the Universe is now available to stream on Paramount+.
KEEP READING: GREAT SCOTT! BACK TO THE FUTURE IS TRAVELING TO BROADWAY IN 2023!