Gas up your DeLorean and whip out your 1.21 gigawatts of power because Back to the Future is headed to Broadway in 2023! 
Via the official Twitter page, we received a brief teaser for the show with film leads Marty McFly and Doc Brown in the DeLorean, as well as a link to the website where you can be notified when tickets go on sale. Check it out below:
Back To The Future To Light Up Broadway
All the teaser shows us is actors playing Marty and Doc Brown in the iconic time-traveling DeLorean with an invitation to "Get your tickets yesterday". The musical first opened at the Manchester Opera House to positive reviews and even won the 2022 Olivier Award for Best New Musical. 
RELATED: BULLET TRAIN DROPS 11 NEW MESMERIZING CHARACTER POSTERS
Getting a show to Broadway is a notoriously tricky task for any show, so the fact that Back to the Future is going there should be celebrated. Whether the original cast of the show will return to reprise their roles in the Broadway production is unclear at this time, but we know that the show has a release date in 2023, likely with more information to be provided in the coming months.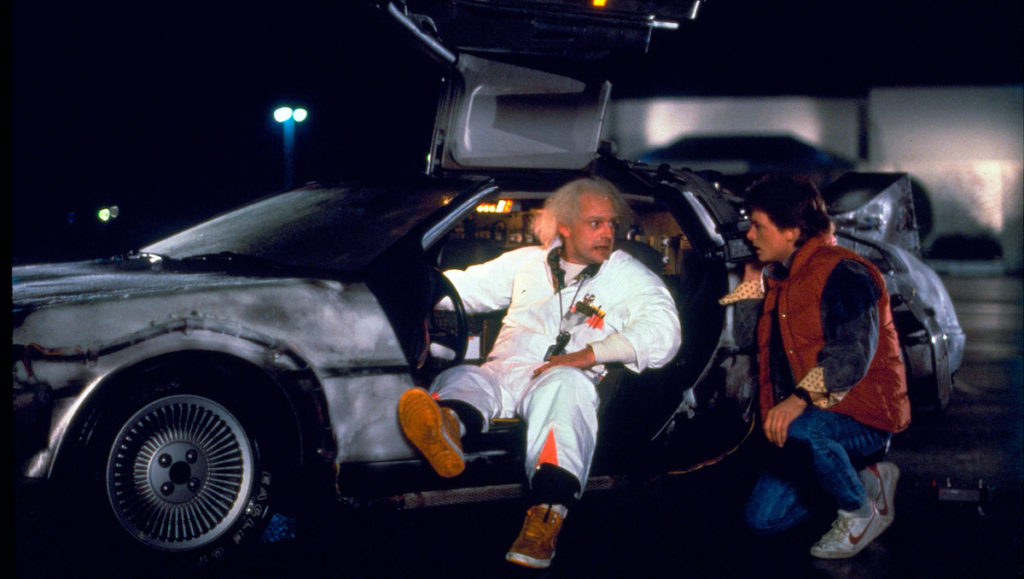 Back to the Future has been a pop culture classic since its original release on July 3, 1985. Along with Teen Wolf, released that same year, it helped catapult star Michael J. Fox to a household name and major movie star throughout the '80s and '90s as well as announcing director and co-writer Robert Zemeckis as one of Hollywood's brightest blockbuster directors. 
RELATED: AMBULANCE ACTOR GARRET DILLAHUNT REVEALS MICHAEL BAY'S DIRECTORIAL PROCESS IN NEW ACTION THRILLER: EXCLUSIVE INTERVIEW
Zemeckis had previously directed the throwback adventure Romancing The Stone in 1984 and would go on to helm several more classics like Who Framed Roger Rabbit? in 1988, Forrest Gump in 1994, Contact in 1997, the cult horror comedy Death Becomes Her in 1992, horror-thriller What Lies Beneath in 2000, and, of course, two Back the Future sequels released in 1989 and 1990. 
The Back to the Future franchise made Zemeckis well-known for his combination of well-told stories and state-of-the-art special effects and has remained relevant in popular culture to this very day. Marty and Doc Brown were the initial inspirations for Rick & Morty, which itself went on to become a juggernaut of sci-fi and animation in general. 
Star Michael J. Fox continued acting long after the Back to the Future trilogy concluded, going on to star in 1987's The Secret of My Success, 1996's The Frighteners and provided his voice in 1999's Stuart Little, its 2002 sequel Stuart Little 2, and 2001's Atlantis: The Lost Empire and took on smaller supporting roles for the remainder of his career. In 1991, Fox publicly revealed he had been diagnosed with Parkinson's Disease and began the Michael J. Fox Foundation in 2000.
RELATED: IMAN VELLANI EXPLAINS HOW MS. MARVEL STANDS OUT FROM OTHER LEGENDARY MCU HEROES
Michael J. Fox got his start on the classic television series Family Ties, which ran from 1982-1989. He famously shot Future and Ties simultaneously and was a replacement for Eric Stoltz on Future after only a few weeks of photography. In 2013, Fox attempted a comeback with The Michael J. Fox Show which co-starred Breaking Bad's Betsy Brandt and future Jack Ryan star Wendell Pierce. The show ran for one season from 2013-2014 and received largely positive critical reception.
It will be interesting to see how Back to the Future works as a musical.  Many popular films have transitioned to the musical format, including Matilda, Legally Blonde, and Beetlejuice just to name a few.  Its awards status should also help get some butts in seats, but good word-of-mouth from those who see it will likely be the biggest boost to sales.  We at The Illuminerdi will be on the lookout for future news regarding the Back to the Future musical as it develops.
Are you excited for a Back to the Future musical? Do you think the film can be successfully translated to the stage? What's your favorite Michael J. Fox movie? Let us know in the comments below and on our Twitter.
KEEP READING: DOCTOR STRANGE IN THE MULTIVERSE OF MADNESS HOME MEDIA REVIEW – THE 4K IS MIND-BLOWING, BUT THE COMMENTARY TRACK IS THE REAL HERO
Source: Coming Soon