Claudio Castagnoli, formerly known as Cesaro, in WWE has made his AEW debut.
The Swiss Superman was released from WWE in February of this year ending his 11 years with the company. This of course led the internet to speculate where he would end up. Claudio Castagnoli was tight-lipped as to when he would return other than a tweet saying "soon…"
The main contender for Castagnoli's new home was AEW. AEW had a super event last night, AEW x NJPW: Forbidden Door, Bryan Danielson was scheduled to face Zack Sabre Jr., but Danielson was pulled due to injury.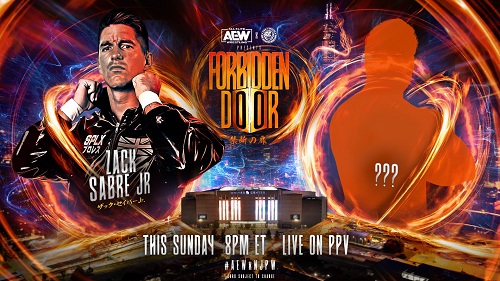 This led to speculation as to who would take Danielson's spot. The only hint we got was that he is a high-level technical wrestler. The most likely finalists were recently released from WWE Johnny Gargano, current ROH World Champion Jonathan Gresham and Claudio Castagnoli.
Claudio Castagnoli came out to a huge pop from the crowd and took on Sabre Jr. in a very close match. Sabre Jr. used his British catch wrestling and submission holds to try to best Castagnoli, but Castagnoli's superhuman strength was just too much to overcome. Castagnoli picked up the victory and can be seen next on this week's AEW Dynamite. He will team up with Interim AEW World Champion Jon Moxley, Wheeler Yuta, Eddie Kingston, Santana and Ortiz in a Blood and Guts match taking on The Jericho Appreciation Society.
RELATED: EDDIE KINGSTON SAYS AEW STAR BRYAN DANIELSON IS "A JUDGMENTAL PRICK"
Despite it looking like AEW pulled Castagnoli last minute to fill in Danielson's spot according to Fightful Select, via Wrestling Inc. AEW had long-term plans for him prior to his debut. AEW has already had Claudio Castagnoli merchandise in the works and has hit the AEW store already. His contract with AEW has been described as "long term," but the exact details aren't known nor if he has actually signed the contract yet.
Claudio Castagnoli's debut wasn't a very well kept secret from the AEW backstage. It was reported he was wandering around backstage all night. This is very different from Danielson's debut which saw him stuck in the production truck all night prior to debuting at last year's All Out.
RELATED: AJ MENDEZ REVEALS WHO SHE THINKS THE BEST AEW WRESTLERS ARE
During the post-AEW x NJPW: Forbidden Door media scrum Castagnoli explained what moving to AEW and his first big match in AEW meant to him.
"Sometimes the stars align for a perfect moment," Castagnoli said. "It's what happened tonight. I hope [Bryan Danielson's] alright, I know Bryan will be back. It's just a perfect fit, I just talked to [Jon Moxley] and we've been going back 10-12 years, a long time. We used to ride together, work out together and we still do and we talk. It just fits yanno and at the end of the day, I'm always looking for new challenges and here in AEW, it's like I'm a kid in a candy store." H/T To Wrestling Inc. For Transcription
Is Claudio Castagnoli Joining Blackpool Combat Club?
At the close of the show Castagnoli came out to assist Blackpool Combat Club, Eddie Kingston, Santana and Ortiz to help them fight off The Jericho Appreciation Society. As the show went off the air Moxley called him "one of the best professional wrestlers in the world." This along with Castagnoli's quote and him joining the team to battle JAS on Rampage would seem to imply Castagnoli joining Blackpool Combat Club. If that is true this faction is just getting more and more scary. AEW wrestlers are just lucky William Regal is retired.
What did you think of Claudio Castagnoli's debut? Do you think he was the right opponent for Sabre Jr. or you rather have seen Gargano or Gresham face him? Do you think he will join Blackpool Combat Club? Leave a comment on our social media and tell us if you think he will be AEW World Champion and who you want him to face next.
KEEP READING: FORBIDDEN DOOR ANNOUNCEMENTS CONFIRMED FOR AEW RAMPAGE
Sources: Wrestling Inc., Fightful Select, Wrestling Inc.