WWE 2K22 Clowning Around Pack DLC is now available for purchase and download.
The newest DLC for the hottest and currently only wrestling game in town has recently been released. It is called "Clowning Around," but it certainly isn't. Headlining the new set of Superstars is the clown prince of wrestling himself, Doink the Clown, Ronda Rousey and Mr. T. We also get a few more big names from the past and present.
RELATED: THE PUNISHER 1993 RETRO GAME REVIEW: FRANK CASTLE & NICK FURY FIGHT FISK'S FORCES FOR 45 FANTASTIC MINUTES
Rounding out the new set of Superstars is top Raw women's division contender Doudrop, currently injured rockstar Rick Boogs and the legendary member of the Hart Foundation British Bulldog Davey Boy Smith.  I'm sure many will reunite the Hart Foundation with Smith, Bret Hart and Jim "The Anvil" Neidhart to show The Bloodline what a dominant faction looks like.
WWE 2K22 Clowning Around Pack DLC Trailer
The official WWE 2K22 Clowning Around Pack press release gives more detail on the DLC, but the smallest of glimpses into what big names some of these Superstars are or were and their impact on WWE and wrestling in general.
"Doink the Clown, Ronda Rousey, and Mr. T headline fourth DLC Pack

Have a few laughs and make your opponents tap out with the WWE 2K22 Clowning Around Pack, available today. The fourth DLC pack* is headlined by Doink the Clown, one of the most colorful Superstars in WWE history, alongside the "Baddest Woman on the Planet" Ronda Rousey and pop culture icon Mr. T. Also included in the pack are The British Bulldog, Doudrop, and Rick Boogs. All six Superstars also come with MyFACTION EVO cards, which can be upgraded through gameplay in the MyFACTION game mode.

A fan-favorite making his WWE 2K franchise debut, Doink the Clown menaced Superstars in the ring with a combination of silly pranks and grappling expertise. "
Ronda Rousey The Arm Collector
Rousey is a former dominate MMA fighter and former UFC Women's Bantamweight champion and first ever women to be inducted into the UFC Hall of Fame. She is an Olympic Bronze Medalist in Judo. She is the most dangerous woman in all of WWE. Lookout! WWE Women's Division Rousey is in the game now and is on the hunt.
"On a far more serious note, Ronda Rousey is a former mixed martial arts champion and star of movies and TV, whose WWE accolades include Raw Women's Champion, SmackDown Women's Champion and 2022 Women's Royal Rumble winner.

Known for his toughness and unique style – incorporating gold chains, feather earrings and a mohawk haircut – 1980s pop culture icon Mr. T cemented his WWE Hall of Fame status by teaming with Hulk Hogan at the very first WrestleMania and battling Roddy Piper at WrestleMania 2.

The British Bulldog is also a WWE Hall of Famer, as well as a former WWE Intercontinental Champion, two-time European Champion, two-time Hardcore Champion, and two-time Tag Team Champion. "
The British Bulldog Davey Boy Smith Just Stepped Into The Ring Again
Smith or as I grew up knowing him, British Bulldog, is a WWE Hall of Famer. He is most known for his immense strength and natural charisma. This made him a fan favorite for children and adults alike in the '80s and '90s before his untimely death in 2002. Despite his lovable attitude Smith was a destroyer and a major threat to anyone and everyone he shared the ring with.
"Rounding out the pack and making their WWE 2K franchise debuts, Monday Night Raw's Scottish sensation Doudrop brings pure power to the women's division, while Rick Boogs has made a name for himself with his rock star persona, shredding the guitar on SmackDown.

The "Clowning Around Pack" is available for individual purchase, while the full set of DLC packs is included with the Season Pass, Deluxe Edition, and nWo 4-Life Digital Edition of WWE 2K22.

WWE 2K22 is available now. For more information on WWE 2K22, visit the game's official website, become a fan on Facebook, follow the game on Twitter and Instagram using the hashtag #WWE2K22 or subscribe on YouTube.

Visual Concepts is a 2K studio. 2K is a wholly owned publishing label of Take-Two Interactive Software, Inc. (NASDAQ: TTWO).

* Clowning Around Pack is included with the Deluxe Edition and nWo 4-Life Digital Edition of WWE 2K22 and is included as part of the WWE 2K22 Season Pass. Also available for individual purchase. Base game required."
Doudrop Just Dropped Into Your Game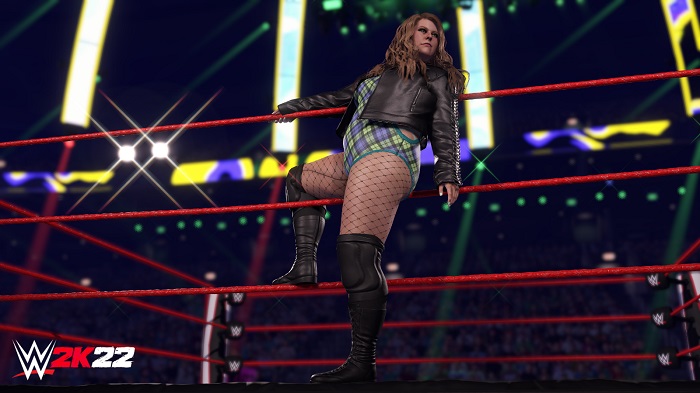 Doudrop is a newer competitor to the WWE ring or at least an American ring. She made her mark with NXT UK. She made her debut last June and has proven to be a big threat to anyone who is unlucky enough to be her opponent.
RELATED: TINY TINA'S WONDERLANDS SET TO MAKE SPELLBINDING RELEASE ON STEAM ON JUNE 23
The WWE 2K22 Clowning Around Pack DLC is currently available for the low low price of $9.99 on your very own Playstation 4 and 5, Xbox One/Series X and Steam. Don't be shy and make sure you round out your roster as soon as possible.
Who do you hope to see released next in an upcoming WWE 2K22 Clowning Around Pack DLC? Do you want more WWE Hall of Famers like British Bulldog, would you rather see lesser known favorites from years past like Doink or just current Superstars who aren't in the game yet? Let us know what you think of the new WWE 2K22 Clowning Around Pack DLC pack and if you think they did the Superstars justice down in the comments.
KEEP READING: TEENAGE MUTANT NINJA TURTLES: SHREDDER'S REVENGE REVIEW [STEAM] – PURE TURTLES EXCELLENCE
Source: WWE 2K