Kevin Feige confirms Marvel will reveal what's next at San Diego Comic-Con 2022.
Thor: Love and Thunder is almost here! After the events of the "Infinity Saga" Thor is retiring and on a quest for inner peace. That is until his retirement is interrupted by a galactic killer. If the initial reactions are to be believed, Chris Hemsworth's fourth solo film as Thor Odinson is the best yet. Despite being one of the shorter movies from Marvel Studios, Hemsworth, Taika Waititi, Tessa Thompson, the Guardians of the Galaxy, and the returning Natalie Portman, are being praised for their performances, the direction of the film, and overall enjoyment. Fans can see it for themselves on July 8, 2022, tickets are available now.
After the premiere of Thor: Love and Thunder, the team behind the film held a press conference where they answered some of the most pressing questions the media and fans had for them individually, for the film, and for Marvel Studios as a whole. After announcing Natalie Portman's return at San Diego Comic-Con (SDCC) back in 2019, and with SDCC set for next month, fans are wondering if Marvel will be making more epic announcements at this year's Comic-Con. Luckily, Marvel Studio's President, Kevin Feige, confirms during the Love and Thunder press conference.
Kevin Feige Confirms Marvel Studios Will Be at SDCC 2022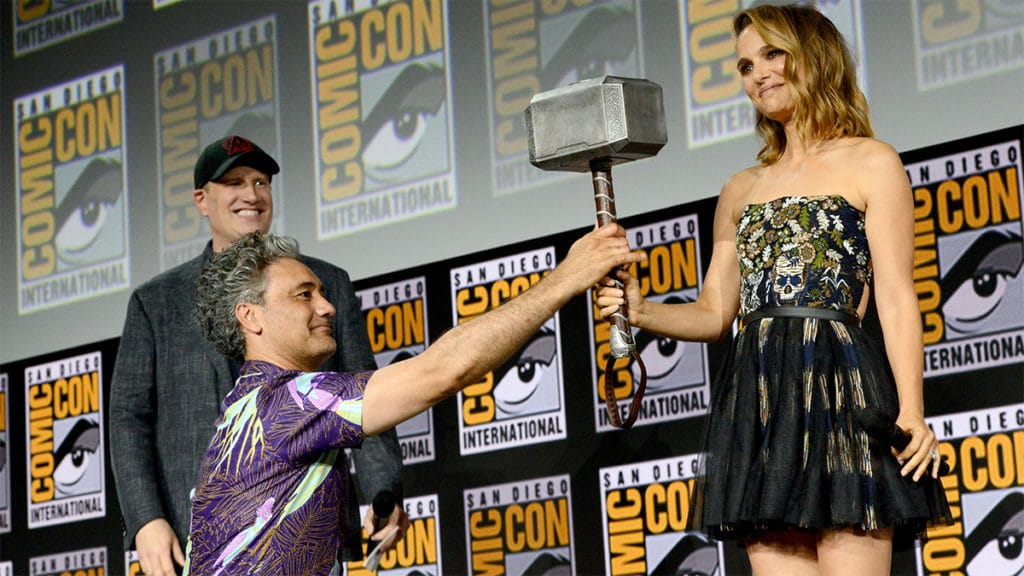 RELATED: Thor: Love and Thunder Funko Pops Release With Teaser Trailer
We'll be at Comic-Con next month, which we're excited about! First time since we were on there three years ago talking about this movie and many others. Now I think almost everything we discussed has now been released. So yes, we're excited to go and talk about the future.

Kevin Feige, President of Marvel Studios
Not a surprise, but definitely an ecstatic confirmation. Marvel's and many other's studios' presence at SDCC has been questionable as numerous major studios have begun hosting their own events for big announcements. Plus D23 is set for September so many are questioning the value of SDCC for companies like Marvel. However, I feel many overlook the inherent value and the powerful fandom that attends SDCC and the kind of energy and hype generated by that level of fandom. These major studios owe a lot of their existing franchises to SDCC and the Con still likely offers a lot more potential than risks.
With most of their previous announcement already available to the masses, Marvel Studios does not have their usually robust slate of content for fans to look forward to. Luckily, they have about a decade's worth scheduled according to Feige.
RELATED: Thor's Future After Thor: Love and Thunder
We always, look 5-10 years ahead. With the changes and twists and turns, that's usually as far out as we go and start to build it.

Kevin Feige, President of Marvel Studios
Feige confirms that Marvel Studios tends to plan up to 10 years ahead. If it takes about 3 years to cover all of the announcements from one Comic-Con, that means there will be plenty to look forward to at their event during this year's SDCC and still have more than enough for D23 and more conventions to come.
Thor: Love and Thunder release on July 8, 2022. Tickets are available now.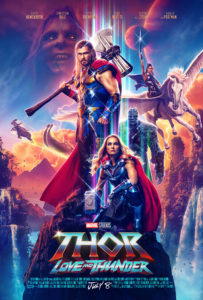 ABOUT THOR: LOVE AND THUNDER
Release date: July 8, 2022 (USA)
Director: Taika Waititi
Produced by: Kevin Feige; Brad Winderbaum
Production company: Marvel Studios
Music by: Michael Giacchino
Distributed by: Walt Disney Studios Motion Pictures
Cast: Chris Hemsworth, Natalie Portman, Christian Bale, Taika Waititi, Tessa Thompson, Matt Damon, Luke Hemsworth, Russel Crow

Description: The film finds Thor (Chris Hemsworth) on a journey unlike anything he's ever faced – a quest for inner peace. But his retirement is interrupted by a galactic killer known as Gorr the God Butcher (Christian Bale), who seeks the extinction of the gods. To combat the threat, Thor enlists the help of King Valkyrie (Tessa Thompson), Korg (Taika Waititi) and ex-girlfriend Jane Foster (Natalie Portman), who – to Thor's surprise – inexplicably wields his magical hammer, Mjolnir, as the Mighty Thor. Together, they embark upon a harrowing cosmic adventure to uncover the mystery of the God Butcher's vengeance and stop him before it's too late.
Are you excited to watch Thor: Love and Thunder? Did you get tickets for Thursday night? What do you think will be announced at SDCC? Let us know in the comments below and share your theories with us on Twitter.
KEEP READING: Doctor Strange in the Multiverse of Madness Home Media Review – The 4K is Mind-Blowing, But the Commentary Track is the Real Hero