One of the internet's most hated male celebrities, Logan Paul, has just signed a WWE contract on Thursday.
Paul who first became famous for being a YouTube star and went on to a boxing career and even faced another former WWE guest in Floyd Mayweather Jr.
RELATED: RHEA RIPLEY GIVES MORE DETAILS ON SIDELINING INJURY
Logan Paul is no stranger to WWE having been involved in Kevin Owens and Sami Zayn's WrestleMania 37 match. Most recently he teamed up with The Miz to take on Rey and Dominik Mysterio at WrestleMania 38. Miz and Paul gained the victory and while celebrating in the ring Miz decided Paul was getting too much attention and hit him with a Skull Crushing Finale.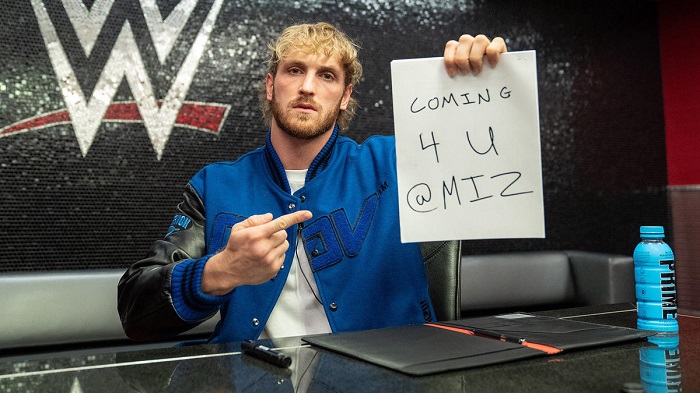 Logan Paul stayed off the WWE radar since then.  That is until this week when he met with Triple H and Stephanie McMahon at WWE HQ in Stamford, CT.  While there he signed on with WWE and wasted no time making his intentions known signing "Coming 4 U @ Miz" on the back of the contract.  After the signing he made a statement on the signing and who he wants to face at SummerSlam so there is no confusion.
"So I just signed my WWE contract with the support of Triple H and Stephanie McMahon," Logan Paul said. "This is a massive deal but let's get one thing straight, because I don't want to get this twisted. I did not sign this contract to team up with The Miz. In fact, I want nothing to do with The Miz, that man is dead to me, he is my enemy and I signed this contract so that I can beat The Miz's ass at SummerSlam. Let's go!"
Logan Paul Will Be Sticking Around For A While For Better Or Worse
According to Ariel Helwani Paul's contract is a multi-year deal with multiple events in 2022 and 2023. The first time he will show up on WWE programming post his contract signing isn't known besides his SummerSlam appearance, but it is believed he will show up on TV between now and SummerSlam.
On this week's Raw the Miz did mention Paul, but not how one would expect. Miz came out on Raw and told the WWE Universe he intends to team up with Paul again and win the WWE Tag Championships.  I guess he forgot he attacked Paul.  He is the A-Lister so he is probably so busy it slipped his mind.
We won't have to wait long to hear Miz's answer to the challenge as SummerSlam is July 30. Miz tweeted back at Paul, but it was just emojis and the cryptographers haven't finished deciphering the emoji response. Most likely we will get a response on this week's Raw and perhaps an appearance from Logan Paul himself.
RELATED: WWE BACKSTAGE LIFE POST VINCE MCMAHON "HUSH MONEY" PROBLEM
Many on the internet are I'm sure very upset about this signing especially with recent releases and most likely more to come in August based on the patterns I've noticed. However, taking the feelings surrounding Paul and just looking at Paul as a competitor he isn't bad. His WrestleMania match was surprisingly good and showed a lot of athleticism and natural talent. However, to be fair Rey is one of the best lucha libre wrestlers of all time and Miz is very underrated. Most likely Paul's SummerSlam match with Miz will also be pretty good.
Without a doubt Logan Paul's greatest asset he brings to wrestling is how much people hate him. He is a real life heel. He's very controversial and finding out why is a simple search away, but WWE is full of controversy with Vince McMahon's stuff recently. Putting him against Miz makes Miz the babyface of the match and Miz should never be a babyface. Logan Paul needs to be booked as a heel after the match. Playing into the ego and how much he is hated would be the best way to play it.
What do you think of Paul joining WWE? Do you think Miz is a good first feud for him? Would you like to see Pat McAfee vs. Paul at some point? Do you think he will stay on the main roster or will he be sent to NXT to improve his skills? Do you think his brother Jake will get involved in his matches? Leave a comment of what other celebrity you would like to see join WWE, perhaps Stephen Amell.
KEEP READING: WWE 2K22 CLOWNING AROUND PACK DLC FT. RONDA ROUSEY, MR. T, BRITISH BULLDOG & MORE NOW AVAILABLE!
Sources: WWE, Wrestling Inc., Ariel Helwani