Loki fans can rejoice, as the anticipated second season of the Disney+ series has begun filming in London. Set video and photos have started circulating online, leaving many questions and theories for what's to come. From what we have seen, it looks like there will be some time travel to the past.
After the death of He Who Remains, Loki seeks help from a familiar face. TVA agent Mobius doesn't recognize the trickster and a crippling reality sets in. The timeline has been breached and the head of operations at the TVA is Kang the Conqueror.
RELATED: THOR 5: EVERYTHING WE KNOW ABOUT THE HIGHLY ANTICIPATED SEQUEL!
No synopsis of what season 2 have been revealed, but there will be connections with certain Marvel characters.
What We Know About Loki Season 2
The style of the location indicates Loki season 2 takes place in the 1970s. This is indicated due to the style of the vehicles and cast members but what many have noted are the theatrical posters that were featured outside what looks to be a movie theater.
A poster starring Eternals celebrity Kingo is featured on the set of Loki. The celestial-being has been around for decades in the Bollywood industry. According to the character, he has disguised his identity by claiming he has a family history of actors. Every film Kingo has starred in, he is a particular family member (Father, grandfather, great grandfather, etc.) Since this particular set takes place during the 70s, Kingo is most likely taking on the persona of his father.
Now, when it comes to the other posters, avid Marvel comics fanatics will be able to recognize the two familiar characters: Zaniac and The Phone Ranger.
Both characters were introduced in the comics back in the early to mid 80s. Even though they are only featured as movie posters, it's still exciting to know that they are part of the MCU.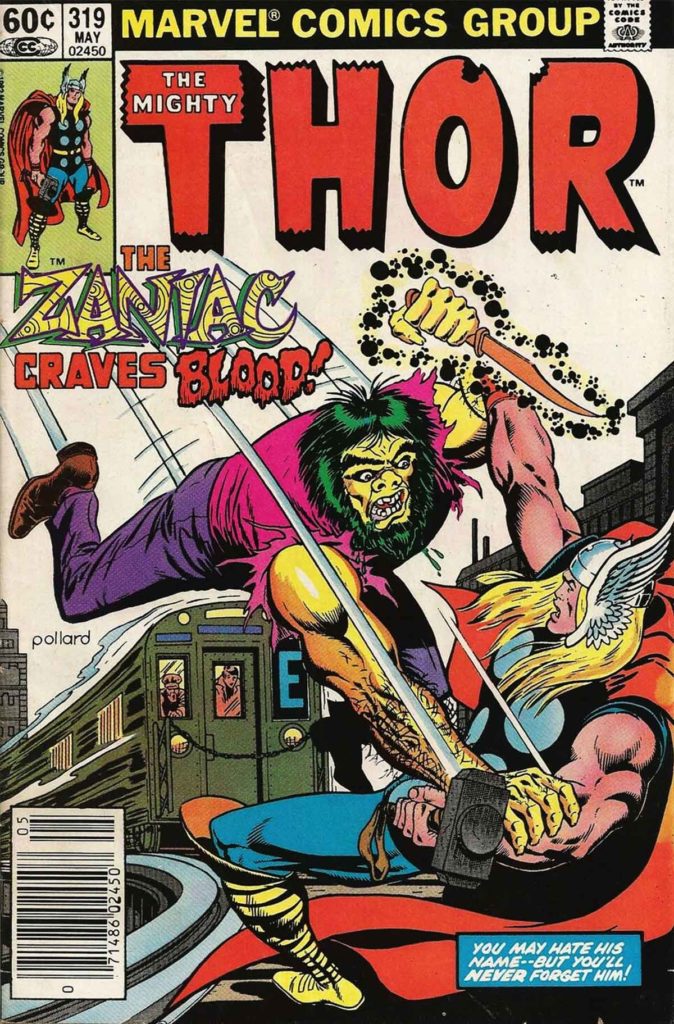 Zaniac is an entity that possesses various hosts and causes the host body to become violent. When the host dies, the entity soon finds another body and the cycle of murders continues. According to the comics, this evil system is what possessed Jack the Ripper during Old England.
We first learn about this character in 1982 in Thor #319. Fictional actor Brad Wolfe was portraying a serial killer that was named the Zaniac when he became possessed. He preyed on women and later tried to murder Shawna Lynde, a close friend of Don Blake, Thor's mortal disguise. The mighty God stopped Zaniac from killing any more women by locking him in an asylum.
The story of Zaniac doesn't end there. He eventually escapes from the asylum with the help of a villainous mobster named Thug Thatcher, one of Thor's nemesis. He tried to get Zaniac to kill Thor's ex-girlfriend, Jane Foster, but that didn't go as planned. Zaniac eventually murders Thatcher's associate Ruby.
The Phone Ranger is a normal man named A.G. Bell, who was a telephone repairman. He was first introduced in Marvel Age Annual #1 in 1985. He became a hero after discovering an alien phone where he is able to tap into communication technology.
Therefore, with this new discovery, he uses it to fight crime and become the hero that is the Phone Ranger. An interesting fact about this character is that he was on Captain America's team during Civil War in the comics. He was arrested by Iron Man, Spider-Man, and the NYPD during the event.
Both Phone Ranger and the Zaniac are equally interesting characters. We don't really expect them to spontaneously show up in Loki but it's really awesome to see them being featured in some way.
As we previously stated, photos weren't the only images that have been posted on social media. A TikTok video of some behind-the-scenes action with Tom Hiddleston and Owen Wilson have surfaced. Hiddleston is seen walking around the set, wearing a 70s era tuxedo. Wilson, on the other hand, is running out from a building during an action sequence.
An official date for Season 2 of Loki has yet to be released but it will arrive on Disney+ in 2023. Season one's director Kate Herron and Head writer Michael Waldron will not return but Eric Marten who wrote for season 1 will be taking over. Marten will also be working with Moon Knight directors Justin Benson and Aaron Moorhead on the series, as they have also been confirmed to work on it.
Are you excited for Loki season 2? Do you think we will meet new heroes/villains? What are your predictions for the upcoming season? Let us know in the comments and don't forget to follow us on all of our socials!
KEEP READING: WHO IS HERCULES AND WHAT EXCITING MCU PROJECTS COULD HE APPEAR IN?