Prey is the next installment in the Predator franchise and serves as a prequel to the previous four films.
Disney recently hosted a virtual press conference for the film, which The Illuminerdi was fortunate enough to attend.
The press conference, hosted by Collider's Perri Nemiroff, included director Dan Trachtenberg, producer Jhane Myers, and actors Amber Midthunder and Dakota Beavers.
RELATED: GOD OF WAR RAGNAROK RELEASE DATE OFFICIALLY ANNOUNCED
During the event, Myers revealed that the Comanche language featured heavily throughout the film was planned to be included since the beginning of production.
Prey Was Originally Planned to be Entirely in Comanche
And for me being Native and being Comanche, you know, an enrolled Comanche tribal member, that's what's really important because we never, as an audience goer, I mean, I'm a big movie fan. I grew up on the Predator franchise. I've never seen a feature fully, you know, in my language…. This movie, just being a Predator film, it's filled with authenticity. So for me to have the language in there, that was the most important… Now when you watch it on Hulu, you have the option of picking Comanche to watch a fully dubbed version in Comanche.
Myers, an enrolled Comanche tribal member, stressed the importance of the film being historically accurate for her people and including as much of their language as possible. She and Trachtenberg originally pitched the film to executives with the idea of the entire film's dialogue being Comanche. They couldn't secure all of the dialogue in Comanche, but the language is still heavily used throughout the movie.
RELATED: RUMOR: CAMERON MONAGHAN LOCKED IN FOR NEW STAR WARS DISNEY+ SERIES
While the main version of the movie will feature both English and Comanche, Myers and Trachtenberg had the opportunity to record a Comanche dub that will be an option when the film releases on Hulu. The entire original cast of Prey returned to record their dialogue in Comanche.
Prey Actors Speak on Importance of Comanche Dub
During the press conference, Myers revealed that Midthunder and Beavers initially had to audition for their starring roles in Prey in Comanche.
Beavers recalled receiving a fully Comanche script when he landed in Los Angeles just days before his audition.
RELATED: JON SNOW: NEW GAME OF THRONES SPINOFF IN DEVELOPMENT AT HBO
When asked about the importance of including the Comanche language, Beavers said:
I think it would have been awesome to shoot entirely in Comanche. But I'm so happy that we got to dub it in Comanche… Just to have that for preservation of the language, so kids can go back and watch it in the future. ANd it'll be something fun that they can use to learn the language. I just think it was awesome.
Midthunder agreed and further stressed the importance of Prey for the growing representation of Native Americans in Hollywood.
And it's cool for also visibility, you know, like, I think something that's so important is everybody wants to feel like they have something to relate to… And I think that's what is really beautiful about our movie… what Dan did was he made a story that is extremely wild and exciting also have, like, really great human elements… And infusing that with having Comanche culture… we took this movie to the Comanche Nation before, you know, releasing it, or showing it to anybody. Cause, it was important that, like, the people that it's for, that it's about feel proud of it or feel, like, you know, they like it.
Prey will be the first film to be released in a Native American language when it lands on Hulu in the United States and Disney+ internationally on August 5, 2022.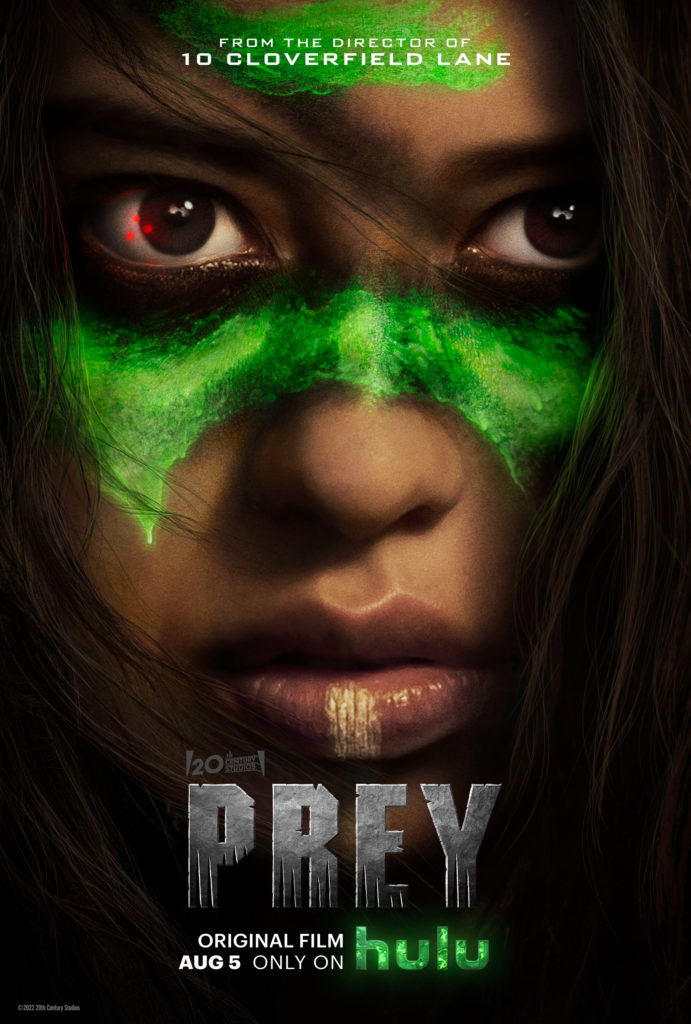 Are you excited about Prey? Will you be watching the original dub or the Comanche dub? Would you like to see more movies fully released in the characters' native dialogue? Let us know, and be sure to follow us on Twitter!
KEEP READING: PREY: FOX-DISNEY MERGER DELAYED PRODUCTION OF EXCITING PREQUEL