There is no place like The Her Universe Fashion Show if you love fashion and pop culture.
Kicking San Diego Comic-Con off last week was the traditional fashion event, Her Universe Fashion Show. Every year designers come to show off their best designs in hope to win a chance to design a line with Her Universe for Hot Topic. This year 26 designers battled it out with two being named the winners. The winners this year will be creating the exclusive Marvel Universe The Marvels themed merchandise. Not only was the event filled with must see fashion, but also some exciting news.
Her Universe, Her Style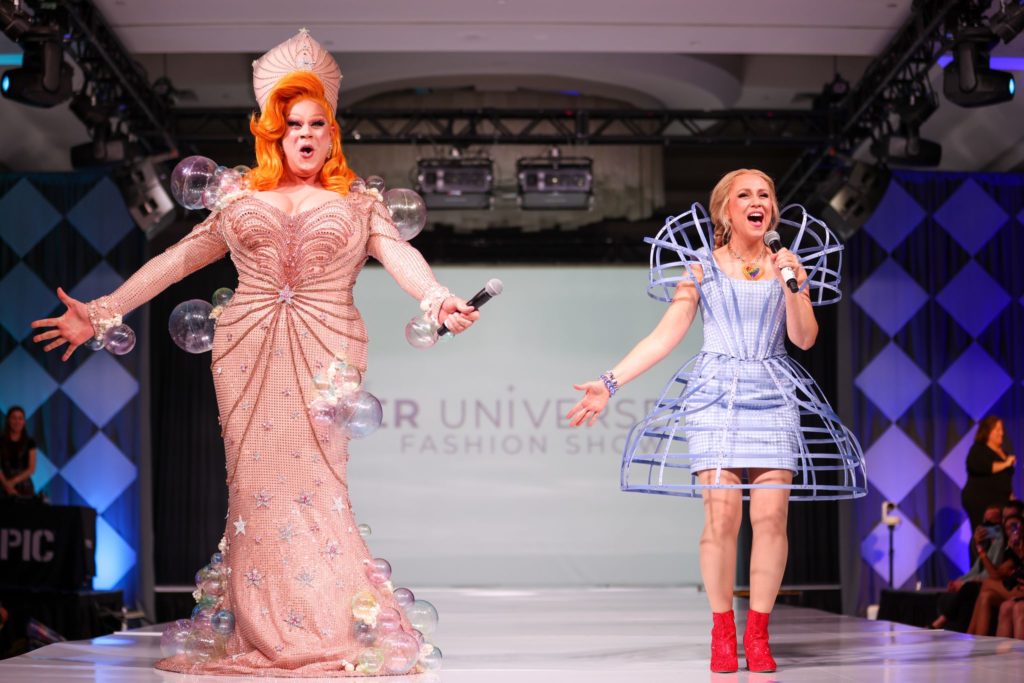 In celebration of SDCC being back and open to the public since the pandemic, the theme this year was "Coming Home." Joining the yearly host; Her Universe founder and actress Ashley Eckstein was drag icon Nina West. The two made a stunning entrance as the two paid homage to the classic movie, Wizard of OZ. There are a few great looks from past years, but this one will go down in nerd fashion history. Eckstein's look is another fabulous design by 2014 Her Universe Fashion Show Winner Andrew MacLaine. While West shimmered as Glinda the Good Witch in a custom bubbly pink gown designed by Johnny Wujek and John Thomas. It even has the bubbles!!!
RELATED: SDCC: EXCITING PROJECTS REVEALED FOR PHASES 4, 5, AND 6
One of the best things about this show is the fact that it celebrates all fandoms no matter how big, small, or completely random. Another movie duo the two co-hosts took inspiration from was Romy and Michele from the cult classic Romy and Michele's High School Reunion. Not only were their outfits on point, but they even added some of the iconic dance moves.
Top Designed Looks
Out of the 26 designers who laid it all out on the runway, two would be named this years winners. One is named the Judges' winner and the other Audience winner. This year the judges' panel was made up of the three winning designers from last year Teighlor Johnson, Skyler Barrett, and Vivien Lee. As well as industry experts Elena Vrska and Mallory Leveille. Because last year's fashion event was digital, this was the first time the three winners from 2021 were able to walk the runway and they did not disappoint. You can catch all the designs from the show exclusively on the Her Universe Youtube Channel.
Fans were able to see a wide range of designs inspired by popular movies and TV shows. Including Lord of the Rings, Pirates of the Caribbean, CW's 100, Scream, Doctor Strange, Spiderman, a wide range of Disney hits, a few from Studio Ghibli, and even a look inspired by hit band BTS. Every outfit looked amazing and did the inspiration justice. Here are just a few of my favorite looks, that did not win.
The second outfit to hit the runway was designed by Liz Todd, who goes by @ambrose_cosplay on Instagram. This outfit instantly caught my attention because of the green and gold coloring. It was already a must-have situation because it also gave off this little vintage vibe with the big coat. But when the coat came off and revealed a nicely tailored vest and pants, I wanted to swoon. Who knew that a design based on Perry from Phineas and Ferb could back such a jaw-dropping moment. Especially since the design was titled, "Perry the Platypus?!"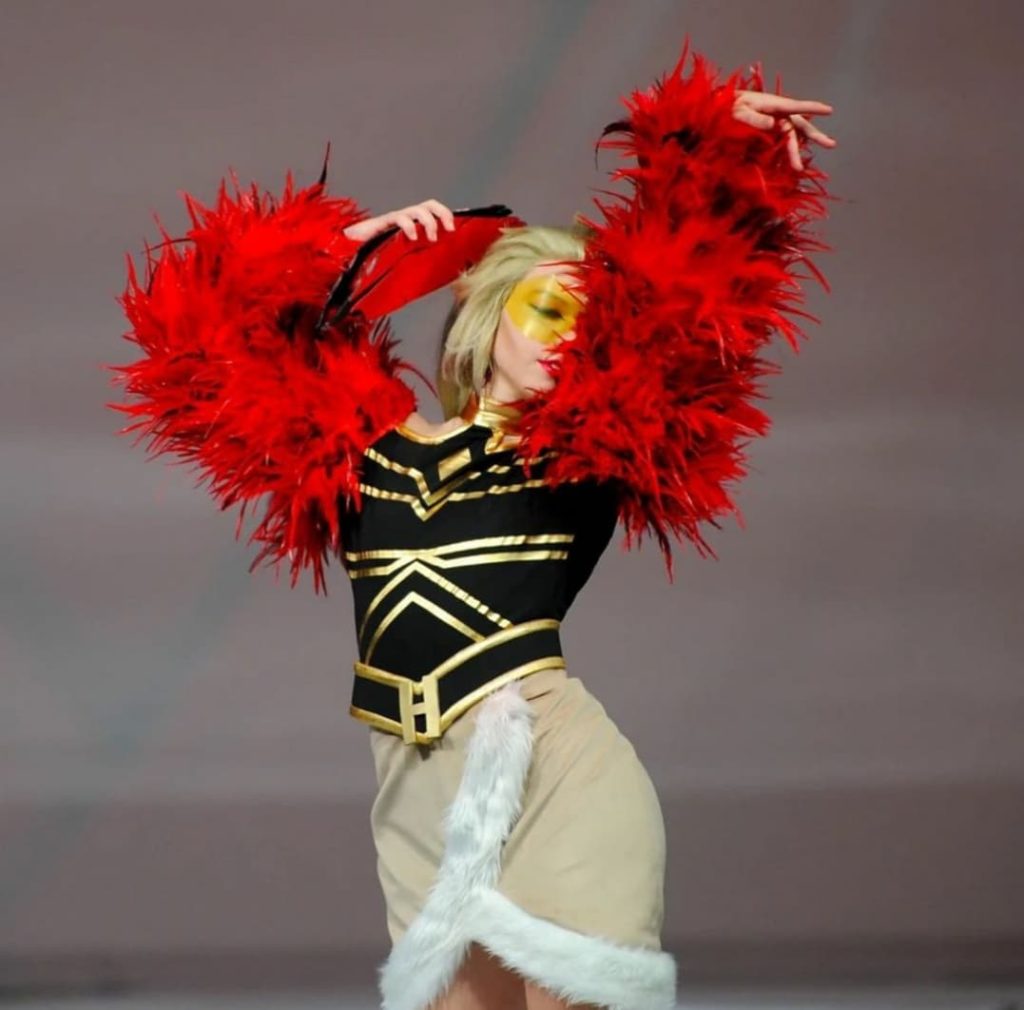 One of the things that Her Universe has thrived at is finding a way to represent your favorite fandom, while still looking fashionable. And the designer of this piece understood that balance perfectly. Lauren Wilkinson, @electricseafoam on Instagram, was inspired by the hit Magna and show series, My Hero Academia. While I've never seen the show, this design had me double guessing that decision. Especially with the amazing feather sleeves that went well with the color blocking. It makes sense why the name of this design is "Fierce Wings."
Who doesn't love a good outfit change middle runway? Maybe I am slightly biased because this design is based on one of my favorite movies, The Lizzie McGuire Movie. This look titled "What Seams are Made of" and designed by Leah Foley (@spinnerscourtdesign) would have stolen hearts with just the purple outfit. But adding the quick change to the green, has us screaming "hey now, hey now!"
But this wasn't the only outfit change that I fell in love with during the show. "Down the Rabbit Hole" was designed by Kimberly Burns (@kberry723) and shows off a reversible coat. As well as a colorful 3-piece outfit that included a long-sleeve shirt that resembled the Cheshire Cat's purple stripes and a checkered print decked out with card suits and Daisies. For me, it was the outfit under the coat that had me smiling a huge grin.
Fashion is all about being bold and making a statement, but it also can be about the beauty of simplicity. Designer Paige Campbell (@quasar_creations) did a fantastic job with her creation, "From Another Dimension." Inspired by Into the Spiderverse, this dress is an elegant, ballerina combination of black and colorful details. Especially if you look at the bottom of her dress where it is embroidered in neon skyscrapers. Wearing this dress would make anyone feel like a spider queen.
There are so many amazing designs, and these are just a few of our favorites. I guess that's why we aren't judges. Because in this situation, everyone would be a winner. Check out all the amazing designers, their social media accounts, and the artistic inspiration behind the dresses here.
The Winners
Ending the night on a high, the dazzling co-hosting duo came out in a new outfit inspired by Captain Marvel to announce the winners. Taking the title of Judges winner was Cindy Guillermo Heselton who was inspired by the recent hit movie, Pixar's Turning Red's Mei. Which included a sling bag styled like a Tamagotchi that read her Instagram name, sinnanoms.
She called her design "Caged" and broke down the reason behind it on her Instagram post. "Of being contained by expectation and spilling out of that 'cage'. Holding back and coping with the fear of disappointment." And what is fashion for, if not using a creative means to express our truest and deepest selves?
RELATED: BOOM STUDIOS ANNOUNCES SAN DIEGO COMIC-CON 2022 EXCLUSIVES
The second winner was designer Michael Burson (@thewizardtailor) who took home the title of Audience winner. There was some stiff competition when it came to coats and capes this season, but this design based on Doctor Strange left the crowd bewitched. And it isn't just the cape that will leave you feeling mesmerized The buttoned, sloped pleated jacket is beautifully executed.
Both designers did an amazing job and deserve every bit of praise they are getting. As well as fans, including myself, can't wait to see what their creative minds will come up with next year for the release of Marvel's Universe, The Marvels.
Big Night, Bigger News
While the Her Universe Fashion Show is a competition, it also is a chance for the designer behind Her Universe to show off their new collections. This year fans were able to get a sneak peek at new lines that were inspired by Outlander, Marvel, and Star Wars. For fans of the Her Universe and the mastermind behind the brand, Ashley Eckstein, the Star Wars line included a special Ahsoka Tano-inspired denim jacket. While the jacked has yet to be released, some of the other items are now available for purchase through Her Universe and Hot Topic.
But one of the biggest announcements was the fact that Her Universe and Hot Topic are taking over the world, starting with Japan. For the first time, opening on August 10th fans will be able to enjoy a global Studio Ghibli Harajuku Collective Collection in Japan. But don't worry, these collections will also be available, on the same day in Canada and US. This is great because after seeing a few of the pieces, I MUST grab the Kiki's Delivery Service-inspired dress.
Fashion Never Stops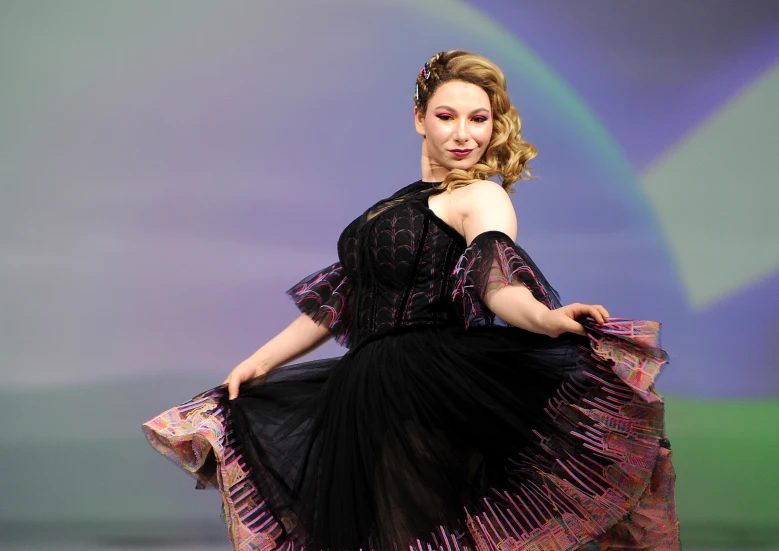 While San Diego Comic-Con is wrapped up and the winners of Her Universe Fashion Show are starting work on their grand prize, it's important to remember one thing. The love for fashion and the need to represent your favorite fandoms doesn't need to be put on hold until next year. Hot Topic with the help of Her Universe has catapulted nerd/pop culture fashion to levels we have never seen before and there is still so much room to grow. New lines are always dropping, for example, the Studio Ghilbi Harajuku Collective Collection coming on August 10th. And it isn't just these big brands.
Designers, as we saw in the fashion show, are always creating new things for their stores and/or custom commissions. So if there is something you really liked or a designer that spoke to you. Make sure to follow and support them as they continue to follow their passions.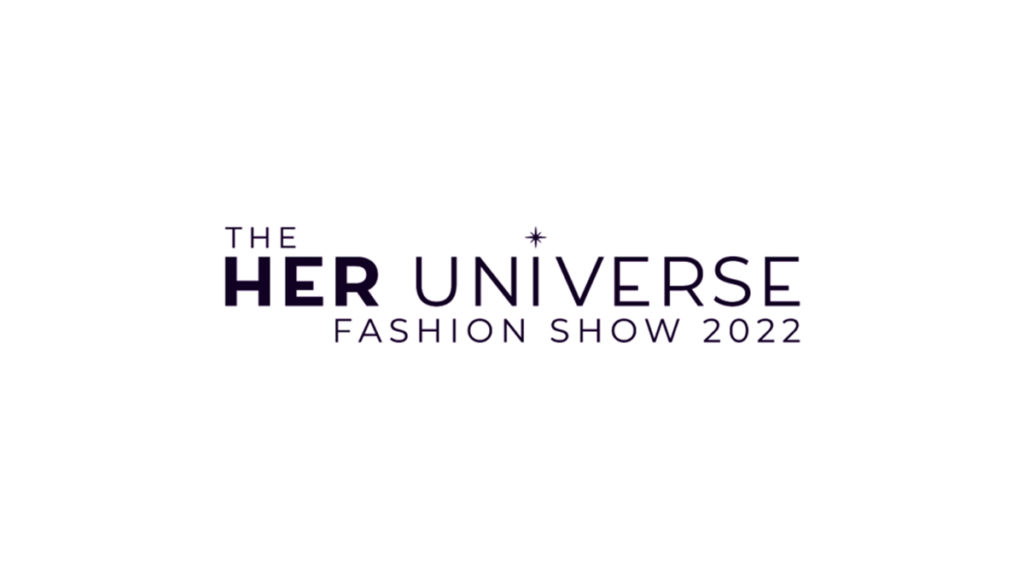 Let us know in the comments below what your favorite looks from Her Universe and what fandoms you love seeing represented. If you like what you read make sure to follow our social media for more content like this, don't forget we're always watching.
KEEP READING: ANT-MAN AND THE WASP QUANTUMANIA COMPOSER CHRISTOPHE BECK TEASES A NEW CINEMATIC TONE FOR 3RD INSTALLMENT