Marvel Studios came back to San Diego Comic-Con with an unbelievable panel.
Fans had high hopes for the studio's first SDCC panel since 2019, and in typical Marvel fashion, they did not disappoint.
The panel opened with a Stan Lee narrated sizzle reel showcasing all of the recent MCU releases, and Kevin Feige unveiled Phase 4 in its entirety.
Phase 4 Comes to an End
Feige revealed that Phase 4 is officially coming to an end later this year with the releases of She-Hulk and Black Panther: Wakanda Forever. Wakanda Forever will serve as the timeline's definitive end to the phase.
Phase 4 will not have an Avengers-like team-up movie to bring its story to an end—more on why that is later.
Phase 5 Completely Revealed
Marvel Studios generally pulled back the curtains at previous Hall H panels a bit, only announcing a few of their upcoming projects. Feige and the team committed to making a big return to SDCC this year, and that they did. Feige blew the crowd away by revealing all of Phase 5.
The timeline provided begins in February 2023 and concludes on July 26, 2023.
RELATED: CAPTAIN AMERICA: NEW WORLD ORDER: CAPTAIN AMERICA 4 CONFIRMED & TITLE REVEALED!
Phase 5 begins with Ant-Man and the Wasp: Quantumania on February 17, 2023. Secret Invasion will then hit Disney+ sometime in Spring 2023. Summer 2023 includes both Echo and Loki season 2 on Disney+, Guardians of the Galaxy Vol. 3 releasing on May 5, and The Marvels on July 29. Blade hits theaters on November 3, 2023, with Ironheart following shortly after on Disney+ in the fall.
Agatha: Coven of Chaos currently has the tentative release window of winter 2023/24. Newly announced Daredevil: Born Again rounds out the Disney+ releases for Phase 5 in the spring of 2024. Sam Wilson makes his big screen debut as Captain America when Captain America: New World Order drops in theaters on May 3, 2024. Marvel concludes Phase 5 with their first ensemble movie in quite some time, Thunderbolts.
She-Hulk Makes Her SDCC Debut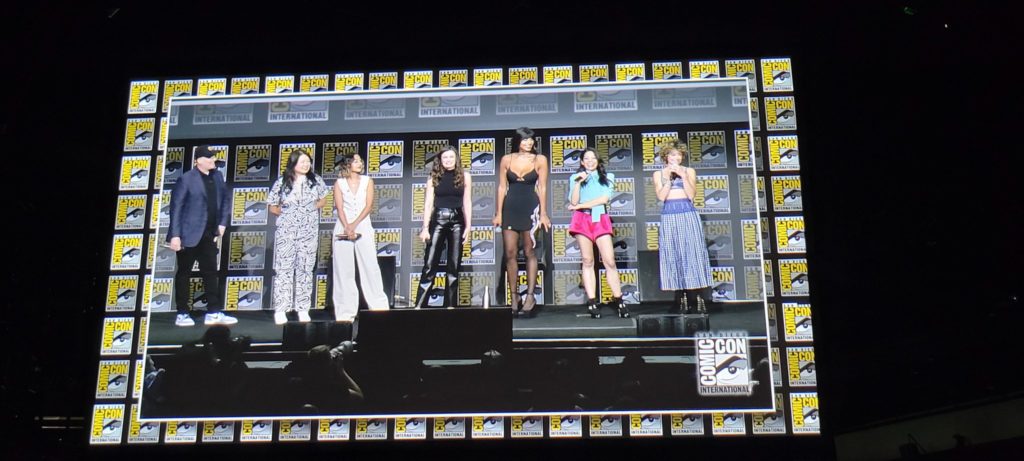 She-Hulk's cast then joined Feige on stage to discuss their upcoming Disney+ series.
RELATED: NEW SHE-HULK: ATTORNEY AT LAW SDCC TRAILER HAS LANDED AND IT'S A SMASH!
Together they unveiled the final trailer for the show, which premiers on August 17. The exciting new trailer not only features better CGI than the first but shows off Bruce Banner training Jennifer Walters, Jameela Jamil's Titania, and teases the introduction of Charlie Cox's Daredevil.
Secret Invasion Brings Spy Thrillers Back to the MCU
Cobie Smulders took to the stage to discuss Disney+'s Secret Invasion. The show is going to be a dark thriller. No one knows who's a Skrull and who's not.
RELATED: DAREDEVIL BORN AGAIN: NEW TITLE, LOGO, EPISODE COUNT, AND MORE REVEALED AT SDCC 2022
They presented a teaser that showed Martin Freeman and Don Cheadle's returns. Fans in attendance also got a look at Nick Fury without an eye patch and sporting a new beard.
Ant-Man and the Wasp: Quantumania Issues in a New Phase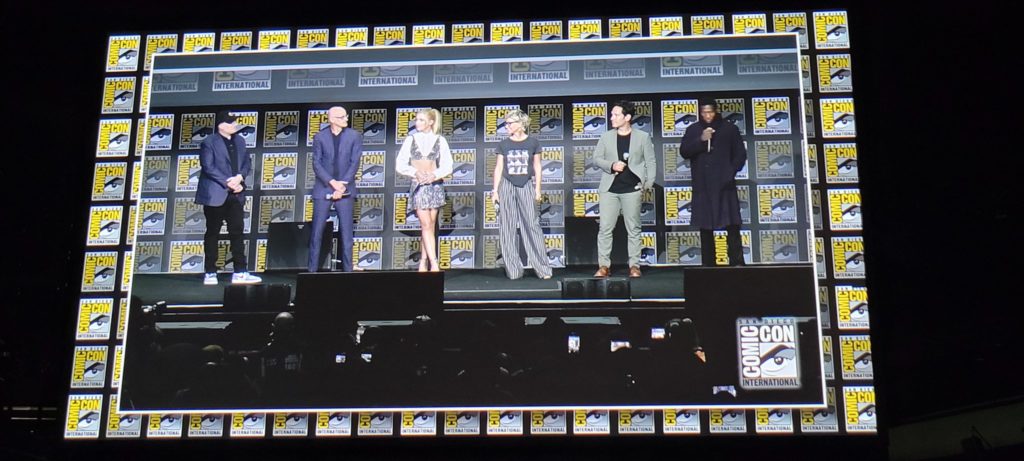 The beginning of Phase 5, Ant-Man and the Wasp: Quantumania dropped some bombshells.
Scott Lang takes it easy after helping save the universe, his daughter Cassie gets her suit, and Bill Murray and MODOK are in the movie. Jonathan Majors teased his role as Kang the Conqueror.
The cast showed some footage to the audience where Scott tells Kang, "I'm an Avenger," and Kang replies, "I am a conqueror."
Guardians of the Galaxy's Emotional Conclusion
James Gunn came onto the stage along with Chris Pratt, Karen Gillan, Pom Klementieff, Sean Gunn, Will Poulter, and Maria Bakalova.
A teaser for the film played that included comic book uniforms, a buff Groot, Rocket's origin, Gamora leading the Ravagers, and Nebula potentially opening up a bar.
RELATED: GUARDIANS OF THE GALAXY VOL. 3 FOOTAGE SHOWN AT SDCC
Fans got their first look at Poulter's Adam Warlock, Bakalova is playing Cosmo, and Chukwudi Iwuji is playing the High Evolutionary.
Phase 6's Heavy Hitters
To everyone's surprise, the panel continued past Phase 5. Phase 6 will include massive, Avengers-level threats and the introduction of Marvel's first family.
Feige revealed that Phase 6 will open with Fantastic Four, hitting theaters on November 8, 2024, and production will begin next year.
The surprises didn't end there as Feige revealed not one but two upcoming Avengers movies. Avengers: The Kang Dynasty opens in theaters on May 2, 2025, and Avengers: Secret Wars is slated for release on November 7, 2025. Feige also revealed that Phases 4, 5, and 6 make up The Infinity Saga.
Black Panther: Wakanda Forever Closes Out Marvel's SDCC
Director Ryan Coogler and the cast of Wakanda Forever joined Feige on stage to remember Chadwick Boseman and give a new look at the highly anticipated sequel.
Dominique Throne and Tenoch Huerta were confirmed as Riri Williams/Ironheart and Namor the Submariner.
RELATED: BLACK PANTHER: WAKANDA FOREVER BRINGS EMOTIONAL TRAILER AND END TO MARVEL'S SDCC 2022
The first trailer for Wakanda Forever was shown, leaving the cast and audience in tears. Afterward, Feige closed the panel and said Marvel Studios would be back at SDCC next year.
What are your thoughts on Marvel Studios' SDCC panel? What was your favorite announcement? What do you think they will talk about at SDCC 2023? Let us know, and follow us on Twitter.
KEEP READING: I AM GROOT: WATCH THE ADORABLE NEW TRAILER FROM SDCC 2022