John Semper is one of the most respected names in the world of superhero animation, and The Illuminerdi got a chance to talk with him at San Diego Comic-Con about his recent animated film Green Lantern: Beware My Power (which he co-wrote with Ernie Altbacker).  The film features John Stewart's Green Lantern as its primary character, with supporting roles for Hawkgirl, Green Arrow, Adam Strange, Martian Manhunter, and more for its space-set adventure.  When asked by The Illuminerdi if he would have wanted to see cameos for any other Green Lanterns, Semper responded,
"It was important to really keep it focused on John.  You do see, at least in effigy form you do see some other Green Lanterns so you know they exist but it was really important to just keep this focused on John.  We didn't wanna dilute, and by we I mean Ernie my co-writer, and Jim Krieg, my producer, we did not want to dilute the attention and the energy away from this important character."
Why John Stewart is The True Green Lantern
A majority of the DC animated movies that have featured the Green Lantern up to this point have chosen popular favorite Hal Jordan for the role, so it is unique for Beware My Power to use Stewart.  This is far from Stewart's first appearance in animated form though, as the character was a mainstay in the Justice League cartoon set within Bruce Timm's DC Animated Universe (or Timmverse).  However, as mentioned above, Stewart is not the only DC superhero in this adventure, and Semper explained how they tied into the story of John Stewart here:
"Well, they are very important.  I think when you do good writing, you never introduce a character that doesn't move the main character's story forward in some really exciting capacity.  So the Green Lantern Green Arrow dynamic, even though it was Hal Jordan in the original, but the Denny O'Neil Neal Adams comic book that sort of reintroduced that dynamic, or introduced that dynamic, that was a really important factor in this.  I'm old enough to have been around and bought that comic when it first came out so the impact of that association, I remember it hitting me as a fan and we were able to recreate that".
RELATED: GREEN LANTERN BEWARE MY POWER: DIRECTOR JEFF WAMESTER TALKS JOHN STEWART, LOSS, & WORKING WITH ALDIS HODGE: EXCLUSIVE INTERVIEW
Semper also spoke on Adam Strange's inclusion as well as how the film would relate to previous animated projects and be unique from other DC output:
With Adam Strange, there was a short that they did which was very much a prelude to this movie.  The movie's standalone but it really helps if you've seen that short, so that was kind of cool.  And that's a character I've always really loved.  And just introducing new and different characters.  We don't have the usual Superman Batman Wonder Woman thing going on.  We were able to introduce other characters especially when we got to the watchtower and we had him interacting with the Justice League.  We had newer characters that you don't normally get to see.  That's always fun to bring in characters that people don't get to see."
Lastly, when asked if he prefers actor Aldis Hodge as Hawkman or Green Lantern, Semper responded with,
"Ahhhh, well I prefer him as Green Lantern because that's who he is in my movie. So I prefer him in that but I'm sure he does a wonderful job as Hawkman as well".
It's clear Semper had a blast working on this movie and his experience in superhero media is nothing if not amazing.  He also was a lead creative on the 1990s Spider-Man cartoon that introduced the character to modern audiences before the Sam Raimi trilogy began and worked on the DCAU series Static Shock among other superhero projects.  You can catch Green Lantern: Beware My Power on Digital, 4K, and Blu-Ray on July 26, 2022.
RELATED: SDCC: MIGHTY SCREENWRITER ERNIE ALTBACKER ON GREEN LANTERN: BEWARE MY POWER
Are you excited to see Green Lantern: Beware My Power?  What did you think of John Semper's exploration of John Stewart and the other DC characters?  Did you watch any of the DCAU projects growing up?  What would you construct if you had a Green Lantern ring?  What were your biggest takeaways from this year's San Diego Comic-Con?  Let us know in the comments below and on our Twitter.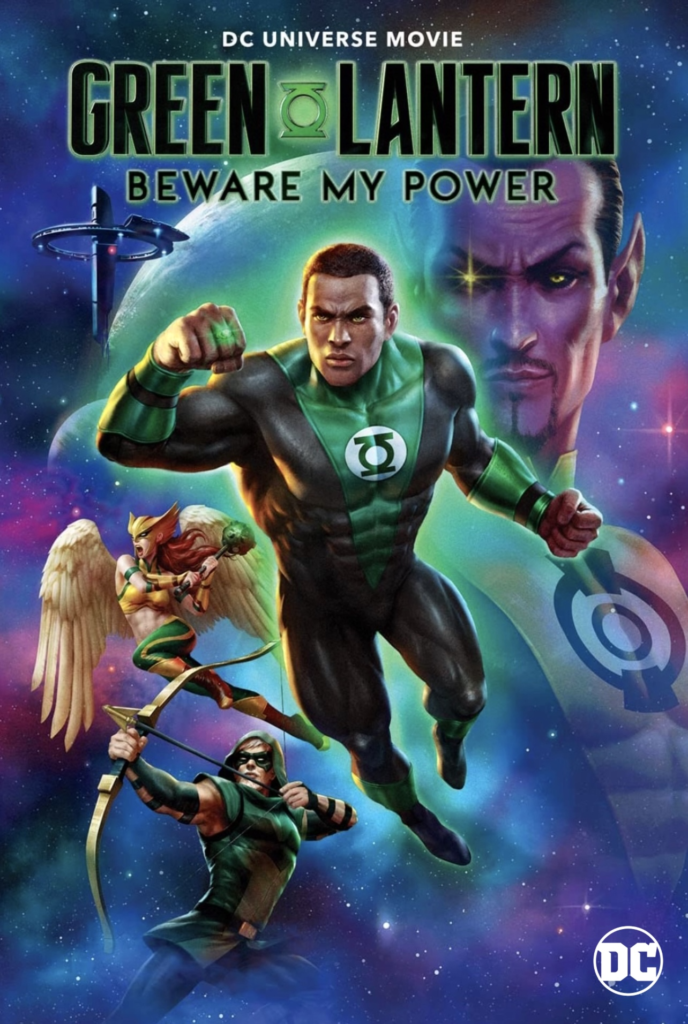 KEEP READING: STAR WARS KNIGHTS OF THE OLD REPUBLIC REBOOT PUT ON HOLD UNTIL POSSIBLY 2025