Digimon Survive publishers have requested that fans don't post spoilers on social media beyond Chapter 5. The franchise's latest game is one of the most anticipated releases with some fans already obtaining their copy of the latest game before its Friday release. As social media is the likely location for fans to share their experiences of the game, Bandai Namco has requested that content from the story of Chapter 5 and beyond isn't shared as it could spoil the experience for other players.
Digimon Survive is a stand-alone story as a visual novel and Tactical RPG hybrid, which features 8 new characters and various Digimon partners. The choices made in the game for the characters affect the outcomes of both battles and plots, meaning that choices can either boost a Character or end up causing a Tamer or Digimon to lose their life. These different routes in the story mean that there is a large number of paths that a player can take, and the gaming experience could be different for any variety of choices made. Naturally, this could also mean that spoilers are easier to share as any choice made will lead to the victory or consequence related to the interaction option.
Digimon Survive No-Spoiler Two-Month Request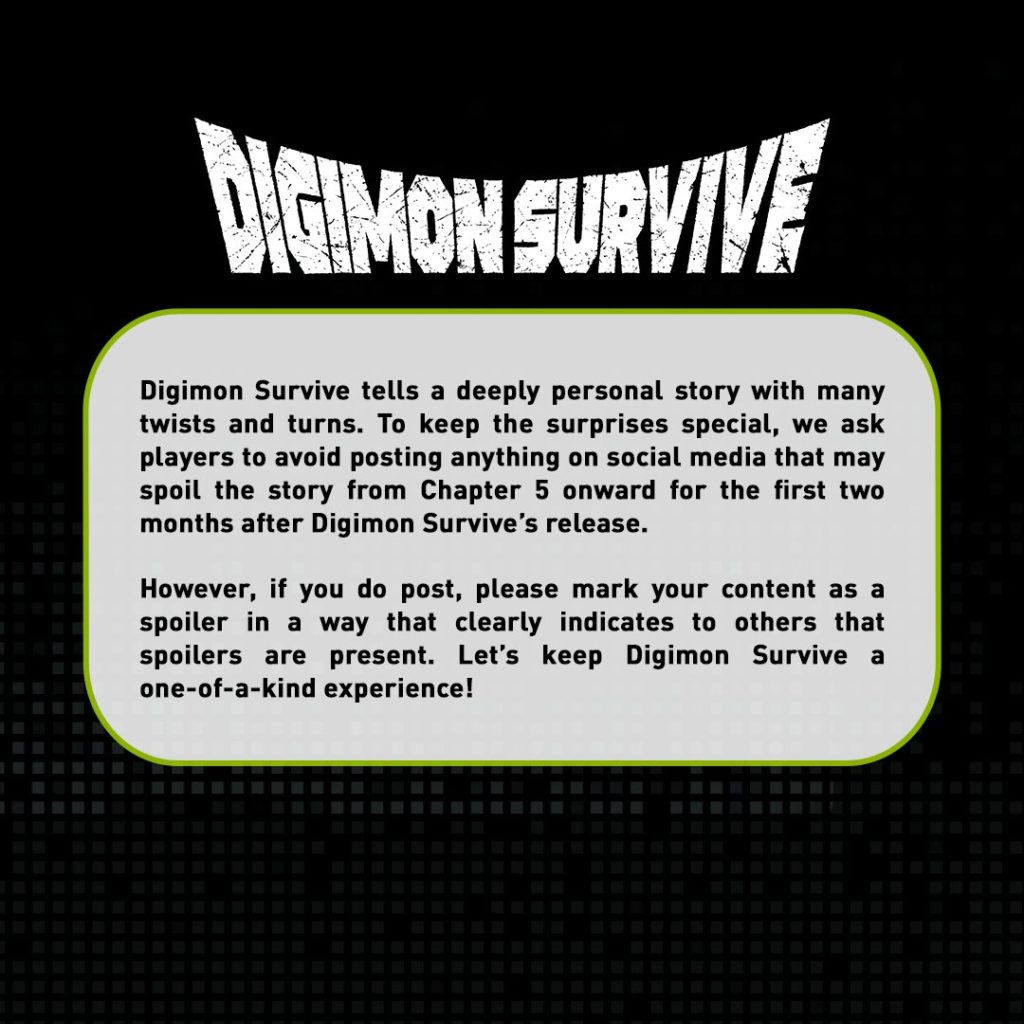 As the game is a special experience for fans, Bandai Namco have requested for no spoilers to be posted within the first two months, regarding the 5th Chapter and beyond for the story. As the game contains many special surprises, the creators are concerned that revealing anything relating to the game at this crucial time will spoil the mystery and suspense for other players, especially since some have yet to receive the game. A post was shared on social media regarding the request to keep the game as spoiler-free as possible. 
RELATED: DIGIMON SURVIVE RELEASING WITH LIMITED TIME GUILMON DLC
It's great that the publishers and creators are making fans aware of the player experience, as most fans would instantly post any surprises on social media to share their shock. To ensure everyone is on the same page, it's fantastic that there is an effort to make the game a full and true mysterious adventure. This is a lot like the usual request made by Marvel to keep spoilers hidden in movies so others don't miss out on the true experience. It's going to be hard to wait for the release, as everyone is going to want to dive in and find out what possibilities await them in the game.
RELATED: DIGIMON GHOST GAME: NEW PARTNERS REVEALED BY DIM CARDS
Digimon Survive releases tomorrow, on the 29th of July, and will be available on PS4 (PS5 compatible), Xbox One, Nintendo Switch, and PC via Steam. Launch DLC will also be included for physical copy pre-orders, while stocks last, and as a Steam Digital bonus in the first month. Check out for the best retailers, or for more information on the game, using the following link.
The No-Spoiler request will be in effect for the first two months of the release, however, anyone who wishes to post certain spoilers is encouraged to use #DigimonSurviveSpoilers on social media. 
What do you think of Digimon Survive? Will you be playing? Are you glad to see there is a No-Spoiler request? Which platform are you going to be experiencing the game on? Let us know on social media, or in the comments below, and keep following our social media for more delicious Digimon content. Never forget, we're always watching.
KEEP READING: SURPRISING POTENTIAL BUYERS IF WWE IS LOOKING TO BE ACQUIRED
Source: Twitter