The release of the upcoming Gotham Knights video game is just over a couple of months out, so the anticipation is ramping up. That means more footage and details will be coming out for the game. IGN First recently offered a first look at the initial 16 minutes of gameplay, offering an expanded look at the Bat-Family-themed title.
You can check out the first 16 minutes of gameplay footage, courtesy of IGN, in the player below:
GOTHAM KNIGHTS VIDEO SHOWCASES AN EARLY SLICE OF GAMEPLAY
RELATED: AMAZING 2ND TRAILER FOR GOTHAM KNIGHTS REVEALED AT DC FANDOME
The new gameplay video shows off new footage of Batgirl in action. The gameplay video is set after the prologue, in which IGN reports that WB Games Montreal is keeping a closely guarded secret. Also, this section of Gotham Knights is the first time players will take control of a character in-game. This section will also serve an in-game tutorial for players for some of the basic game traversal and combat mechanics, along with the wider mystery of a Gotham City following the death of Batman, aka Bruce Wayne.
Over the course of the gameplay video, Batgirl investigates the lab of Dr. Kirk Langstrom, as he is a valuable connection related to Batman's final investigation. Unfortunately, after arriving at Gotham University, EMTs are already carting off Dr. Kirk Langstrom's dead body away from the scene. Further investigation by Batgirl leads to the discovery of Kirk Langstrom's secret lab, which clearly seems to hint at his possible or eventual transformation into Man-Bat, much like the DC Comics.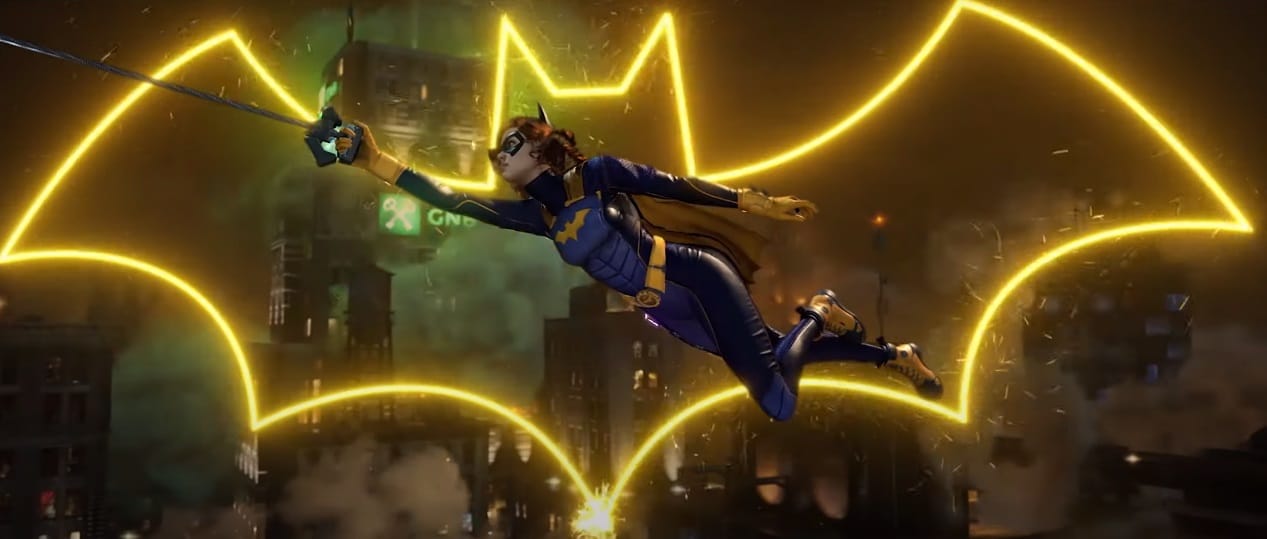 After collecting Dr. Langstrom's hidden lab hard drive, Batgirl discovers that a dangerous gang has infiltrated the university and is causing all sorts of havoc. Batgirl springs into action to take out the gang members and protect some hostages. Eventually, she faces the boss of the gang members called "The Bulldozer."
For fans of the Batman Arkham game series, there are some noticeably familiar elements. Grappling and map traversal looks very familiar. It looks like Detective Mode has been evolved and re-worked, but aspects of Detective Mode are still clearly in the game, and characters can engage in crime scene investigation modes. Crime scene investigation looks a bit more intricate than in past Arkham games, but how in-depth this feature will work in-game remains to be seen.
However, what was also noticeable is the new combat system. It looks completely different from past Arkham games. Silent Takedowns are still available, but the free flow combat system looks like it's been totally jettisoned. Hopefully, the new combat system that has been baked into the game at least will work well and won't cause any issues.
One thing that did look strange about the boss fight with The Bulldozer is Batgirl constantly moving away from the enemy when he was dazed. It was a jarring visual. In Arkham games, when a large brute or enemy such as this is dazed, it's an opportunity to launch more attacks or do some damage. Hopefully, this is not a bad sign.
RELATED: GOTHAM KNIGHTS WILL NOT TAKE PLACE IN THE SAME CONTINUITY AS THE BATMAN: ARKHAM SERIES
Gotham Knights arrives as a multi-platform release on October 25 for PlayStation 5, Xbox Series X/S, and Windows PC. But what do you think of the new gameplay video? Is Gotham Knights looking promising, or is this going to be another comic book superhero interactive disaster? Let us know what you think about the new gameplay video on our official Twitter account.
SOURCE: IGN
KEEP READING: NEW BAT-FAMILY GAME 'GOTHAM KNIGHTS' REVEALED AT DC FANDOME EVENT