Pokémon: The Arceus Chronicles is coming to Netflix next month, which is inspired by the latest Pokémon game. The new special will see Ash and Pikachu experience an adventure that has been influenced by Pokémon Legends: Arceus. The adventure is set in the Sinnoh region with familiar foes and allies making their reappearance. The clash of old and new Pokémon will debut in this epic adventure as Ash, Dawn, and Goh work with Brock and Cynthia to save the region.  
The Pokémon tv series anime started in 1997 and continues to follow the adventures of the iconic duo, Ash and Pikachu. From Pokémon Red and Blue to Pokémon Sword and Shield, Ash's adventures have evolved as new Pokémon and locations are revealed. The most recent instalment, Pokémon Journeys, is the 23rd season of the Pokémon anime, with many 8th generation Pokémon appearing in the show. Before the 9th Generation seen in Pokémon Scarlet and Violet debut, Ash will feature in a mini-series inspired by the most recent video game. 
RELATED: NEW POKÉMON SCARLET & VIOLET TRAILER REVEALS SOME FUN DETAILS
Pokémon Legends: Arceus become a huge hit when it was released at the beginning of 2022. It is a part of the 8th Generation of Pokémon video games but features as an open-world RPG that fans haven't experienced before. In the game, new mechanics are introduced that requires players to sneak up to wondering Pokémon and aim their Poké balls, among other new features. As a prequel, the game is set in when Sinnoh was known as Hisui, with some Pokémon having ancestral form. The new series to arrive on Netflix will be influence by this revelational game.
New Pokemon: The Arceus Chronicles Premiere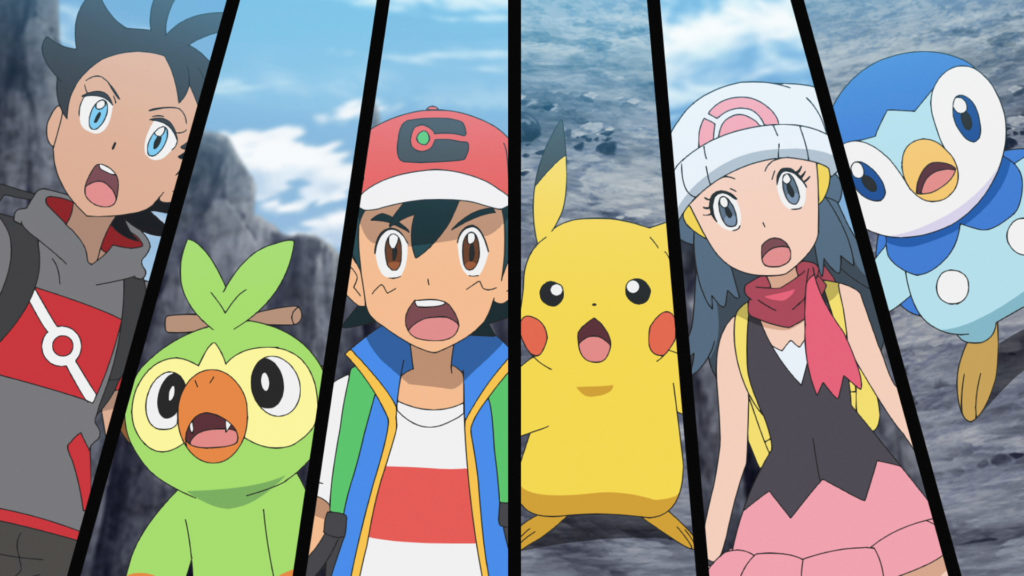 The Pokémon Company International announced a new Pokémon animated special, "Pokémon: The Arceus Chronicles" is coming to Netflix this September. Inspired by the popular Pokémon Legends: Arceus video game, the special follows Ash, his Pikachu, and friends as they adventure and explore the Sinnoh region. Here is the official trailer released for the new series, which will premiere for the world-wide audience.
Pokemon: The Arceus Chronicles Trailer
Pokémon: The Arceus Chronicles Synopsis
A visit to the Sinnoh region turns into a high-stakes adventure when Ash, Pikachu, and friends join forces with powerful Pokémon to confront a looming threat! When Ash, Goh, and Dawn receive a mysterious message from the Mythical Pokémon Arceus, they meet up with Brock and head to Mount Coronet to investigate. There, they find a rampaging Heatran and the commanders of Team Galactic, who are determined to find their missing leader by opening a gate between dimensions. With a trio of Legendary Pokémon and Sinnoh Champion Cynthia on their side, our heroes have lots of help, but they'll need all they can get to save Sinnoh from being destroyed! 
RELATED: THE POKÉMON COMPANY INTERNATIONAL BEGINS DEVELOPMENT OF NEW UNSCRIPTED SERIES FEATURING FANS OF POPULAR TRADING CARD GAME
Having a Pokémon series feature this magnificent game will be exciting to see considering all the new and legendary additions that were introduced in the latest title. It's likely that the Legendary Pokémon will be a major highlight, but it would be fantastic if Hisuian form Pokémon are dominantly used, like Voltorb that is Grass and Electric type. The return of iconic characters, like Brock and Dawn, will be highly anticipated additions to the series, especially if they possess any new Pokémon from current generations. Can't wait to see how the old and new characters will interact in this new adventure inspired by a game that has changed the future of Pokémon.  
The English-language version of "Pokémon: The Arceus Chronicles" will premiere at a screening event at the 2022 Pokémon World Championships in London on August 19 (available on a first-come, first-served basis).  
"Pokémon: The Arceus Chronicles" will be released to fans around the world (excluding Asia) on Netflix on September 23, 2022.
What do you think of Pokemon: The Arceus Chronicles? Are you excited about its premiere on Netflix? What are you hoping to see next from the anime series? Let us know on social media, or in the comments below, and keep following us for more anime news. 
KEEP READING: KRIS STATLANDER GIVES AN UNFORTUNATE UPDATE ON HER BIG INJURY