Dichen Lachman is on top of the world. She's been a staple on the small screen for years and broke into blockbuster films with this year's hit Jurassic World: Dominion as the dinosaur smuggler Soyona Santos. Her most prominent role as of late has been the character of Frankie on TNT's popular drama series Animal Kingdom, which has run for 6 seasons on the network and is set to conclude on August 28th, 2022. We were fortunate enough to get to interview her and talk about Animal Kingdom, and some of her other projects.
Dichen Lachman Interview
When asked by The Illuminerdi about whether or not we'd see Frankie again on Animal Kingdom, the actor offered the following:
Dichen Lachman: Oh well I think there's a season out right now. That's airing, right? Yeah. Yeah, no, I, Frankie doesn't come back, unfortunately, but if there's a spinoff of Animal Kingdom you can always tweet or message John Wells about [it].
RELATED: Jurassic World: Dominion Funko Pops! Are Now Available
It sounds like we won't be seeing Frankie again as this series nears its finale, but in the current day where everything that can be franchised out usually is franchised out, it is possible we could see her in an Animal Kingdom spinoff. However, Lachman is extremely thankful for her time on the show and what it has meant for the fans:
Dichen Lachman: Cause it, what I have not really understood up until recently is how popular the show is. Yeah. Like I walk around like all I'm all over the world. I'm in Italy, I'm in London, I'm in New York. I'm in LA, I'm in Mississippi. I'm in Boston. The FA there are so many animal kingdom fans out there. Not, not to say I'm surprised because I didn't think it was good. I just like, , like I didn't realize how many people had responded to the show. It's amazing. Yeah. I'm so happy. I'm so happy for the boys and for John and, and it's been an extraordinary series.
Something extraordinary about Animal Kingdom lies in its continued popularity. The show was one of the last scripted series to be greenlit by TNT before the production of original programming on the network was scrapped. With a majority of scripted shows now landing on streaming services, having one such as Animal Kingdom remain on the air for 6 seasons and ending with 75 episodes is nothing to sniff at.
Lachman has been featured on a multitude of popular television series over the years, from Dollhouse, Agents of SHIELD, Severance, Altered Carbon, The 100, The Last Ship, and more, with Jurassic World Dominion giving her a long-awaited jump to the big screen. When asked if she would reprise her Dominion character in the future, Lachman responded,
Dichen Lachman: I would love that and if you talk to Colin [Trevorrow], you're welcome to pitch it because I think that Soyona has a lot of mileage in her in terms of, not just her character, but the world that was created within the film…. The whole Malta sequence…. Really opens up a whole new world for the Jurassic franchise and I think it could be really fun. If they want to do it, I am happy to oblige.
RELATED: Jurassic World Dominion Review – The Best Film Since the 1st Jurassic Park
It's good to hear Lachman enjoyed her time on Jurassic World Dominion and is open to returning in the future. To the fans of Animal Kingdom and the producers who helped put it together, she offered,
Dichen Lachman: I'm so happy you love the show. And I will say they're all the nicest, most kind, the boys are just wonderful. Okay. And it, yeah, their work is, is really, really great. So I'm very lucky to have been a part of that.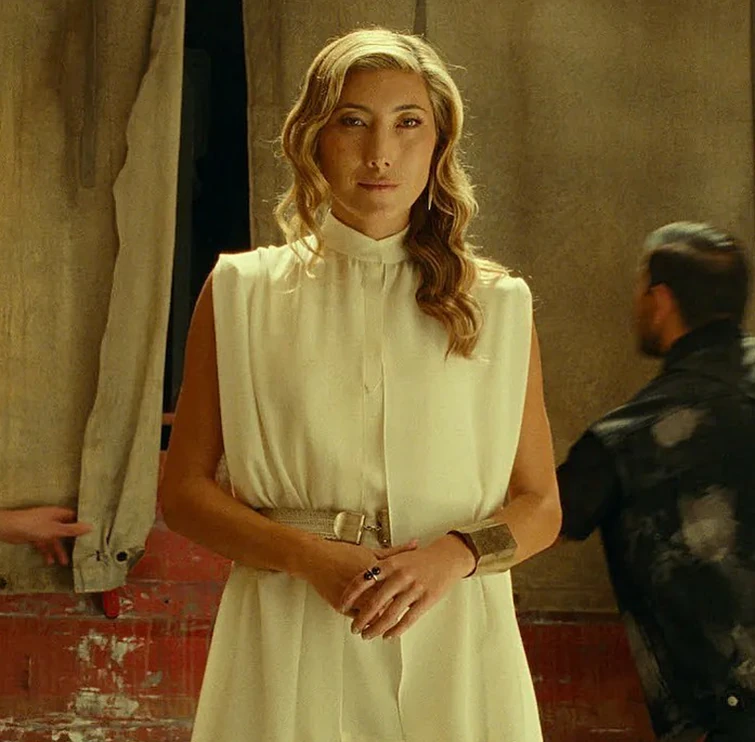 You can catch Animal Kingdom on TNT and Jurassic World Dominion on streaming and DVD. Keep up with The Illuminerdi for more news on Dichen Lachman, the Jurassic Park/World franchise, and any other pop culture happenings. You can check out the full interview with Dichen Lachman below.
Dichen Lachman Full Interview
Jurassic World Dominion is available now on home entertainment 4K, Blu-ray, DVD and Digital with the extended edition. What did you think of Dichen Lachman's comments on the finale of Animal Kingdom and Jurassic World Dominion?  Have you seen them or the numerous other shows she's worked on in the past?  What's your favorite Dichen Lachman performance?  Let us know in the comments below and on our Twitter.
KEEP READING: Jurassic World: Dominion – The Illuminerdi's We're Always Watching Podcast Ep 8