These new Jurassic World: Dominion Funko Pops! will make you wonder, "Why do they always go bigger?"
Funko is teaming up with Jurassic World: Dominion in order to make our wallets go extinct. The 6th film of the franchise is going bigger than ever with dinosaurs all across the planet, and somehow even in arctic climates. Funko, being the amazing creators of Pops! and other memorabilia is matching the film with their new like of Funko Pops!. This line features over 20 different molds, two of which are 10″ Jumbo Size Pops!. This line of Pops will literally be hard to miss.
Jurassic World: Dominion Tiny Pops! and Keychains
RELATED: Thor: Love and Thunder Funko Pops Release With Teaser Trailer
Before getting into the larger Pops! let's take a look at the keychains and Mini Pops. The Mini Pops! will be sold as Mystery Mini Pops! as most, if not all, other lines of Mini Pops! have. There looks to be 12 different 11 different molds with a potential Chase or variant version of the Giganotosaurus. Although personally I can't see the difference in the picture and wonder if they just used the same asset twice by mistake. The keychains are of the T-Rex, Blue (the Velociraptor), and the Therizinosaurus. A single Mystery Mini Pops! or a Pops! Keychain runs for $6.99.
Jurassic World: Dominion Funko Pops! & Jumbo Sized Funko Pops!
RELATED: Jurassic World: Dominion New Legacy Featurette Combines the Magic of the 2 Jurassic Franchises
This is where the Jurassic World: Dominion Funko Pops! line gets a bit frustrating. There are six exclusive Pops! across five different retailers. This is not including the two Jumbo Sized Pops!, one of which is a Walmart Exclusive. Sadly, one of the exclusives is at Books A Million, which means completing this set will be a pain and likely end up costing you more than retail. It is incredible that there are so many different dinosaur Pops!, and also great to have Pops! of the original trio of Jurassic Park. Luckily, most of them are easily available and at major retailers. The standard Pops! should run $11.99 with the Jumbo Sized Pops! running $39.99.
Not including shipping, getting every individual Jurassic World: Dominion Funko Pop! shown, including the two Jumbo Sized Pops! should run around $300. Which is a lot of money, but considering it's near the 30th anniversary of the franchise and the return of the original three doctors from the first film, a "go big or go home" mindset for anything related to the films seems appropriate. You can get all the non-exclusive Pops!, Keychains, and Mystery Mini Pops by clicking on this text. For the exclusive pieces, head over to the designated retailers.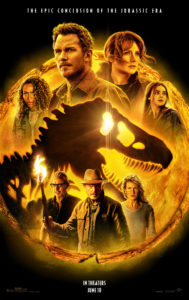 About Jurassic World: Dominion
Release Date: June 10, 2022
Directed by: Colin Trevorrow
Written by: Colin Trevorrow, Emily Carmichael, Derek Connolly
Cast: Mamoudou Athie, Chris Pratt, Laura Dern, Jeff Goldblum, Scott Haze, Bryce Dallas Howard, Dichen Lachman, Sam Neill, Daniella Pineda, Isabella Sermon, Justice Smith, Omar Sy, DeWanda Wise, BD Wong
Synopsis:
From Jurassic World architect and director Colin Trevorrow, Dominion takes place four years after Isla Nublar has been destroyed. Dinosaurs now live—and hunt—alongside humans all over the world. This fragile balance will reshape the future and determine, once and for all, whether human beings are to remain the apex predators on a planet they now share with history's most fearsome creatures.
Are you going to get any of the Jurassic World: Dominion Funko Pops!? How cool would it be to have the T-Rex and Gigantosaurus Jumbo Sized Pops!? Do you also struggle with a Pop! addiction? Let us know in the comments below and share your collections with us on Twitter.
Source: Funko
KEEP READING: New Exclusive Jurassic World Mattel Toys and Legos at Walmart