Discord voice chat can now be used on Xbox, now gamers can rejoice as they engage in Cross-platform communication with each other. The announcement was made that friends will be able to use the popular application, which has been used by PC gamers since its release. Xbox players will now be able to transfer their calls from Discord to play with both PC and Mobile gamers, while still enjoying the console experience.  
The voice chat has been the perfect companion for gamers since its release in May 2015. The VoIP (voice over IP) and the instant messaging social platform was created to be a user-friendly application that has minimal impact on performance. This concept was created by Jason Citron and Stanislav Vishnevsky for game designers to collaborate on titles such as Final Fantasy XIV and League of Legends, which led to the development of the chat service.  
RELATED: REDFALL REVEALS BADASS GAMEPLAY DURING XBOX & BETHESDA GAME SHOWCASE 2022
The name Discord was chosen for multiple reasons including simply how cool it sounds and solving the "Discord in the gaming community" in regards to voice chats during the time, which was caused by performance demanding applications. Gamers have since used the platform as their preferred voice chat application, which also allowed various text chats and communities to be built using the gaming communication solution. As of 2021, over 350 million users are registered on Discord, with over 150 million monthly active users. 
Discord Voice Chat on Xbox Consoles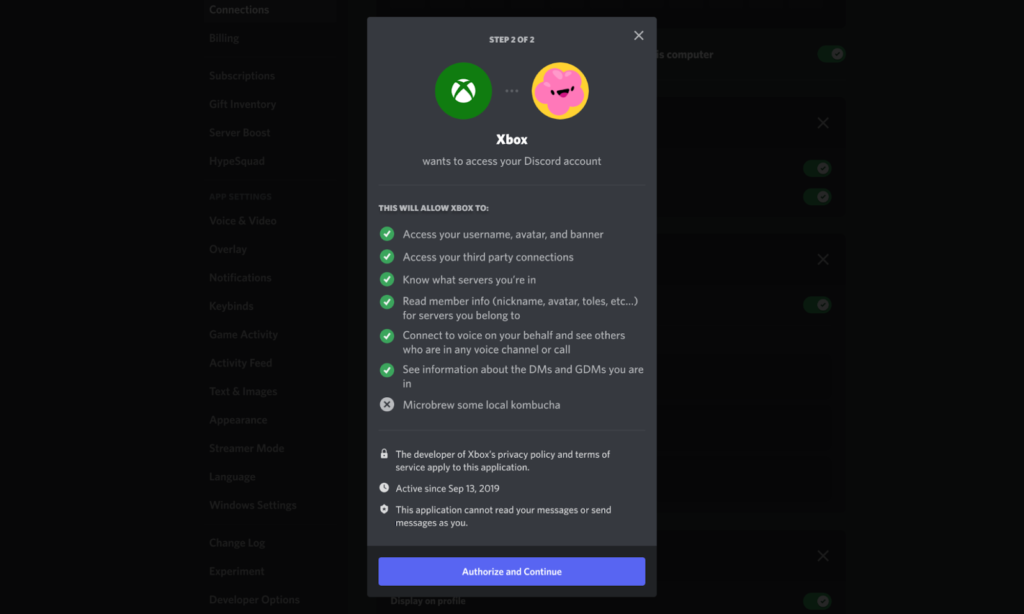 The voice chat is now integrated into the gaming console and works by transferring active calls from Discord to an Xbox. This means that there won't be a dedicated Xbox app for discord and therefore, you won't be able to join calls on the console. However, since most players have the app on their mobile devices, the transfer is easy to activate once the account has been linked to the 'new transfer to Xbox' option. 
RELATED: CLASSIC SCI-FI SURVIVAL HORROR IS BACK WHEN DEAD SPACE LAUNCHES JANUARY 27, 2023 FOR PLAYSTATION 5, XBOX SERIES X|S AND PC
Xbox owners will see a new voice option inside the Parties & Chat section of the Xbox dashboard. This will activate the start of the linking process for accounts, where a player can link this discord account to their Xbox account. Once completed, calls can then be transferred from the mobile Discord app to the Xbox chat, while the player is in a voice chat channel. Once transferred, the call on Xbox will allow you to chat with all friends currently in the call, adjust the volume, or disconnect from a call directly from the Xbox Dashboard. 
"We're so excited to be bringing support for Discord Voice chat on Xbox consoles in partnership with our friends over at Xbox. We look forward to continuing our partnership to create even deeper, more meaningful experiences for your friends and communities. Who knows what the future holds!"

Discord Team
This is a long-awaited feature as some games have cross-platform that allow various gamers to play together. This feature will also allow friends to talk to each other no matter their platform preference or use multiple sources for sound and chat separately.
It's also likely that some friends might just use the chat without playing the same game, which is a fantastic feature for both friends and the gaming community. Considering the low impact on performance usage, it's no surprise that this partnership will be beneficial for the gaming community. There are likely to be some bugs to occur as most new applications on a console tend to have, but any feedback regarding these issues will allow the support team to fix these as soon as possible.
Discord is now usable for Xbox consoles. For more information on how to connect the voice chat to your console, use the following Xbox support link or check out the Discord blog.
What do you think of Discord? Are you a gamer that uses an Xbox console for your gaming experience? Will you be using the popular VoIP for all future voice chats? Let us know on social media, or in the comments below, and keep following us for more gaming news, we're always watching.
KEEP READING: TED DIBIASE RECALLS INTERESTING 1ST MEETING WITH VINCE MCMAHON