One Piece Film: Red is heading to theaters next month, and fans can celebrate the upcoming release with lots of upcoming bonuses for the release. Ahead of the upcoming panel for the movie this weekend at New York Comic-Con, Crunchyroll has announced that tickets are now on sale for the film's upcoming release in Horth America, Australia, and New Zealand.
Also, Crunchyroll has also revealed the film's full English voice cast, along with new motion posters, which you can check out below:
TICKETS NOW ON SALE AND ENGLISH DUB CAST INFORMATION RELEASED FOR ONE PIECE FILM: RED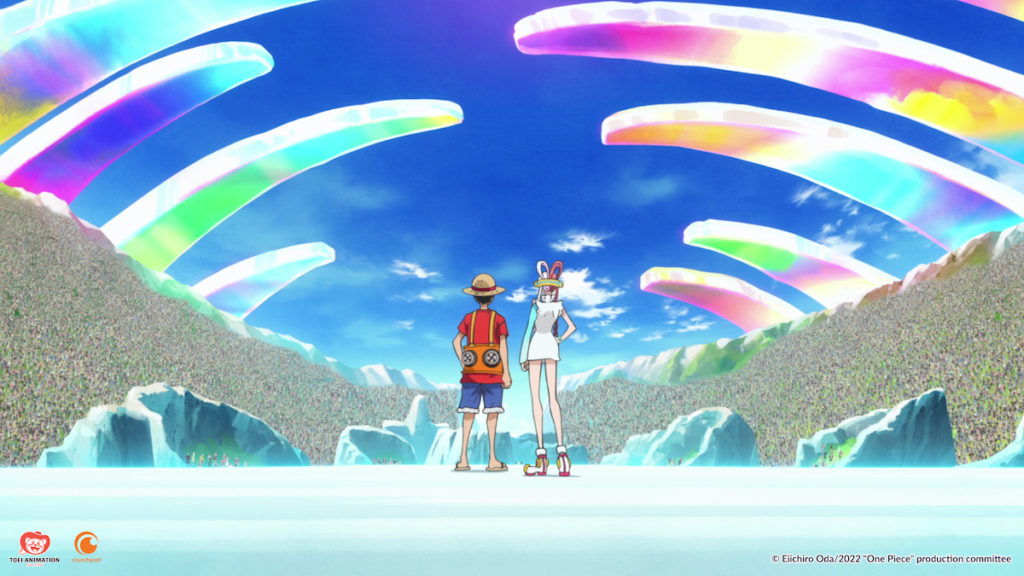 RELATED: CRUNCHYROLL REVEALS 'ONE PIECE FILM RED' NORTH AMERICAN RELEASE FOR NOVEMBER 2022
Crunchyroll is gearing up for the upcoming release of One Piece Film: Red in North American theaters next month across the United States and Canada. Additionally, the film will also be available to fans in Australia and New Zealand. Tickets are available for fans and moviegoers to purchase now at Fandango.com.
Also, Crunchyroll has confirmed the full English dub cast for the film. AmaLee joins the cast as the new character Uta, the daughter of the pirate Shanks. Uta, a world-renowned singer, has her songs in the film performed by Japanese singer Ado. Fans will be able to watch the film on the big screen in both subtitled and dubbed formats. Here's the full English cast list:
Uta – AmaLee (Songs performed by Ado)
Monkey D. Luffy – Colleen Clinkenbeard Carroll
Gordon – Jim Foronda
Shanks – Brandon Potter
Koby – Micah Solusod
Bartolomeo – Tyson Rinehart
Usopp – Sonny Strait
Nami – Luci Christian
Law – Matt Mercer
Sanji – Eric Vale
Chopper – Brina Palencia
Roronoa Zoro – Christopher R. Sabat
Brook – Ian Sinclair
Robin – Stephanie Young
Brulee – Rachel Robinson
Oven – Jason Marnocha
The new film is executive produced by the one and only One Piece creator Eiichiro Oda. It's directed by Goro Taniguchi (One Piece Defeat Him! The Pirate Ganzack! OVA) from a script by Tsutomu Kuroiwa (One Piece Film: Gold). The new movie produced by Toei Animation commemorates the 25th anniversary of the original manga series' debut, which first began its serialization in July 1997.
In One Piece Film: Red, the beloved singer Uta reveals herself to the world by throwing a live concert. Her concert venue is filled by fans, including exciting pirates and the Straw Hats crew led by their captain, Monkey D. Luffy. Uta and Luffy were actually old childhood friends. The story kicks off with the shocking reveal that Uta is also the daughter of the enigmatic pirate, Shanks.
RELATED: ORIGINAL STITCH ONE PIECE SHIRT REVIEW – 1 PIECE OF FINE FASHION
Fans in attendance at New York Comic-Con this week will be able to check out a One Piece Red: Film panel starting tomorrow (Saturday, Oct. 8) at the Empire Stage at the Jacob K. Javits Convention Center. The panel will feature appearances by English voice cast members: Colleen Clinkenbeard (Monkey D. Luffy), Christopher R. Sabat (Zoro), Luci Christian (Nami), Sonny Strait (Usopp), and Ian Sinclair (Brook).
Japanese filmmakers Goro Taniguchi (Director), Shinji Shimizu (Executive Producer), and Hiroaki Shibata (Producer) will also be on hand for the panel, along with Anthony Bowling (ADR Director) and Kyle Cardine (Crunchyroll) as hosts. Fans can check out more details for the film's North American theatrical release at the official website.
One Piece Film: Red opens in theaters in North America, Australia, and New Zealand on Nov. 4. What do you think of the news regarding the next big-screen installment of One Piece Film: Red? Do you plan on checking it out in theaters? Will you watch it subbed or dubbed? Let us know what you think about the new anime movie on The Illuminerdi Twitter account.
KEEP READING: ONE PIECE: 10 PIRATES WITH THE CRAZIEST BOUNTIES REVEALED SO FAR
Source: Crunchyroll