Blockbuster is either Netflix's monument to their fallen competitor or a petty middle finger, but either way, it's pretty damn funny.
In 2014 the corporate entity known as Blockbuster LLC closed the remaining 300 corporate-own Blockbuster Video stores. Now there is only one Blockbuster video left, in Bend Oregon… and also Perth, Australia. But today, in 2022, Netflix adds one more Blockbuster to the list, with their new workplace comedy Blockbuster, created by Vanessa Ramos (Brooklyn 99, Superstore) and starring Randall Park (Young Rock, Wandavision), and Melissa Fumero (Brooklyn 99, M.O.D.O.K.). The streaming giant revives their fallen competitor in the form of a half-hour workplace comedy, loosely based on their last remaining location.
Blockbuster Lives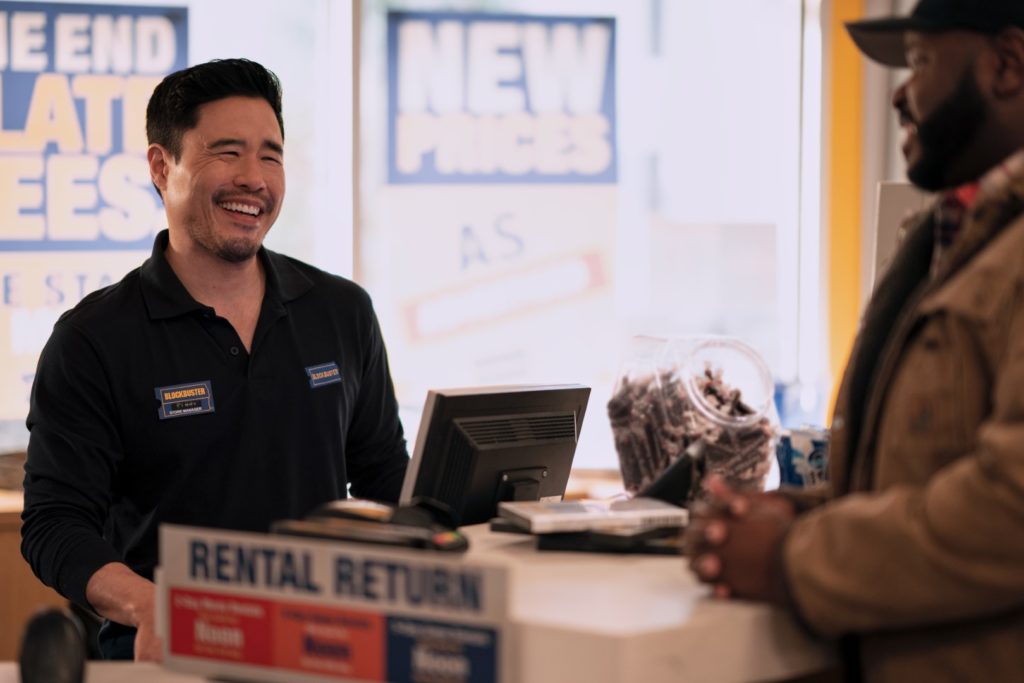 Randall Park plays Timmy, owner of the last surviving Blockbuster Video. Timmy has worked at this location since he was a teenager and become its owner, and the sole surviving location of the once giant corporate entity. He is joined by his best friend Percy, played by J.B. Smoove, who owns the strip mall where his store is, and his eclectic team of employees portrayed by Melissa Fumero, Madeleine Arthur, Tyler Alvarez, Olga Merediz, and Kamaia Fairburn. Together, they struggle to keep the lights on and deal with the many dramas and relationships within and around their workplace. It's a classic genre about a nostalgic topic, that is somehow new enough to work.
RELATED: Inside Job Part 2 Reveals Premiere Date In November and Adds the Hilarious Adam Scott
Much Like Seeing Any Video Rental Store, It's a Pleasant Surprise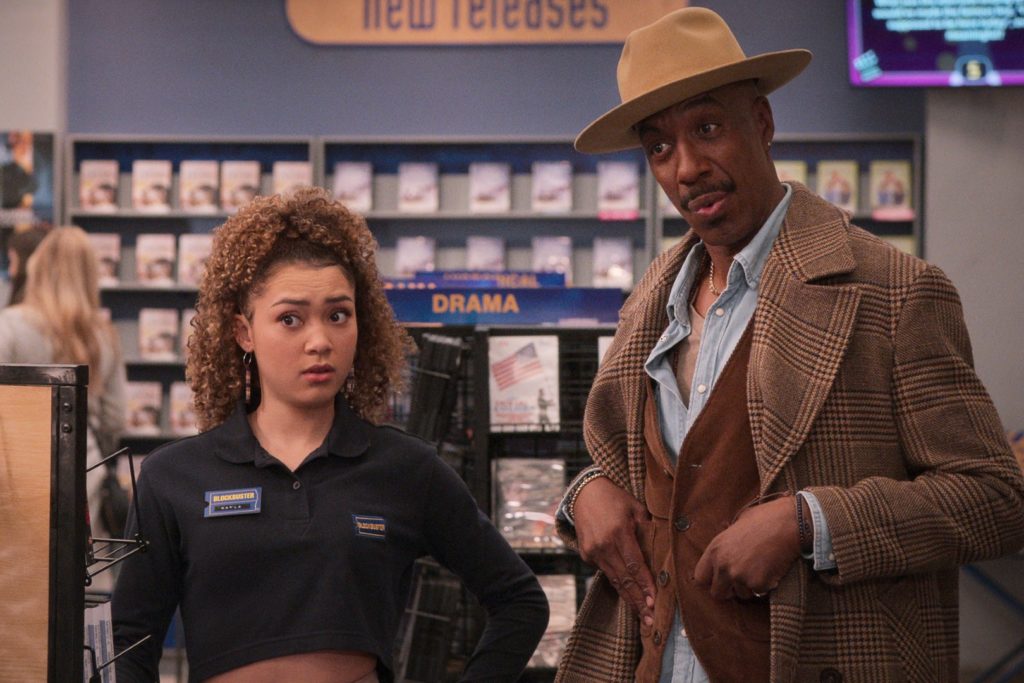 Personally, whenever I see a video rental store, I assume it's a front for organized crime, and this series is really no different. Blockbuster is just a front for hilarious writing and performances and surprisingly deep emotion. Vanessa Ramos brings her experience from her previous hit series and it is instantly recognizable in the show's wit and somehow grounded feeling even in the most outrageous circumstances. Without giving too much away, Ramos uses shrimp nachos as a weird yet real thing on top of being a layered and applicable metaphor that is deeply touching and emblematic of social status. It is meta, out there, and self-referential, yet not pretentious.
It's truly a comedic masterclass in comedy and symbolism, however, it isn't necessarily laugh-out-loud or gut-busting. It does well to tell the story, which is given great life by the performers. Randall Park brings his trademark charm that has audiences rooting for him even when he isn't always portraying a morally sound person. Melissa Fumero matches Park's likability and familiarity with her character Eliza, an ostentatious, but endearing, Harvard dropout. Their qualities are then mirrored by the characters portrayed by Madeleine Arthur and Tyler Alvarez, Hannah and Carlos, and rounded out by the quirky wisdom of Olga Merediz's Connie.
The extremes of the characters and situations are heightened by J.B. Smoove's Percy, who has the ability to make things better and worse simultaneously. And then they are all kept in check by Kamaia Fairburn's Kayla, who is Percy's teenage daughter. It is an odd mix of characters that make for a surprisingly relatable cast that you want to hang out with. But temporarily, and at your choosing. Imagine a group of people you want to hang out with, at your leisure, but only for a limited amount of time. With the option to do so again. Kind of like RENTING! And now the series really make sense.
RELATED: Severance Adds 8 New Stars to Join Hit Series for Season 2
A Few Late Fees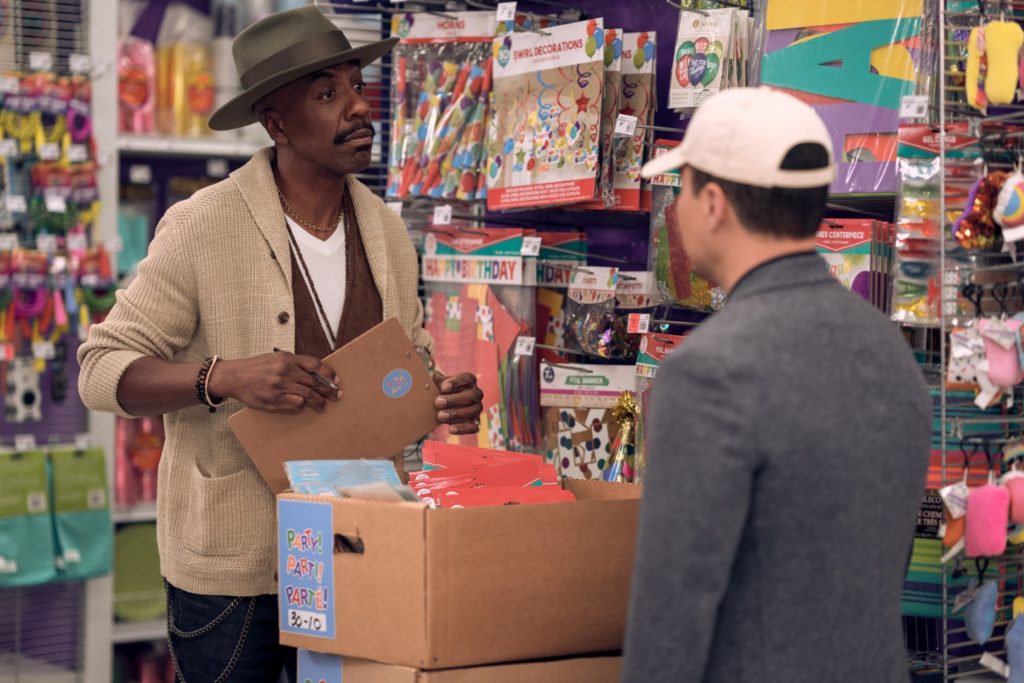 While the show overall is a lot of fun to watch, it isn't without drawbacks. The biggest drawback is a little too much of a trope too fast. There's a thread that ties The Office, Brooklyn 99, Superstore, and Blockbuster together, and as of right now Blockbuster is suffering from its limited number of episodes. To be vague it's romance, the common thread is the set-up of the romance, and kind of hard not to compare considering the tone and stars of the series. The situation is complex and offers a lot of possibilities. But, the series rushes through it. Where it starts and where it ends, usually takes until the end of Season 2 or 3 to get to.
In addition to the rushed romance plot, the best friendship is also a bit uneven. The cast chemistry is great, everyone works well with each other. However, there's something about J.B. Smoove that doesn't always fit in. He is a master of his craft, and arguably has some of the funniest moments. There are just times he seems to be on a different show. It's hard to explain, exactly, and again this is not a knock on his performance. It's good, but sometimes it just feels out of place and disconnected. Picture if Boyle started Jimming to the camera when he made his inadvertent innuendos. It would be funny but it would be out of place.
RELATED: The Penguin: Cristin Milioti Tapped To Play Crime Princess Sofia Falcone In HBO Max's Exciting The Batman Spin-Off
Everything is in Stock and Returned On Time
Blockbuster, much like the last remaining location(s), capitalizes on its key appeals. Smart writing, strong cast, and new familiar vibe. The story itself is captivating and enhanced by the performers. Plus the writing is profoundly brilliant and approachable. It is not always laugh-out-loud funny, but chances are you will smile thinking about how well-crafted the joke is, and likely co-opt them for your own use in daily life. The show is still finding its footing, and balancing out the workplace comedy with the workplace drama, and maybe a little overly ambitious with the amount it went for in 10 episodes. But the comfort viewing and rewatchability it has rivals the greats.
Blockbuster will be the next show you rewatch over and over again instead of watching a new show. For its subtly brilliant delayed smirk-inducing comedy, undeniably lovable cast, and pure sitcom rewatch magic, I give Blockbuster a 3.5/5.
Blockbuster is now streaming exclusively on Netflix.
ABOUT BLOCKBUSTER
Release Date: November 3, 2022
Episodes: 10 x 30 minutes
Creator / Executive Producer / Writer / Showrunner: Vanessa Ramos (Superstore, Brooklyn Nine-Nine)
Executive Producers: Jackie Clarke, David Caspe and John David & John Fox for Davis Entertainment
Starring: Randall Park (Timmy), Melissa Fumero (Eliza), Tyler Alvarez (Carlos), Madeleine Arthur (Hannah), Olga Merediz (Connie), JB Smoove (Percy), and Kamaia Fairburn (Kayla)
Synopsis:
Timmy Yoon (Randall Park) is an analog dreamer in a 5G world. He's spent his entire adult life dedicated to his first love, movies — a passion that's kept him at his first and only job, managing his hometown Blockbuster Video.
Then Timmy is alarmed to learn that his store is officially the last Blockbuster in America. He now has no choice but to take action to stay open and keep his friends employed. Timmy and his staff quickly come to realize that being home to the last Blockbuster might actually be exactly what their community needs to rekindle the human connections they lost to the digital age. It also unexpectedly reunites him with his long-time crush Eliza (Melissa Fumero), who's recently come back to work for him. Will this battle to preserve the past be the push Timmy needs to step into the present? His employees can only hope so.
Do you still have your Blockbuster card? How ironic is it that the company responsible for destroying the company is making a show about the company they destroyed? Did you ever ger charged late fees? Let us know what you think and share your hopes for the series with us on Twitter.
KEEP WATCHING: Agatha: Coven of Chaos: Aubrey Plaza Cast in Mystery Role and New Shooting Details: Exclusive