Though easily one of the most joyful people on the Black Panther: Wakanda Forever press tour, Tenoch Huerta's Namor comes with the intent to destroy Wakanda.
The Black Panther: Wakanda Forever press tour is in full swing, and the stars are telling us a lot while also working vehemently to avoid the variety of spoilers they do not want to give away. Of the new cast members, Tenoch Huerta is at the forefront as the serpent god of Talokan, Namor. Huerta has been all smiles at every event since San Diego Comic-Con. He appears to be one of the jolliest members of the cast and is genuinely happy to share everything he can and is able to. However, Namor is an absolute terror in the film. Huerta shares where that terrifying fire comes from and how he and Ryan Coogley justify the character.
How Namor is Justified in Black Panther: Wakanda Forever
RELATED: The Wakanda Forever Magic that Got Rihanna Back in the Studio After 6 Years
It is tricky, when you have a character like this, because you are the antagonist. You gonna destroy something that is [viable?], not just in the story, but the people, you know?  The people outside.  A lot of people feel identification with Wakanda, and I'm include myself in Wakanda, and the narrative and representation and everything.  So, now I have to play the bad guy who destroys [laughs], or try to destroy that legacy.  And but at the same time, I think Ryan, the script, and, you know, he found a way to make it human, to justify why that people do that kind of thing.

It doesn't mean that is okay or not, you know, that it's right or not.  But it explains, you know?  It's not an excuse, but it's a reason, it's an explanation why the things happen.  Why the people choose different reactions in front of the grief or [menace?], or whatever, you know, the threats on life.  And that's beautiful because it's human.  So, we have these two characters, taking different decisions with the grief and the threat.

Tenoch Huerta, Namor is Black Panther: Wakanda Forever
Though Namor will assuredly wreak havoc, audiences will be able to understand his actions. When the antagonist of the film resonates with the audience, it always adds to the impact the film has on the audience and the culture. Black Panther did it with Michael B. Jordan's Kill Monger and looks to be doing it once again with Tenoch Huerta's Namor. Huerta goes on to explain why he believe the audience will resonate with Namor, despite the threat he imposes.
RELATED: One of Wakanda Forever's Epic Fights Took 4 Months to Shoot

And at the same time, they share the same wound historically.  I mean, like, representation of their cultures.  But at the same time, as individuals, they share that wound.  And how they solve the problem is about their personality and their own history.  So, that's beautiful.  That balance in a movie.  You know, superhero movies, like, you have this balance and these layers.  It's fantastic.  It doesn't happen too much and it's enjoyable. 

Tenoch Huerta, Namor is Black Panther: Wakanda Forever
Much like Tenoch Huerta himself, Namor is deep with a multitude of sides. He is the antagonist, but with Coogler's direction and Huerta's performance, few will see him as the villain. Many will not agree with the acts he commits, but most will at least understand. See how Namor destroys and shares the screen with the rest of the Black Panther: Wakanda Forever cast when the film releases next week.
Black Panther: Wakanda Forever releases globally exclusively in theaters on November 11, 2022. Tickets are on sale now.
ABOUT BLACK PANTHER: WAKANDA FOREVER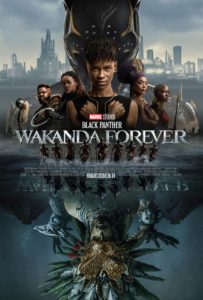 Release Date: November 11, 2022
Director: Ryan Coogler
Story Writer: Ryan Coogler
Screenplay: Ryan Coogler, Joe Robert Cole
Producers: Kevin Feige, Nate Moore
Costume Design: Ruth Carter
Cast: Angela Bassett, Letitia Wright, Winston Duke, Danai Gurira, Florence Kasumba, Lupita Nyong'o, Martin Freeman, Tenoch Huerta, Dominique Thorne, Michaela Coel, Mabel Cadena and Alex Livanalli

Overview:
Queen Ramonda (Angela Bassett), Shuri (Letitia Wright), M'Baku (Winston Duke), Okoye (Danai Gurira) and the Dora Milaje (including Florence Kasumba), fight to protect their nation from intervening world powers in the wake of King T'Challa's death. As the Wakandans strive to embrace their next chapter, the heroes must band together with the help of War Dog Nakia (Lupita Nyong'o) and Everett Ross (Martin Freeman) and forge a new path for the kingdom of Wakanda.
Are you hyped to see Namor on the big screen? Do you already have tickets to Black Panther: Wakanda Forever? How much of Wakanda do you think Namor will destroy? Let us know what you think and share your theories with us on Twitter!
KEEP READING: Agatha: Coven of Chaos: Aubrey Plaza Cast in Mystery Role and New Shooting Details: Exclusive