After sixteen long years, the Gears of War film that fans have been clamoring for is on the way!
The third-person shooter video game released on Xbox consoles back on November 7th, 2006 and has since built up a legacy that has spanned many games and entertainment media since its launch. Now, IGN reports that Netflix has announced they have begun production on an official Gears of War film alongside an adult animated series.
RELATED: TRANSFORMERS: RISE OF THE BEASTS ADDS LEGENDARY MICHELLE YEOH AND FUNNYMAN PETE DAVIDSON TO CAST
Gears of War was initially developed by Epic Games to be a single-player and co-op video game, telling the story of Marcus Fenix, with voice acting legend John DiMaggio (Transformers: Age of Extinction, Futurama, Adventure Time) as Fenix and Delta Squad face off against an alien threat that emerges on Earth. The original game spawned into a trilogy of fan favorite series of games before a five-year hiatus, returning with Gears of War 4 in 2016 and Gears 5 in 2019. The games have been Xbox exclusive since the series launched in 2006 and have had to compete with other Xbox exclusive titles, namely Halo: Combat Evolved.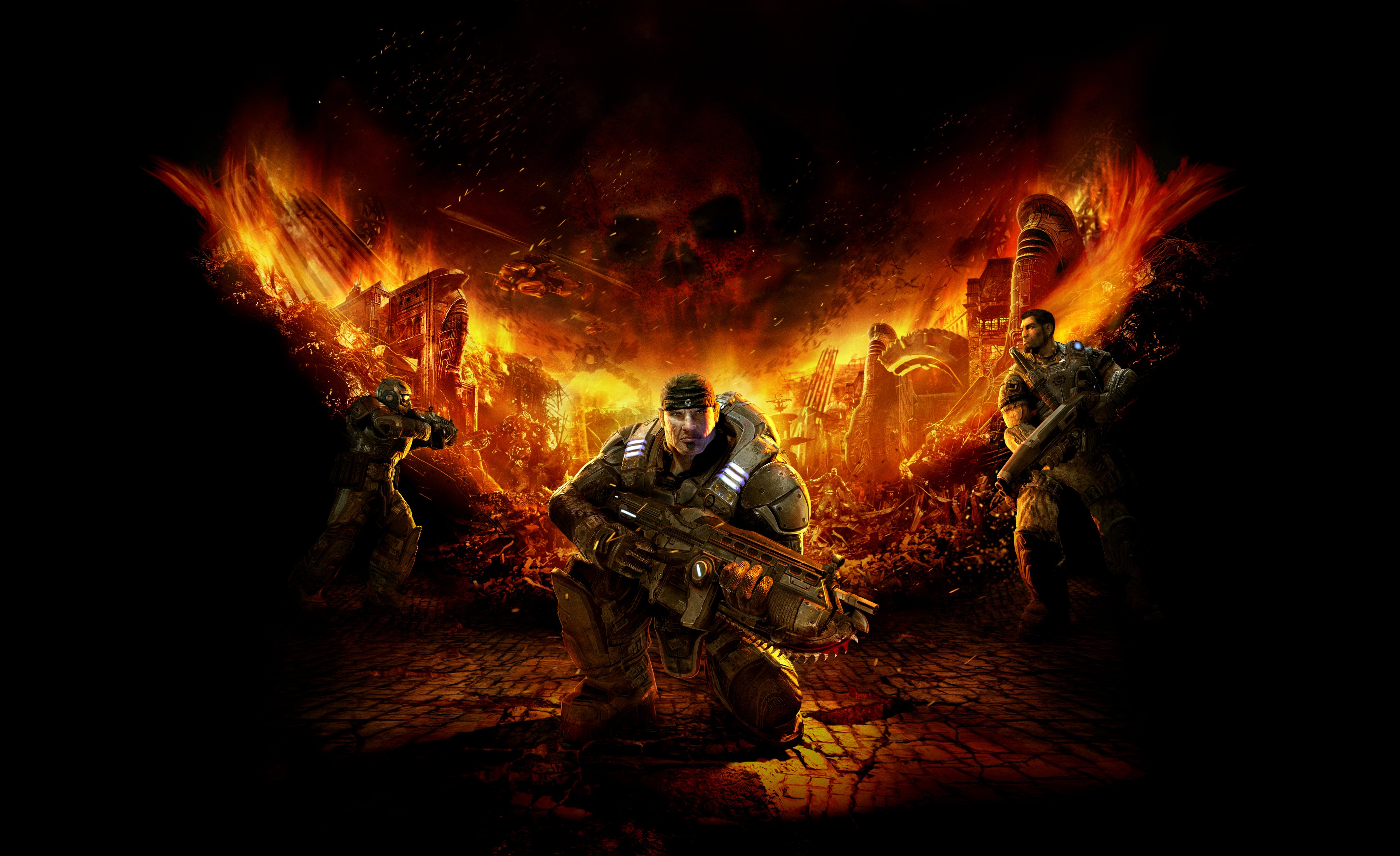 READ: Daredevil: Born Again: New Disney+ Series Set to Film in NYC in 2023: Exclusive – The Illuminerdi
While there have been no official announcements regarding the cast of the film, there have been rumblings over the last sixteen years of one particular actor who is dying to play the Marcus Fenix role in live action.
Who is Dave Bautista?
Glad you asked. Dave Bautista is an American actor and retired professional wrestler who performed under the name "Batista" while wrestling for WWE from 2002 to his retirement in 2019. Many nerds and geeks know his name through his continued appearances as the dim-witted but entertaining Drax the Destroyer from the Guardians of the Galaxy series of films in the Marvel Cinematic Universe. His other appearances include Blade Runner 2049, Spectre, and Dune. But what is his relationship with the Gears of War franchise?
In 2021, GameInformer reported that Bautista turned down a role in the extremely popular Fast & Furious franchise in order to fight for Warner Bros. to begin work on a Gears of War film. Fan reactions have been extremely positive, so much so that video game developer The Coalition included a DLC in-game skin for Marcus Fenix that used Bautista's likeness, which was definitely well received by the fans.
RELATED: CHRONICLE: LOOKING BACK ON JOSH TRANK'S POWERFUL DEBUT 10 YEARS LATER
Now, with the recent announcement of the Gears of War Netflix deal, fans have been posting online about getting Bautista a role in the film. Even the game's creator, Cliff Bleszinski, stated yesterday that he is continuing to lobby for Bautista to join the cast, along with saying he wants Ryan Reynolds involved, but absolutely forbidding Chris Pratt's involvement, likely due to his extensive controversial castings in many films this past year.
When Can We Expect Gears of War To Release?
The film does not have a confirmed release date as of yet, or even a fully announced cast. While it can be assumed that the film will release in mid-to-late 2023, Netflix and The Coalition might attempt to push back that release in order to get the film right. This highly anticipated release has had fans fuming with all the pushbacks over the fifteen years since the game's release, with each attempt to make the film going unanswered in favor of other films. But finally, fans are hoping we finally have a chance to see Marcus Fenix bust up some locusts…and hopefully, we can see Bautista "Batista Bombing" them as well.
RELATED: LUCASFILM REVEALS STAR WARS: THE ACOLYTE HAS BEGUN PRODUCTION & CONFIRMS NEW CAST MEMBERS
Dave Bautista will next be seen in Rian Johnson's Glass Onion: A Knives Out Mystery, the highly anticipated sequel to Johnson's 2019 comedy thriller, releasing in theaters for one week only on November 23rd, 2022, before it sees its own Netflix release on December 23rd of this year. Bautista is also slated to appear in M. Night Shyamalan's upcoming thriller Knock at the Cabin, releasing in theaters on February 3rd, 2023. You can check out The Illuminerdi's reaction to the latest Glass Onion trailer below and be sure to check in with us as we continue to provide updates on all your nerdy news needs!
Are you excited for Netflix's Gears of War adaptation? Let us know all of your thoughts over on our social media!
READ NEXT: Watch The Chaos Unravel in New Glass Onion: A Knives Out Mystery Full Trailer
SOURCE: IGN