During the press conference held on November 11, 2022, the Disenchanted crew (Amy Adams, Patrick Dempsey, Idina Menzel, Maya Rudolph, Gabriella Baldacchino, Yvette Nicole Brown, Jayma Mays, Oscar Nunez, Adam Shankman, Alan Menken, Barry Josephson) teased the possibility of future spin-off projects.
In 2007, Disney released Enchanted, a romantic comedy musical about Giselle, an Andalasian princess who winds up in New York. While searching for a way to return to her homeland, she bonds with the cynical divorce lawyer Robert Philip. All the while, Prince Edward seeks out Giselle as his true love as his stepmother Queen Narissa plots to eliminate the princess to keep claim to the throne.
RELATED: DISENCHANTED: WATCH THE MAGICAL TRAILER FOR THE SEQUEL TO DISNEY'S FANTASY HIT
From Drafts to the Big Screen
Enchanted underwent numerous changes during production that resulted in a vastly different feature from its initial drafts. The original 1997 script by Bill Kelly had a more adult tone, drawing inspiration from mature comedies like Fast Times at Ridgemont High and American Pie. The film would have been released under the Touchstone pictures banner with the R rating. Likely following the success of DreamWorks' Shrek, a subversive parody of Disney, Enchanted became more of a self-parody.
Several scenes and shots were deleted from Enchanted, mainly for pacing and story reasons. These included an alternate opening sequence, a different establishing character moment for Robert, and Nancy's desire for a fairy tale romance. Additionally, Idina Menzel had two songs planned for the feature, one of them being shot, but they were ultimately scrapped.
RELATED: MARGOT ROBBIE'S PIRATES OF THE CARIBBEAN REBOOT SUNK AT DISNEY
Disney went through several directors to helm Enchanted for its initially scheduled 2002 release. The first, Rob Marshall, left the project because of creative differences with the producers. In 2001, Jon Turteltaub was set to direct but left, though he later returned to work on the National Treasure films. Adam Shankman was the last director assigned to work on the project before Disney hired Kevin Lima for the film's 2007 release.
Happily Ever After… Or Disenchanted?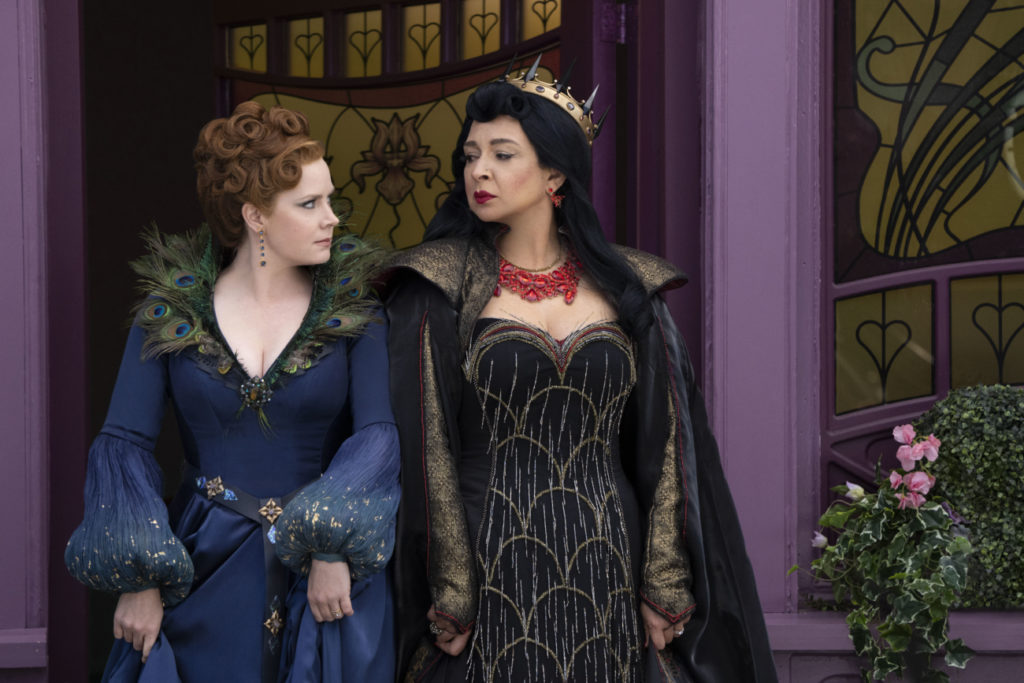 Coming on November 18, 2022, exclusively for Disney+, is the sequel Disenchanted. Taking place a decade after the first film, Giselle desires a more fulfilling life for her family. They move out of Manhattan to a new home in Monroeville, a suburb overseen by Malvina Monroe. When Giselle acquires a wishing wand, she wishes for a fairy tale life. However, she gets more than what she bargained for and must undo the spell before midnight.
Many elements of what could have been in Enchanted were restored and/or recycled for Disenchanted. Shankman, who was the third director on board for the first film, approached Disney with the idea of continuing Giselle's story as a stepmother, landing him the director's chair. Shankman, Menken, and Josephson also made sure to include musical numbers for Menzel, putting her singing talents to good use after her success in other Disney works such as Frozen and its sequel. In a deleted scene from the first film, Giselle contemplates what comes after "happily ever after"; sure enough, this becomes a major part of the story of Disenchanted.
RELATED: BLACK PANTHER: WAKANDA FOREVER'S PLACE IN THE MCU TIMELINE EXPLAINED IN INTRIGUING NEW REVEAL
Just like its predecessor, Disenchanted had its share of content that did not make the final cut. Oscar Nunez, who played Edgar, the barista, and the Magic Mirror, had dance scenes dropped from the film out of fear that he would upstage the main star Amy Adams. He also had a cappuccino song that drew influence from Carmen Miranda.
In the virtual press conference between Shankman, Menken, Josephson, and eight of the cast members, they discussed a hypothetical spin-off of Enchanted. With all the unused content across both films, Disney has ideas to recycle and repurpose these scenes and songs, possibly to give limelight to characters other than Giselle. If Disenchanted is successful enough, it is possible that plans of further expanding the world of Enchanted and its characters might come true.
Are you planning to see Disenchanted? What is your favorite part about the first film? How do you feel about a potential Enchanted franchise? Let us know in the comments! Follow us on Twitter so you don't miss anything, we're always watching.
KEEP READING: JONATHAN ENTWISTLE TO DIRECT NEW 2024 KARATE KID REBOOT: EXCLUSIVE