Violent Night is everyone's favorite new Christmas movie.
Move over Die Hard, Universal Pictures' Violent Night has toppled Nakatomi Plaza to become the best Christmas movie ever. The argument of the Christmas-movie-ness is directly responsible for the concept of this film. Josh Miller and Patrick Casey, who you may recognize as the writers of the Sonic the Hedgehog movies, vehemently debate the Christmas-movie-ness of the legendary Bruce Willis Christmas movie. While it is obvious I am a firm believer in Die Hard being a Christmas movie, I get why many would disagree. However, no one will deny Violent Night is without a shadow of a doubt, a Christmas movie.
Violent Night is Die Hard Goes Full Christmas
RELATED: Strange World Review – The New Disney Animated Feature is Almost Too Real
The comparisons between Violent Night and Die Hard are hard to avoid. Die Hard is in the DNA of the film. It has been since conception. However, it is not the same movie. Violent Night features Santa Clause (David Harbour) stuck at the large estate complex of the Lightstone family after Scrooge (John Leguizamo) and his band of Christmas codenamed thugs take the family hostage to steal the $300 million dollars locked away in the Lightstone family's vault. With a little help from Gertrude "Trudy" Lightstone (Leah Brady), who is the only one around who believes in him, Santa needs to tick everyone off on the naughty list.
Violent Night Jingles Bells
This is a movie that is meant to be seen with a group. The pure enjoyment of the film is infectious. Violent Night fully embraces the Christmas and Holiday spirit that radiates in the Christmas movies audiences have likely watched over and over again. Movies like A Christmas Story, Home Alone, and Elf, but also classic action films like the Die Hard franchise. It is all the warm fuzzy feelings of every kind of Christmas movie, elevated with incredibly performed and shot fight choreography brought to life by 87North and captured by Matthew Weston. Laughing, gasping, aww-ing, and all types of other sounds will be performed by the audience.
It is a shared experience that will increase an already tremendously enjoyable film.
RELATED: Glass Onion Review – The New Knives Out Sequel Is Sharper and Cuts Deeper
87North continues to prove they are one of the premiere action choreography teams with complex and intricate performances that still feel grounded. They made me look like a semi-competent fighter in a matter of minutes, but their people train for days out of the week, which is why it is so flawless when it comes to the screen. It is so well crafted and performed, the camera is able to sit with it and really show the action, versus other franchises that may mask less polished performances with shakey cam and fast cuts. Seeing the insane human ability in combination with the mind-blowing deaths is truly a Christmas miracle.
Santa Slays
Sometimes actors seem born to play a role and this is one of those times. David Harbour was meant to play an ass-kicking Santa Claus. There's an earnest quality Harbour brings to being a burnt-out Santa who can no longer see the good in his work that really hits home. Then watching him, with huge help from Leah Brady's Home Alone caliber performance, realize and embrace the Christmas magic once again is a genuinely heartwarming experience. Seeing that change with the heavy-handed, without ever feeling forced, action movie one-liners is fun, but how it resonates is incredibly impressive. Not to mention thoroughly entertaining.
RELATED: Devotion Review – A Beautiful Movie of Men Being Vulnerable
On the other end, is John Leguizamo as Scrooge. Who somehow seems to be having more fun than Harbour. Leguizamo is an amazing villain. He gives you absolutely no reason to like him, but you can't help it. He's a bit campy, but his subtle yet full embrace of the fun is what makes everything work so well. The pure devotion to dropping these Christmas-themed insults and maliciously twisted use of Christmas euphemisms are some of the funniest lines in the film.
But the best lines come from Hollywood legend/Christmas movie icon, Beverly D'Angelo. D'Angelo plays the matriarch of the Lightstones and is confident, scary, and powerful even as a hostage. It was nice to see Alex Hassell play a regular guy, after his stints as Vicious and Translucent. He is hilarious as the straight man in this film, and makes for an endearing, if not misguided, father. Alexis was the normal person in all this, which allows the ridiculousness of the situation and the Lightstone blood family members really shine. But she also gets her awesome action moment, and it is ice cold.
Lastly, without getting into specifics, Leah Brady would have been perfect for a Home Alone reboot. She proves it in the film. Unfortunately, I don't think she can be associated with the franchise as she performs a glorious homage to the classic franchise that is far more grounded in reality. It is spectacular and will stand as its own thing for the rest of time.
Oh Holy Night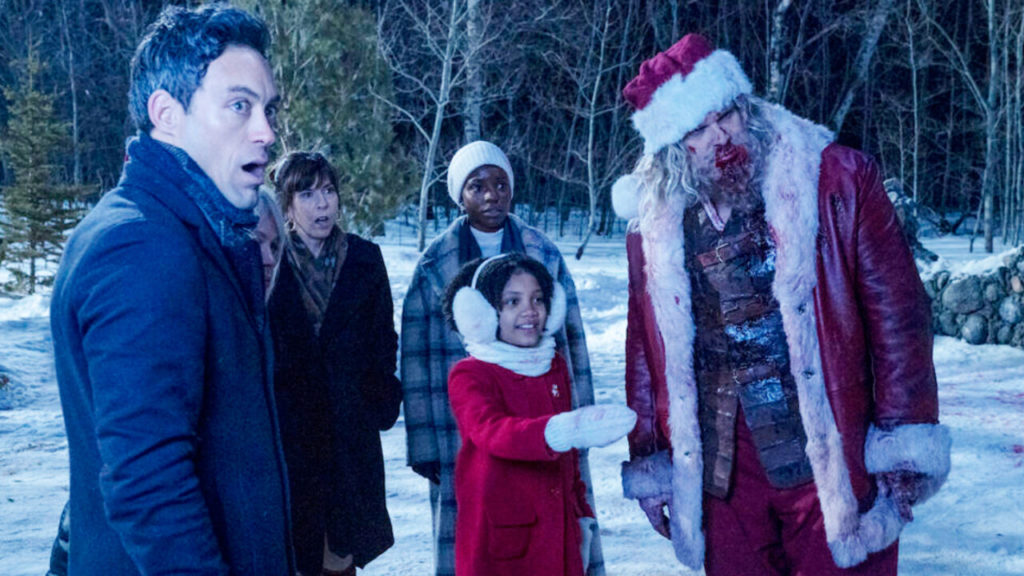 It is important to keep in mind Violent Night is rated R. While it radiates Christmas energy and I honestly believe will be a Christmas movie staple from here until forever (and the first of a franchise), it is gratuitously violent. It does not shy away from the imagery. Some things should not be seen by kids, but it's inevitably up to their parents'/guardians' discretion. There is a truly unifying and uplifting Christmas message that rivals even the best non-violent Christmas movies.
RELATED: The Menu Review – A Decadent 10-Course Meal for Those With Unique Tastes
Violent Night is the best Christmas movie ever! It has dethroned Die Hard from that spot, but only because it is able to stand on the shoulders of the giant. It is a wonderfully entertaining action-comedy film regardless of the season. But works in those genres to elevate the film's Christmas spirit. David Harbour and John Leguizamo deliver iconic performances that will cement their characters and catchphrases into memes for the foreseeable future. The combination of elite action, performances, and unrestricted violent imagination make for the ultimate Christmas movie.
For radiating pure and undeniable Christmas spirit that will have audiences unable to contain their joy and cheer, I give Violent Night a 5/5.
Violent Night releases in theaters on December 2, 2022. Tickets are available now.
About Violent Night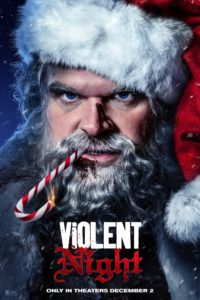 Release Date: December 2, 2022 (USA)
Director: Tommy Wirkola
Screenplay: Josh Miller, Patrick Casey
Producers: David Leitch, Kelly McCormick, Guy Danella, Annie Marter
Production Companies: 87North Productions, Perfect World Pictures, 87North
Cinematography: Matthew Weston
Cast: David Harbour, John Leguizamo, Cam Gigandet, Alex Hassell, Alexis Louder, Edi Patterson, and Beverly D'Angelo
Synopsis:
When a team of mercenaries breaks into a wealthy family compound on Christmas Eve, taking everyone inside hostage, the team isn't prepared for a surprise combatant: Santa Claus (David Harbour, Black Widow, Stranger Things series) is on the grounds, and he's about to show why this Nick is no saint.
Are you ready for Violent Night to become your new favorite Christmas movie? What is your current favorite Christmas movie? Do you believe Die Hard is a Christmas movie? Share your reactions to the film and your thoughts on Christmas movies with us on social media.
KEEP READING: Logitech G Cloud Review – 2022's Ultimate Cloud Gaming System