Batman: The Animated Series and The New Batman Adventures skipped over Jason Todd entirely featuring Dick Grayson and Tim Drake as Robin respectively. The Red Hood was not present at all, or was he?
The character was not popular at the time of the show's conception, and the decision was made to utilize Tim Drake while characterizing him like Jason. This version of Tim was angry, occasionally ruthless, and was even the son of one of Two-Face's henchmen, just like Jason in the Post-Crisis continuity of the source material.
Years after the conclusion of the DC Animated Universe (which includes Batman: The Animated Series, The New Batman Adventures, Batman Beyond, Superman: The Animated Series & more) on television, the franchise was revived through a comic book series titled "Batman: The Adventures Continue".
JASON TODD IN BTAS: THE ADVENTURES CONTINUE
This comic book revealed that Jason Todd actually was a part of the DCAU, working with Batman as the second Robin after Dick Grayson left. Jason was a thief living on the streets, and in this universe, he had a brother. When his brother tragically died while working for a gang known as "The Wolves", Jason came for revenge. He would have gunned down The Wolves if it wasn't for the intervention of Batman, who was impressed by Jason's fighting ability. 
REALTED: JASON TODD: RED HOOD IS ONE OF THE BEST DC CHARACTERS IN VIDEO GAMES
Jason became Robin shortly thereafter, but his anger and penchant for violence quickly got in the way of the dynamic duo's teamwork. Jason, as Robin, set out on his own crusade against Batman's rogues gallery, successfully taking on villains like Scarecrow and Killer Croc.
He attempted to take down Joker with the help of Harley, who claimed to have broken up with "Mr. J". She tricked him of course, and before long, Joker had kidnapped Jason and began his sadistic game of torture. Eventually, Batman found Jason, and tried to save his son.
JASON TODD SURVIVES, BUT ROBIN DIES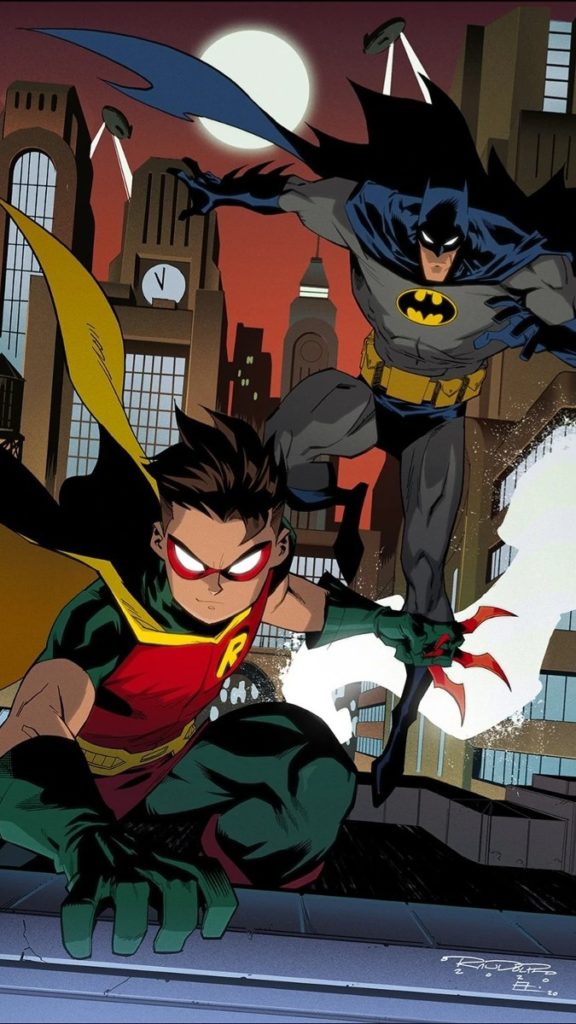 An accidental explosion left Joker buried under rubble, and that was when Jason begged Bruce to kill Joker, claiming it to be his dying wish. Batman refused, instead rescuing Joker from death, while Jason slipped away. He had apparently been exaggerating the extent of his injuries. Escaping on a stray parade balloon, Jason left Batman and his twisted world behind. 
RELATED: BATMAN KILLS THE JOKER: HOW TITANS SEASON 3 REINVENTS RED HOOD'S BRUTAL ORIGIN STORY
Several years later, Jason Todd returned to Gotham and began stalking the bat-family. Eventually, Bruce and Jason reunited, and Jason explained his new identity as Red Hood. Jason told Bats that he left Gotham to explore himself, and find his true calling. He donned the Red Hood identity in order to honor his deceased brother, who had been wearing a similar outfit at the time of his death. 
JASON TODD RISES AS THE RED HOOD
Jason decided to take down Joker and the rest of Batman's supervillains, though he would unfortunately fail at this quest. After fighting Tim Drake, Penguin, Batman, Batgirl, Straightman and more, Red Hood brought Joker and Bruce to his underground hideout. Jason tried to put Batman in a position where he could either kill Joker and save Tim Drake or let them both lose their lives. 
But Tim Drake and Batman found a way to overcome Red Hood without committing murder with a firearm. Batman tried to get Jason to return to Wayne Manor with him, but Jason claimed that it was too late for him, instead telling Bruce to focus on Tim, who could still be saved. After escaping, Jason was rescued by Deathstroke, who offered to give Jason a new family alongside himself and Sunny. 
Jason Todd is an incredibly heartbreaking and compelling character. Whether he is fighting as Robin, Red Hood, or the Arkham Knight, Todd is a force to be reckoned with. Each version of the character has unique elements that build out the character, while still holding true to the core of Jason Todd's being.
What do you think of the tragedy of Jason Todd? Do you love or hate Red Hood? Let us know in the comments below or on our social media!
KEEP READING: FIVE NIGHTS AT FREDDY'S LIVE-ACTION HORROR ADAPTATION CASTS SCOOBY DOO'S MATTHEW LILLARD AND HUNGER GAMES' JOSH HUTCHERSON