Deonna Purrazzo sent out a formal invitation to a recently released WWE Superstar to join her in IMPACT Wrestling. Purrazzo was released from WWE in 2020 after wrestling for NXT for two years.  After leaving WWE, she returned to IMPACT Wrestling and immediately made herself someone the IMPACT women's division known as Knockouts would need to watch out for. 
Since returning to IMPACT she has won the Knockouts World Championship twice, the Impact Knockouts World Tag Team Championship, and won the Impact Wrestling Homecoming tournament. And now, she would like to see recently released former NXT Women's Champion Mandy Rose join her in IMPACT Wrestling.
DEONNA PURRAZZO WANTS FORMER WWE SUPERSTAR MANDY ROSE TO JOIN HER IN IMPACT WRESTLING
WWE shockingly released longtime Superstar and former NXT Women's Champion Mandy Rose earlier this month. She was let go from the company after losing the title in a surprising upset to Roxanne Perez after holding the title for over 400 days. Rose was released by the company after it was discovered by executives that she was posting mature content on a FanTime subscription website.
RELATED: MIGHTY MJF WANTS TO PUNCH BELOVED ATTITUDE ERA WRESTLER
In a recent interview with Metro, Purrazzo thinks the recently released Mandy Rose can have a lot of success in IMPACT if she chooses to stay in wrestling, and she noted that she would welcome Mandy with open arms to IMPACT. She stated the following about Mandy Rose:
"Oh, I'm gonna open the door and welcome her in! I think that the Mandy Rose that came to NXT a year and a half, almost two years ago, to the Mandy Rose we see today has been a complete evolution of Mandy Rose. To see her in a different light and on a different platform, and see what else she can do without the WWE confines, is going to reinvent her again. Obviously we can't speculate what she's gonna do, or what her mindset is, if she wants to wrestle, if it she doesn't want to wrestle – it wouldn't be fair to. But if she chooses to wrestle, I want to wrestle her."
GONE FROM WWE BUT NEW OPPORTUNITIES IN IMPACT
Rose's recent release from WWE shocked the wrestling world and caused a great deal of discussion among fans. Her release came after she had become a focal point of the WWE NXT brand, where she had of course proven herself in NXT as the top women's wrestler time and time again within the brand.
RELATED: NEW DETAILS ON WHAT WWE TALENT ARE ALLOWED TO POST ON MATURE SUBSCRIPTION SITES UNCOVERED
Even though Deonna Purrazzo doesn't know Rose personally she is well aware of her and her talent in the ring.  She also talked about how welcoming IMPACT is and how and why it differs greatly from WWE:
"Our paths have never crossed in wrestling, we just know of each other and things like that but I think she's a frickin' star. IMPACT has become such a landing zone for people post-WWE to continue to grow their brand and evolve as a professional wrestler, and I think she would thrive in this environment that we have at IMPACT. We should break down the door for her and welcome her with open arms. NXT really forced me to hone in on that character development, for better or worse. While it was frustrating, it really forced me to become something bigger than I was and really evaluate who I wanted to be moving forward."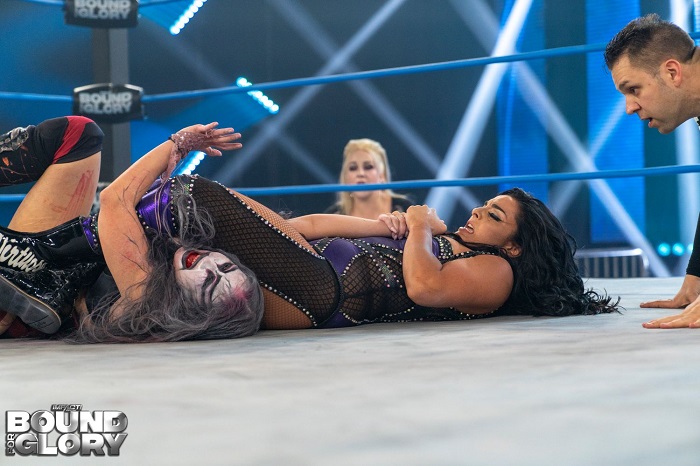 NOT AN EASY TRANSITION TO IMPACT BUT ONE WORTH TAKING
Deonna Purrazzo admitted that getting released from WWE was very difficult for her, but she likes the environment of IMPACT.  The boss of IMPACT, Scott D'Amore, has created something unique in the promotion. It is an "environment where there's camaraderie, and there's communication and there's an open door policy," according to Deonna Purrazzo.
Deonna Purrazzo also stated that she has a goal to give other women wrestlers opportunities and to help elevate the Knockouts division to make it even more groundbreaking and further its legacy.  Even though she has appeared on AEW TV, she seems to like IMPACT, and she doesn't plan to leave the promotion for AEW, at least not anytime soon.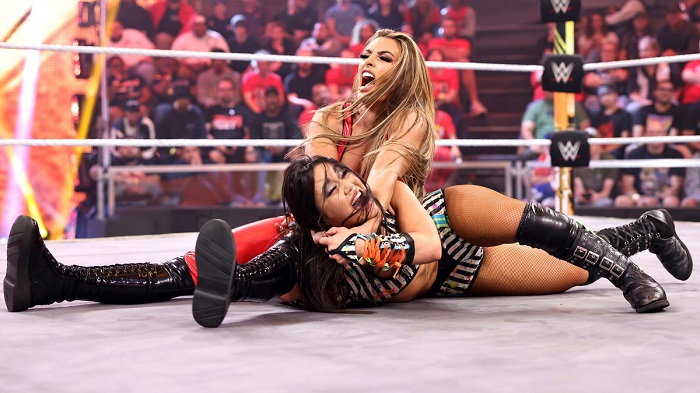 ROSE MUST CHOOSE TO MAKE MONEY IN WRESTLING MUCH MORE OUTSIDE OF WRESTLING
Rose's future is much more of a mystery.  She has not commented on her release other than thanking fans for their support.  She makes a lot of money from her website, so there is a belief she may not return to wrestling and just focus on her web content. WWE has a non-compete clause for released talents, so we will likely not see her in a ring for 30 to 90 days from her release date, depending if she is under the main roster or NXT non-compete period.
What do you think of Mandy Rose Rose joining IMPACT?  Would she do better there or at AEW?  Would you like to see her face Deonna Purrazzo?  Is there anyone else in IMPACT who you think she must face?  Leave a comment below and let us know if you think she will even return to wrestling on The Illuminerdi Twitter account.
KEEP READING: BIG E GIVES BIG UPDATE ON HIS BROKEN NECK RECOVERY
Sources: Metro, Wrestling Inc.