New details on what WWE Superstars and WWE talent are allowed to post on adult subscription sites like OnlyFans have come to light.
The big news of the month has undoubtedly been the news of Mandy Rose's WWE release as we reported earlier. Rose, who was the NXT Women's champion and was the third longest reigning champion in NXT history and was a very dominant champion, lost her championship. On last week's NXT she lost against Roxanne Perez which shocked fans. Shortly after it was announced Rose had been released.
RELATED: WOOOOOO! BECOMING RIC FLAIR DEBUTS OFFICIAL TRAILER AND KEY ART
The reason for Rose's release is what has been the talk of the wrestling town. She had an adult subscription site, FanTime, which is similar to OnlyFans. However, the difference seems to be that the content isn't necessarily "adult." It doesn't matter if FanTime content isn't always "adult" because Rose's was.
What Are Superstars Allowed To Post And Where?
Rose's release brings up the question of what is and what is not allowed to be posted on sites like FanTime? According to Wrestling Inc. who had reached out to WWE to find out what the rules are in regards to using sites like Rose did, the rules are not concrete.
One source reported to have said it came down to common sense. WWE has sponsors, networks, advertisers, charity partners and licensees. It is believed Rose's release was influenced in particular by one licensee in particular, Mattel. The posting of adult content on the internet can upset any one or all of those entities. This forces WWE to act because the Superstar represents the brand of WWE. 
RELATED: MANDY ROSE RELEASED FROM WWE AFTER POSTING MATURE CONTENT ON SUBSCRIPTION WEBSITE
The source also said WWE was also really against their Superstars having OnlyFans creator accounts in particular. Most likely because of OnlyFans association with "adult" content which may be why Rose decided to use FanTime.
Similar Photos Okay On Instagram
Rose likes to post photos on her Instagram which show her in a bikini or not much clothes. WWE doesn't have a problem with this it seems and may even encourage it for all the women in WWE because many have similar posts. Gaining followers and recognition is what wrestlers are supposed to do and posting on subscription sites is a way to get even more money. However, this is where common sense comes into play. Posting "adult" content is something WWE probably won't like.
Rose was reportedly making as much if not more from her FanTime content as she was from WWE. This is saying a lot because she is under a main roster contract as opposed to a NXT contract which would see her making less money. It is believed she was aware her content would get her in trouble and was making so much money she didn't care if it came to light.
RELATED: SCARLETT BORDEAUX WAS INCREDIBLY UPSET WITH LACK OF 2021 CALL-UP
The news of what these Rose photos included has come to light as well. These photos included simulated sex acts and her bare and visible breasts and other body parts. She is also reported to have allowed private requests to have her rate subscriber's body parts.
Slightly More Relaxed Rules In IMPACT
Wrestling Inc. had also reached out to a representative in IMPACT to see what their policy was with this kind of content. Though their rules are a little bit more relaxed they also have a common sense guideline. Some of the women on or formerly on their roster have or had OnlyFans creator accounts. These include Jordynne Grace, Chelsea Green, Taya Valkyrie and Lady Frost. However, the key difference between their accounts and Rose's is their accounts were not known to be too revealing. The line in IMPACT was said to be nudity.
Who Knows What's Allowed In AEW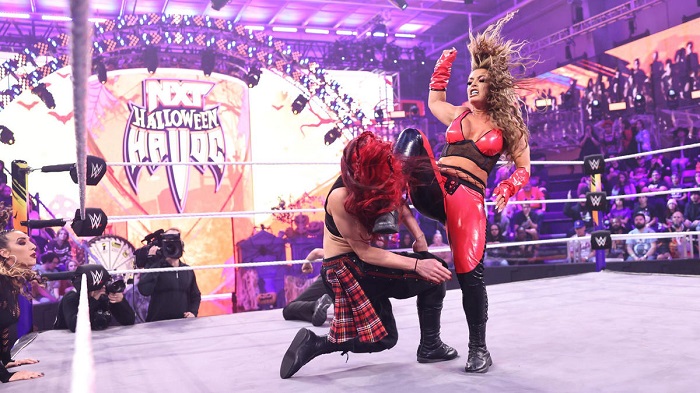 AEW's line when it comes to "adult" content seems to be a lot more blurred. Toni Storm has an OnlyFans, but it is said to not be too racy. However, Paige VanZant's OnlyFans does include nudity. VanZant's AEW status is not entirely clear as she has not been seen in some time, but is listed on the roster.
The popularity of third-party content monetization sites like OnlyFans and FanTime, but also Twitch and Cameo within the wrestling world makes guidelines necessary. What sites are wrestlers allowed to post on and more importantly what are they allowed to post?
Is WWE overstepping by telling Rose what she allowed to do and show of her own body? Would this be as big of an issue if it was a male wrestler like Roman Reigns for example? Will this force clear guidelines? Do you think it would be allowed if they went by their real name and didn't show their face? Let us know if you think AEW will allow this sort of content in a limited way to separate themselves more from WWE.
KEEP READING: KEVIN NASH REVEAL WHY HE HAD A HARD TIME BOOKING WCW
Sources: Wrestling Inc.