Crunchyroll has announced that tickets are now on sale for the upcoming anime movie, That Time I Got Reincarnated as a Slime: The Movie: Scarlet Bond. Fans can now purchase tickets for the film's release in North America on the official website.
the theatrical release of the film is right around the corner, and it will be hitting theaters later this month.
CRUNCHYROLL TO RELEASE THAT TIME I GOT REINCARNATED AS A SLIME: THE MOVIE IN THEATERS
Fans across the globe will get the chance to see the movie in theaters. The film will open in the United Kingdom and Ireland on Jan. 18, Australia on Jan. 19, and the United States and Canada on Jan. 18. A Mexico release will follow on Jan. 26. Crunchyroll is also planning on additional release dates for Europe and the Middle East to be announced soon.
RELATED: CRUNCHYROLL ANNOUNCES SLIME MOVIE CINEMATIC RELEASE DATE FOR JANUARY
Additionally, fans will get the chance to watch the movie in both Japanese with English subtitles as well as the English dubbed version. Both versions will be playing in theaters, so fans will get to choose between their preferred version. Also, moviegoers should be aware that some cinemas in the US will be showing the film on Jan. 19, but the official theatrical release in the US and Canada is still on Jan. 20.
The film is based on the best-selling light novel written by Fuse and illustrated by Mitz Vah, along with the popular fantasy adventure anime series, That Time I Got Reincarnated as a Slime. The series follows 37-year-old Mikami Satoru. After he dies, he's reincarnated in a fantasy world as its most unremarkable creature, a slime.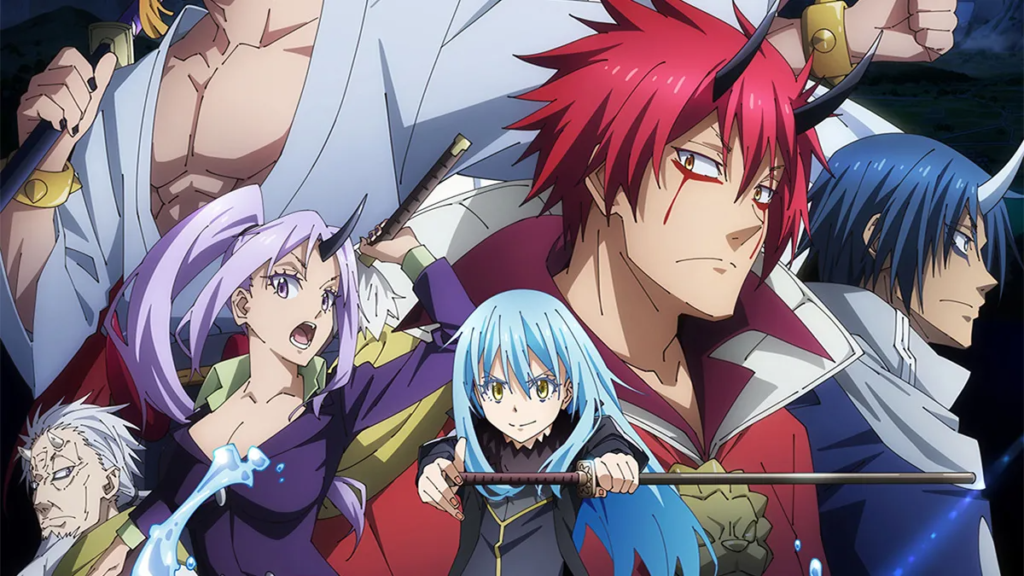 Per the synopsis, there is a long-held conspiracy over a mysterious power utilized by the Queen in Raja, a small country west of Tempest. After a slime who evolved into a Demon Lord by the name of Rimiru Tempest crosses paths with Hiiro, a surviving member of the Ogre race, an incredible new adventure begins, filled with new characters. The powers of bonds will be put to the test.
The film has a runtime of 110 minutes in length. Additionally, fans who want to check out the show or revisit the previous seasons can stream it now on Crunchyroll.com.
RELATED: QUINTESSENTIAL QUINTUPLETS MOVIE IS A BITTER-SWEET, HEART-POUNDING FINALE
Crunchyroll has really been moving full speed ahead on delivering more anime features to theaters over the last year between Dragon Ball Super: Super Hero, One Piece Film: Red, The Quintessential Quintuplets Movie, and now That Time I Got Reincarnated as a Slime: The Movie: Scarlet Bond. It's great to see these films have an opportunity to be seen in front of a larger audience with fans from all over the globe.
Not only that, some of these films are doing impressive numbers for their theatrical releases from Crunchyroll. Dragon Ball Super: Super Hero had a No. 1 box office opening weekend and ended up making $38 million stateside. It outgrossed the domestic theatrical release of Dragon Ball Super: Broly in 2018 at $30 million. One Piece Film: Red did not open as high, but it ended up making $12 million domestically and $179 million worldwide.
Considering that anime audiences used to be very niche and an anime film getting a limited theatrical release was usually a rare occurrence. Not to mention, an anime feature making big numbers such as this in theaters was close to impossible, unless it was a Pokemon film being released in theaters.
What do you think of the news? Are you looking forward to checking out That Time I Got Reincarnated as a Slime: The Movie: Scarlet Bond in theaters, courtesy of Crunchyroll? Do you plan on seeing it subbed or dubbed in theaters? Let us know how you feel about the theatrical release over on The Illuminerdi Twitter account.
KEEP READING: ANIMATION IS FILM FESTIVAL REVIEW: ONE PIECE FILM RED IS A MUSICALLY EPIC, ACTION-PACKED, EMOTIONAL THRILL RIDE
SOURCE: Crunchyroll