Attendees of the 2022 Animation Is Film Festival were treated to the world premiere of the English dub of One Piece Film Red, the latest anime theatrical installment of the smash-hit franchise, One Piece. The new film commemorates the 25th anniversary of Eiichiro Oda's manga series. The film will be receiving a North American theatrical release next month, so fans at the AIF Festival got to watch the English-dubbed version early.
The new movie introduces the character of Uta, a person with a personal connection to Red-Haired Shanks, as well as the Straw Hats Captain Monkey D. Luffy. While this is the fifteenth theatrical anime feature for One Piece, this one has some aspects to give it a bit of a different feel and vibe from past One Piece adventures. While Uta is a new character made for the film, she also has a personal connection to Luffy and Shanks that make the emotional stakes much higher than usual.
RELATED: CRUNCHYROLL REVEALS 'ONE PIECE FILM RED' NORTH AMERICAN RELEASE FOR NOVEMBER 2022
In One Piece Film Red, Uta has heard the cries of the people crying out in pain from The Great Pirate Era. As the world's most beloved singer, she has opted to finally reveal herself with a live concert, with fans and attendees from every corner of the globe. Even the Straw Hats crew has come along to check things out. It's not long until Luffy realizes that Uta is his long-lost childhood friend and the one and only daughter of Shanks.
THE STRAW HATS WAGE AN EPIC BATTLE WITH EVERYTHING ON THE LINE IN ONE PIECE FILM RED
However, while Uta garnered a large following and brought together an amazing gathering of loyal fans, she is determined to bring about a new era of peace and happiness, and thanks to her unique Devil Fruit powers, she has managed to create a captive audience to anyone watching her sing. While Uta's goals may seem benevolent on the surface, they potentially have grave consequences for the entire world.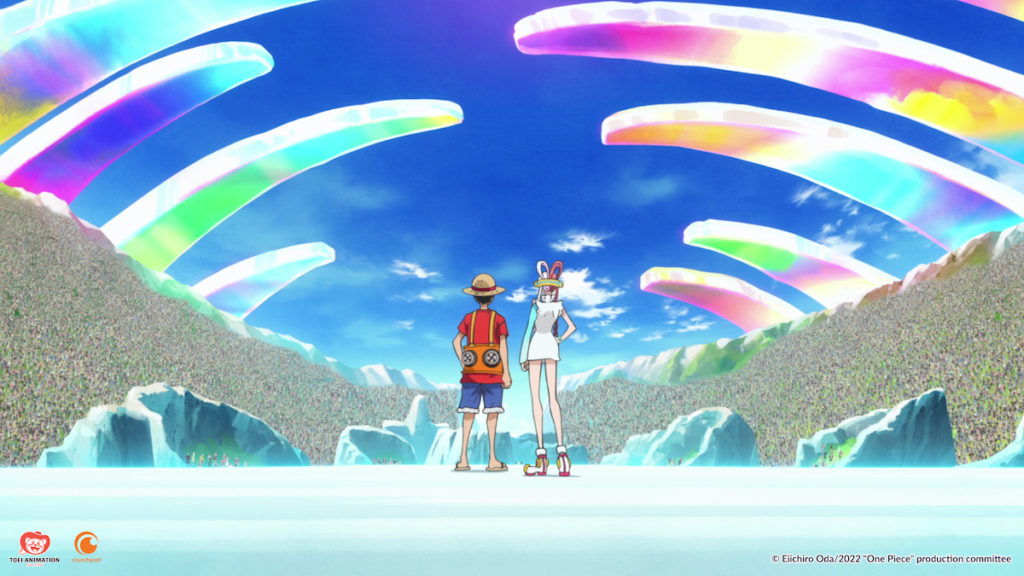 One Piece Film Red sees the return of Goro Taniguchi (Gun x Sword, Code Geass, Active Raid) to the franchise. He previously directed One Piece – Defeat Him! The Pirate Ganzack, an OVA for the franchise that predates Toei's ongoing anime series, way back in 1998. Taniguchi does not favor visual subtlety in terms of the action and stages some insanely large-scale action scenes and setpieces throughout the film. One Piece's theatrical features tend to be visually ambitious and action-packed, and each one seems to up the ante even further. One Piece Film Red is no exception.
Taniguchi and his animation team certainly pushed the visuals of this film to their absolute limits. At times, there was so much chaos and intensity onscreen, it almost felt like the monsters and the pirates were going to bust out of the screen. While One Piece's theatrical features tend to be filler stories that have no actual impact on the main storyline, the tradeoff is getting to see all the favorite characters on the big screen with a much larger budget and some insanely high-quality visuals.
RELATED: ONE PIECE CELEBRATES 1000TH EPISODE AIRING WITH SPECIAL LIVESTREAM
This general plot of the new movie does follow the format of most theatrical features for ongoing Shonen Jump anime shows. This is a filler storyline, but despite being a "filler," the animators are able to play with a theatrical budget, and they do not hold back.
What also makes One Piece Film Red feel refreshing compared to previous theatrical One Piece adventures is the musical aspect. Since Uta is a singer, and the overall setting is a concert, it integrates Uta's songs throughout the film. Uta's singing and her music are part of her powers, so there are multiple musical interludes throughout the film, and each song has its own style. Since Uta has a personal relationship with Luffy and Shanks, it also raises the emotional stakes for the film, especially once Uta's motives are revealed.
The main drawback is that there are so many characters and factions in One Piece, sometimes it can be difficult to keep track of them all. Usually, the films find ways to have all the characters come together and clash and/or team up. One Piece Film Red does both. So sometimes, it can make you appreciate a film like One Piece Film Gold a little more, since its narrative is a bit more scaled down. There are so many characters that most of the Straw Hat crew are basically background characters in this film. Other characters get the spotlight here. Coby is actually constantly saving the day here.
RELATED: 'DUNGEONS AND DRAGONS' DOCUMENTARY IN WORKS FROM HASBRO'S ENTERTAINMENT ONE; JOE MANGANIELLO & KYLE NEWMAN DIRECTING
There is also the presence of the Red Hair Pirates. When you see the Red Hair Pirates in action, you see much longer the Straw Hats have to go. It seems like it could be another 1000 episodes before the Straw Hats get to that level.
Now, the film does explain what is happening, but there are a couple of jarring narrative shifts related to Uta's powers. The movie does bring the audience up to speed later, but it did get a bit confusing at times. As with most One Piece films, it ends with a knockdown, gigantic brawl. This one did not disappoint. The action scenes in One Piece Film Red are so epic and insane, there is no way they can ever be mimicked or achieved in a live-action format for the foreseeable future. Additionally, there is a bit of interesting ambiguity that heightens the emotions of the story and also provides a bittersweet element that feels very true to the One Piece franchise.
RELATED: KOALA MAN ANNOUNCES HILARIOUS NEW CAST MEMBERS AT NYCC 2022
One Piece Film Red is another action-packed battle royal for Luffy and the Straw Hats crew. The musical concert style with Uta gives the film a different vibe from past One Piece theatrical adventures, and it's a refreshing change of pace. Uta's personal connection with Shanks and Luffy also greatly heightens the emotional stakes of the story.
I give One Piece Film Red a 4/5.
One Piece Film Red debuts in theaters in Australia and New Zealand on Nov. 3 and in the United States and Canada on Nov. 4. The English dub features the voices of Amanda Lee as Uta, with the songs performed by Ado, Colleen Clinkenbeard Carroll as Monkey D. Luffy, Jim Foronda as Gordon, Brandon Potter as Shanks, Micah Solusod as Koby, Tyson Rinehart as Bartolomeo, Sonny Strait as Usopp, Luci Christian as Nami, Eric Vale as Sanji, Christopher R. Sabat as Roronoa Zoro, Ian Sinclair as Brook, Stephanie Young as Robin, Brina Palencia as Chopper, Patrick Seitz as Franky, Matt Mercer as Law, Rachel Robinson as Brulee, and Jason Marnocha, as Oven.
The film will be playing in theaters both dubbed and subtitled. Fans can purchase tickets at Fandango.com. Are you a fan of One Piece? Do you plan on checking out One Piece Film Red when it hits theaters next month? Would you prefer to see One Piece Film Red subbed or dubbed? Who is your favorite Straw Hat pirate or character in the franchise? Let us know in the comments below and share your thoughts on the new anime film with us on Twitter!
KEEP READING: ANIMATION IS FILM FESTIVAL REVIEW: WENDELL AND WILD IS A HEARTWARMING ADVENTURE WITH A DARKLY HORRIFIC EDGE