The real star of Marie Kreutzer's Corsage is Vicky Krieps. Playing Empress Elisabeth of Austria, Krieps likely gives the role of her career as an Empress constrained (literally and figuratively) by her husband Emperor Franz Joseph I of Austria (Florian Teichtmeister) and her now "old" physical state. Having recently turned 40, the Empress is concerned about her appearance and weight, refusing to eat, constantly smoking cigarettes, and recently turning to heroin, which her doctor believes is "completely harmless." She further distances herself from her children and husband, whom she suspects is having an affair. 
Vicky Krieps is the real star of Corsage
Krieps completely steals every ounce of the frame she gets and delivers a multi-layered and nuanced performance as Elisabeth. There are lot she conveys through her minimalist facial expressions that represent her literal and figurative exasperation, as her corset (the film's title is the german word for corset, and not to be confused with the bouquet used for prom) gets tighter as the film progresses. That movie aspect works amazingly well because of Krieps' dedication to the role.
Some genuinely surprising and funny moments work terrifically well, especially with how ironic Elisabeth takes in her older age and appearance. Those elements got big laughs from the audience, but her physical corset also means that scenes will be more challenging to watch. 
RELATED: THE WHALE MOVIE REVIEW: BRENDAN FRASER'S COMEBACK FILM IS A DISASTER
Those sequences don't work as well as the ones with a lighter tone, even if Krieps balances out many emotions in a way rarely seen by modern actors today. The way she subtly looks at the camera (without ever breaking the fourth wall) is a thing to behold and the only reason you should immediately seek out the film if it is released in a cinema near you. Krieps' career has been filled with incredible performances, but it may be because of this sole reason that Corsage contains her career best.
Corsage's Dramatic Power Feels Muddled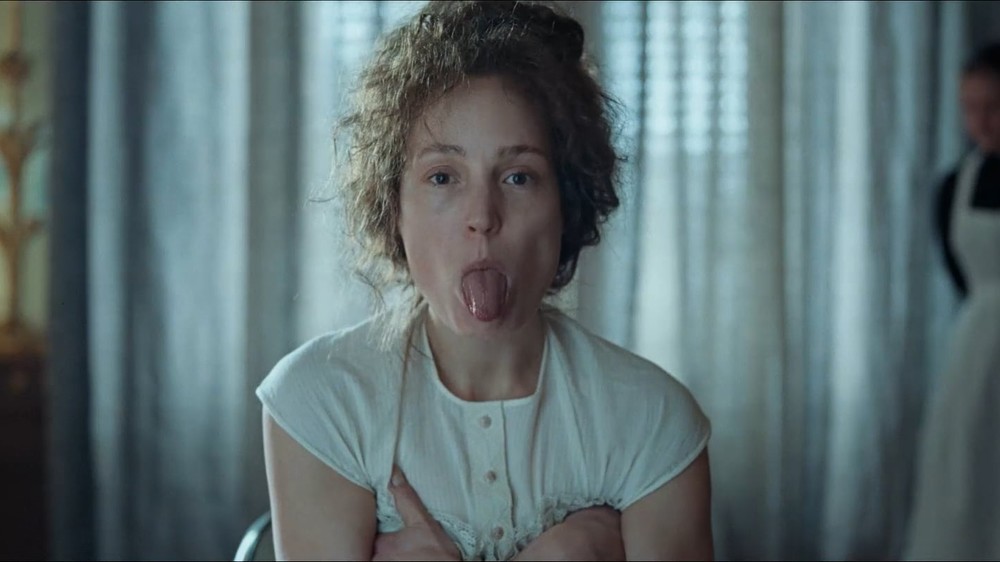 Unfortunately, the rest of the movie feels muddled, especially when it starts to paint Elisabeth's relationship with her husband and daughter. That could've benefited from a more profound expansion of why their marriage is failing, but Kreutzer always stays in surface-level observations of Elisabeth and Franz.
Of course, one has to view the film through the title: the "Corsage" isn't just the thing she wears to maintain a decent enough physical appearance, even if she attempts to be even thinner than she is. The "Corsage" is also how repressive she must act in front of her husband, even if he isn't loyal to her. She wants to let it all out, but her husband's shadow consistently plagues her being. That's an interesting aspect that the film should explore, but it only does it in a placated way. 
RELATED: TREASON REVIEW: AN AVERAGE BRITISH SPY-THRILLER ELEVATED BY OLGA KURYLENKO
There's very little emotional power in Corsage, even if Krieps steals the show and the film is filled with good performances, a terrific visual palette from Judith Kaufmann, and anachronistic music throughout. Many people are talking about how great the end credits sequence from White Noise is, but Corsage's dance end-credits scene is far better, not because it's less exuberant, but solely because Krieps magnifies the screen from beginning to end.
From the moment she pretends to faint (and then explains her method) to the scene in which she dances her heart out to a song that hasn't even been crafted in the 1800s, Krieps completely understood the assignment and deserves all the praise she has been getting for the film and more. It's a shame that everything else is milquetoast and falls completely flat on its face. Oh well.
3/5
Corsage is now playing in select theatres. What did you think of the movie? Does Vicky Krieps deserve serious recognition for her performance? Let us know in the comments below and be sure to follow us on social media!
KEEP READING: BOX OFFICE REPORT: AVATAR: THE WAY OF WATER BECOMES THE 7TH HIGHEST GROSSING FILM OF ALL TIME WITH $45 MILLION WEEKEND HAUL