One Piece Odyssey is an incredible journey that lives up to the franchise and Homer's historic epic.
One Piece celebrates its 25th anniversary with a brand-new RPG, One Piece Odyssey. The game features an original story and characters, guided and created by Eiichiro Oda, that transports the Straw Hat Crew to the legendary island of Waford. Along the journey to Waford, the Straw Hat Crew have lost their powers and have to explore the island and their past to regain them. The journey leads the Straw Hat Crew to relive past events, but with a twist. Things will be familiar, but different from what actually happened in Bandai-Namco Entertainment's new epic RPG.
One Piece Odyssey is the Perfect Way to Dive into the One Piece Franchise
One Piece is one of the world's biggest animes, one of The Big 3. However, countless people who missed the initial hype and did not invest their Rona times into catching up on it, know of the series but are daunted by the over 1000 chapters of manga and episodes of anime the franchise has to offer. Being an incredible, but singular, journey from the beginning, there is no real jumping on point for new fans. Luckily, One Piece has a number of games for players to get into the franchise in an interactive and more concise way of getting into the epic tale.
One Piece Odyssey is one of the best ways since One Piece Warriors 3 to jump into the series.
RELATED: Pokemon Scarlet and Violet Review – A Strong Opening To The 9th Generation
One Piece Odyssey being a story outside of the main story geniusly allows new players and fans, or fans who want a refresher, a way to be introduced to the huge cast of characters all at once, but also still get to know them in easily digestible amounts. Rather than hundreds of manga chapters, or episodes that are 75% the previous episode, the game lets players learn about the characters' traits and personalities with the current adventure while simultaneously sharing the important parts of their history.
The genius of the story is the simultaneous satisfaction of being an introduction but also a fully realized version for longtime fans.
RPG with a Punch
Personally, I am a fan of RPG elements, but usually, not one who likes to play turn-based games outside of tabletop games and strategy games. One Piece Odyssey is a glorious exception. The battle system is robust and active and keeps you from realizing that the game is having you watch the characters do everything. It feels a lot more engaging than simply giving commands and patiently waiting to see the outcome. Though technically turn-based, you are actively doing things whether it is your turn or not.
RELATED: LucidSound LS50X Review – The Absolute Gold Standard of Gaming Headsets
The real fun is exploring the island of Waford. Each character has their own unique ability to traverse or explore the land which enables and encourages you to play as every member of The Straw Hat Crew. However, some of it seems a bit cumbersome, like having to aim Luffy's ability to reach ledges/swinging points. It would be a lot more fun if you could target and reach the points natively from the standard camera rather than having to stop movement and aim. Certain abilities put a hard stop on the gameplay, and the loss of fluidity does take away from the experience.
One Piece Odyssey Isn't as Open as it Seems
The best part about One Piece Odyssey is seeing the world of One Piece brought to life in beautiful and stunning graphics. A fully enhanced 3D world that lets you sit and breathe in it is always a thrilling experience. There's always an extra level of enjoyment in getting to play as one of your favorite characters rather than just watching them. However, its incredible aesthetics also leads to one of the most disappointing factors of the game. It is limited.
One Piece Odyssey draws you in and sort of leads to this feeling of fully exploring and traversing the world of One Piece. However, despite being able to freely walk around, you are often prevented from going over parts of the environment or even stepping into a very shallow portion of water. So you are left looking at this big open world that only allows you to walk on this incredibly tiny path. Your characters are jumping at least two times their own height, but can't make it over a rock that only goes to their knees. You can walk around it and end up in the spot you would have landed if you jumped over it.
RELATED:PowerA MOGA XP7-X Plus Review – Incredible All-in-One Cloud Gaming Solution 
This limiting of common sense movement also greatly affects the exploration of Waford. The screen is flooded with this beautiful environment, but it becomes painfully obvious the direction you have to go. Essentially the game is teasing you with this grandiose open world from one of the most popular franchises on the planet but limiting you to a strict train track through it. The contrast between the open world feeling and expectation the game creates to what you can actually explore often ruins the suspension of disbelief. Thus really hurting the overall enjoyment of the game.
The Straw Hat Crew is a Treasure in Any Medium
While the pseudo-open world aspect of the game, and not optimally fluid traversal, is a bit of a letdown. The game is still hella fun. The story and characters are exactly what fans of the franchise have come to love and this entirely original adventure is a pure joy to experience. It also works incredibly well for not-as-seasoned and new fans to learn about the franchise, characters, and lore, in a very digestible and enticing way. The general gameplay is simple and intuitive, and will easily have players hungry to jump into the next battle. One Piece Odyssey is a fun and gorgeous new adventure that makes the player really feel like part of The Straw Hat Crew.
For being a thoroughly fun, engaging, and gorgeous One Piece experience, I give One Piece Odyssey a 7/10.
One Piece Odyssey releases January 13, 2023, on Xbox Series X|S, PlayStation 4, PlayStation 5, and PC.
About One Piece Odyssey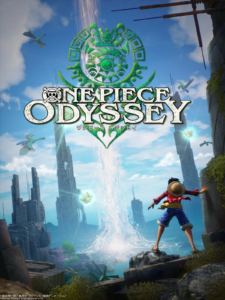 Initial release date: January 10, 2023
Platforms: Xbox Series X|S, PlayStation 4, PlayStation 5, Microsoft Windows
Genres: Role-playing video game, Action game, Adventure game, Casual game, Strategy video game, Adventure
Engine: Unreal Engine 4
Publishers: BNE Entertainment, Namco Bandai Games America Inc.
Developer: ILCA
Composer: Motoi Sakuraba

One Piece Odyssey is an upcoming role-playing video game developed by ILCA and published by Bandai Namco Entertainment. The game is a part of the One Piece franchise, and is scheduled to be released for Xbox Series X|S, PlayStation 4, PlayStation 5, and Windows PC on January 13, 2023.
Have you already preordered your copy of One Piece Odyssey? Who is your favorite character? Will you be playing in your custom One Piece Shirt?
KEEP READING: Logitech G Cloud Review – 2022's Ultimate Cloud Gaming System