Disney Channel's immensely anticipated animated series, Moon Girl and Devil Dinosaur, dropped a new trailer.
Less than one month from now, Disney Channel will be airing the series premiere of their highly anticipated animated series based on the smartest character in Marvel comics, Lunella Lafayette, and her giant red dinosaur. They are better known as Moon Girl and Devil Dinosaur. This unlikely pair of brains and prehistory will work together to protect the Lower East Side of New York City from danger. The series is vibrant, hilarious, and full of heart. Check out the official trailer for a glimpse of what is sure to be a new fan-favorite series for all ages.
New Moon Girl and Devil Dinosaur Trailer
RELATED: Diary of a Wimpy Kid Creator Jeff Kinney Plans to Release One Film a Year
This series looks fun! The art style, the character design, the eye-popping colors, everything about it jumps out of the screen. That's even before experiencing the kinetic performances of the cast. Here is the official cast list from Marvel and Disney:
The series stars Diamond White as Lunella/Moon Girl; Fred Tatasciore as Devil Dinosaur; Alfre Woodard as Lunella's grandmother, Mimi; Libe Barer as Lunella's best friend and manager, Casey; Sasheer Zamata as Lunella's mom, Adria; Jermaine Fowler as Lunella's dad, James Jr.; Gary Anthony Williams as Lunella's grandfather, Pops; and series executive producer Laurence Fishburne in the recurring role of The Beyonder, a curious and mischievous trickster.

-via Marvel.com
In addition to the cast, there are the guest stars announced for Season One:
The season one guest cast includes Gideon Adlon, Pamela Adlon, Anna Akana, Ian Alexander, Alison Brie, May Calamawy, Andy Cohen, Wilson Cruz, Daveed Diggs, Asia Kate Dillon, Luis Guzmán, Maya Hawke, Jennifer Hudson, Dr. Mae Jemison, Josh Keaton, June Diane Raphael, Paul Scheer, Cliff "Method Man" Smith, Cobie Smulders, Wesley Snipes and Tajinae Turner. Recurring stars include Omid Abtahi, Utkarsh Ambudkar, Michael Cimino, Indya Moore and Craig Robinson.

-via Marvel.com
Who are Lunella Lafayette and Devil Dinosaur
RELATED: Spider-Man: Across the Spider-Verse Will Sadly Not Include Spider-Man Noir, Confirms Nicolas Cage
Lunella Lafayette is a 13-year-old super-genius and Devil Dinosaur is a 10-ton T-Rex out of time. This cohesive contrasting duo was first introduced in the first issue of their comic book released in 2015. Lunella first meets Devil DInosaur as he hops through a portal from the Savage Land in order to avenge his former partner, Moon Boy, and reclaim the Nightstone which winds up in Lunella's possession. She intended to use it to help remove her Inhuman DNA in fear of changing from Terrigensis. It is unclear how close to the original origin story the series will be, as Terrigenises did grant Lunella the ability to switch with Devil.
However, the series doesn't look like it will need that aspect and looks to be focusing and emphasizing the contrasts of the characters and the bond they build despite their differences.
Moon Girl and Devil Dinosaur Soundtrack by Raphael Saadiq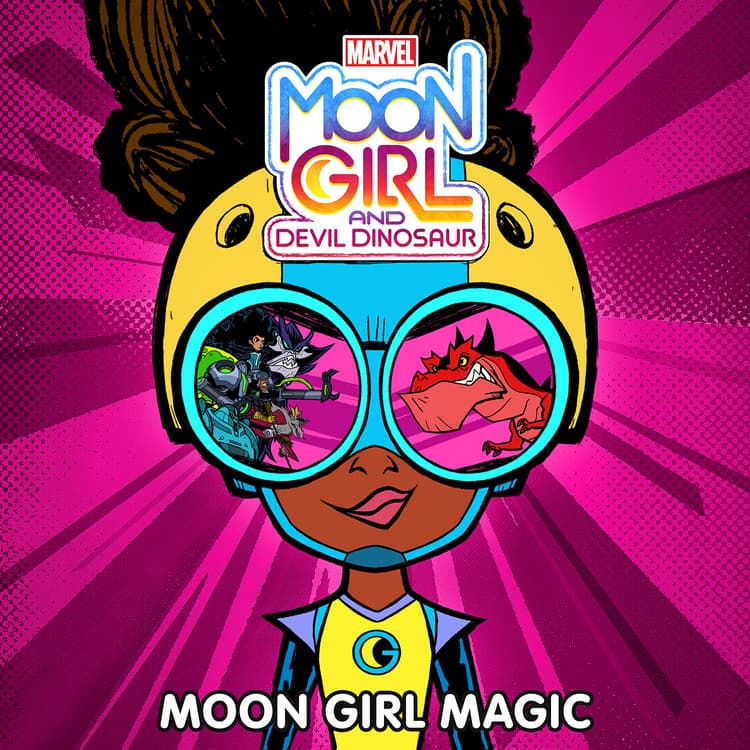 Outside of the visual, performance, and awesome source material to be inspired by, the series boasts an incredible infusion of music. With Executive Music Producer and three-time Grammy Award winner Raphael Saadiq as the series composer, it should come as no surprise. The soundtrack for the series will release on the same day as the series premiere and can now be pre-saved on Spotify and Apple Music.
Marvel's Moon Girl and Devil Dinosaur premieres on the Disney Channel on February 10, 2023, as will the soundtrack. Then the first six episodes will become available on Disney+ on February 15, 2023!
About Moon Girl and Devil Dinosaur
Release Date: February 10, 2023, on Disney Channel, February 15, 2023 Disney+
Executive producers: Laurence Fishburne; Helen Sugland; Steve Loter
Production companies: Disney Television Animation; Marvel Animation; Titmouse; Cinema Gypsy Productions
Composer: Raphael Saadiq
Cast: Diamond White, Fred Tatasciore, Alfre Woodard,Libe Barer, Sasheer Zamata, Jermaine Fowler, Gary Anthony Williams, Laurence Fishburne
Synopsis:
Marvel's Moon Girl and Devil Dinosaur follows the adventures of 13-year-old super-genius Lunella Lafayette (aka Moon Girl) and her 10-ton T-Rex, Devil Dinosaur. After Lunella accidentally brings Devil Dinosaur into present-day New York City, the duo work together to protect the city's Lower East Side from danger.
How excited are you about Marvel's Moon Girl and Devil Dinosaur? Did you already pre-save the soundtrack? Do you think this will crossover into the MCU somehow? Let us know your thoughts and theories for the series on our social media!
Source: Marvel
KEEP READING: Strange World Review – The New Disney Animated Feature is Almost Too Real