Barely one month after the release of Netflix's series Wednesday, the call for a sequel rang all over the world, now fans can rejoice, knowing that their call has been answered.
Season one was released late last year November 23, and barely two months after the release Netflix took to Twitter on January 6, to announce with a trailer that there will be a second season of Wednesday. This is all thanks to its stellar performance and the viral TikTok dance steps.
WEDNESDAY SEASON 2 ANNOUNCEMENT TRAILER
The announcement trailer for the second season of Wednesday began with the series' well-known creepy background song and the gentle closing of the gates of Nevermore Academy. 
Jenna Ortega who played the "child of woe" could be heard saying "Over the past few weeks" while the next scene showed the indifferent young Addams daughter returning to school in what seems to be the beginning of a new session.
She can be heard saying, "I've been hunted," with a different scene showing Wednesday being grabbed by the hyde monster and flung into a huge tree. The next scene featured a sleeping Wednesday being possessed by her witch ancestor Goody Addams.
RELATED: REVIEW: NETFLIX'S WEDNESDAY IS TO DIE FOR.
Ortega's voice could be heard in the background saying "Haunted and mimicked millions of times across the Internet" as a scene of her viral dance steps from season one was featured. The screen went black immediately and seconds later a spooky Wednesday can be seen smiling mischievously while saying "Thank you."
Word by word a display of the words "MORE MISERY IS COMING" appeared on the screen. Thing's hand can be seen trying to communicate, while different scenes from the last season were featured including the bloody prom day.
Just like before, the screen went black and a second later these words, "THE GLOBAL PHENOMENON WILL RETURN" splashed across the screen. Different scenes of fans lined up to watch the upcoming season with some dressed as Wednesday Addams featured. The trailer rounded up with the words "FOR SEASON TWO" plastered on the screen.
Wednesday Addams was shown saying "Honestly, I wish I cared a little more" as the film title WEDNESDAY quietly came up the screen.
SHOWRUNNERS FOR NETFLIX'S WEDNESDAY CAN'T WAIT TO "EXPLORE" THE FICTIONAL WORLD OF NEVERMORE
It's no surprise that Netflix described the film as a "global phenomenon" that's indeed a title well deserved. In a recent interview with Netflix Tudum, showrunners of Wednesday season 1 Miles Millar and Alfred Gough told the outlet:
"We can't wait to dive headfirst into another season and explore the kooky, spooky world of Nevermore. We just need to make sure Wednesday hasn't emptied the pool first."

Miles Millar and Alfred Gough via Tudum
They also went on to share their excitement to start working on the next season. "We're thrilled to continue Wednesday's torturous journey into season 2."
Amongst the people excited at the news of season 2 is Jenna Ortega. After Netflix shared the season 2 announcement trailer, Jenna took to her Twitter to quote and retweet the post by Netflix with the caption "Thanks to everyone who made this upcoming season possible. This has all been pretty surreal."
RETURNING CASTS FOR WEDNESDAY SEASON TWO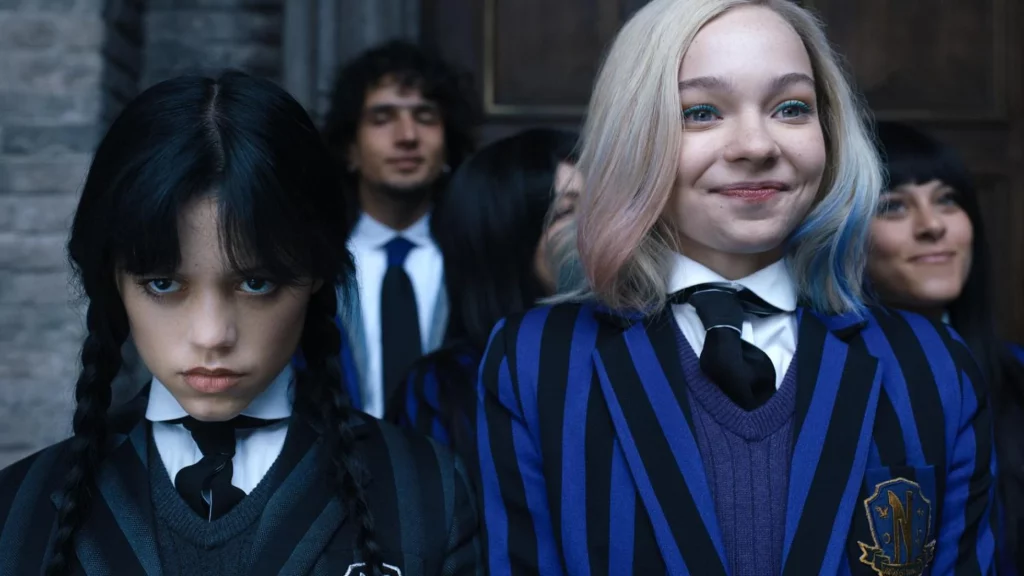 RELATED: THE ROCK SEEMINGLY ADDRESSES HIS RECENT DC FAILURES
While the plot of the upcoming season remains a mystery to us because, from everything shared by the showrunner, the next season will be scarier, we can still take a guess at the returning casts. 
Definitely, the main character Jenna Ortega (Wednesday) would be returning because let's face it there's no Wednesday without Jenna. Emma Myers (Enid Sinclair) Wednesday's werewolf roommate will make it to the next season. After watching Gwendoline Christie (Principal Larissa Weems) murdered before our eyes, we're not entirely certain if the shapeshifter would be returning. For all we know, she might not actually be dead.
Certainly, Jamie McShane (Sheriff Galpin) will be returning because he'll have to at least show us what he did with his badly wounded son Hunter Doohan (Tyler Galpin). Percy Hynes White (Xavier Thorpe) would also be returning for more drama. There seems to be some sort of understanding between Joy Sunday (Bianca Barclay) and Wednesday towards the end of season 1 so yes, Bianca is there.
SPECULATIONS ON THE RELEASE DATE FOR WEDNESDAY SEASON TWO
Season one took a short period of 6 months to complete its filming. The filming started in September 2021 and ended in March 2022. If we're to guess based on the speed with which the first season was wrapped, we'll say season two would be out early next year 2024— that is if they begin filming later this year.
The first season housed 8 episodes which lasts nearly an hour per episode. The next season might follow in the footsteps of season one, or, it may contain more than 8 episodes due to the high demand for it.
If one dead character from the film Wednesday would return in season 2, who would you want it to be, Rowan or Principal Weems? Share your thoughts in the comments below or on our social media. Keep following the Illuminerdi for more Netflix content like this, we're always watching.
KEEP READING: MARVEL STUDIOS ORIGINALLY PLANNED FOR 2 BLACK PANTHERS AT THE SAME TIME IN WAKANDA FOREVER