Ayo Edebiri who's known for playing Sydney Adamu in the hit FX series The Bear has joined the superhero team in Marvel Studios' Thunderbolts, according to Deadline. The role she is expected to play in the film is currently under wraps.
Edebiri will be joining the cast alongside Florence Pugh as Yelena Belova, Sebastian Stan as Winter Soldier, David Harbour as Red Guardian, Julia Louis-Dreyfus as Valentina Allegra de Fontaine, Wyatt Russell as US Agent, Hannah John-Kamen as Ghost and Olga Kurylenko as Taskmaster. Here's what we know about Ayo Edebiri and The Thunderbolts.
AYO EDEBIRI JOINS THE CAST OF MARVEL'S THUNDERBOLTS
Ayo Edebiri is not only an actor but she's also a comedian, writer, and producer. She has appeared in Comedy Central's Up Next and co-hosts a podcast called Iconography with Olivia Craighead. She's best known as a voice actor on Big Mouth and is one of the main cast members on The Bear.
RELATED: NEW JULIA LOUIS-DREYFUS LED PROJECT IS RUMOURED TO BE IN DEVELOPMENT AT MARVEL STUDIOS
In 2022, she received nominations for her role in The Bear. The nominations include the Gotham Awards, the Critic's Choice Awards, and the Independent Spirit Awards. Her next upcoming projects include co-producing and writing for an animated series on Netflix called Mulligan and voicing the lead role for We Lost Our Human which will also be featured on Netflix soon. Thunderbolts will be Edebiri's first major studio role.
While Jake Schreier is set to direct this Marvel film, Black Widow's Eric Pearson will be writing the script while Kevin Feige will be producing it. As of right now, there hasn't been word of what the film will be about but in the comics, it revolves around a group of reformed villains who are sent on missions by the government. In the 1990s, the team started as the Masters of Evil, who disguised themselves as a new team of superheroes called the Thunderbolts as part of a plot by Baron Zemo to take over the world.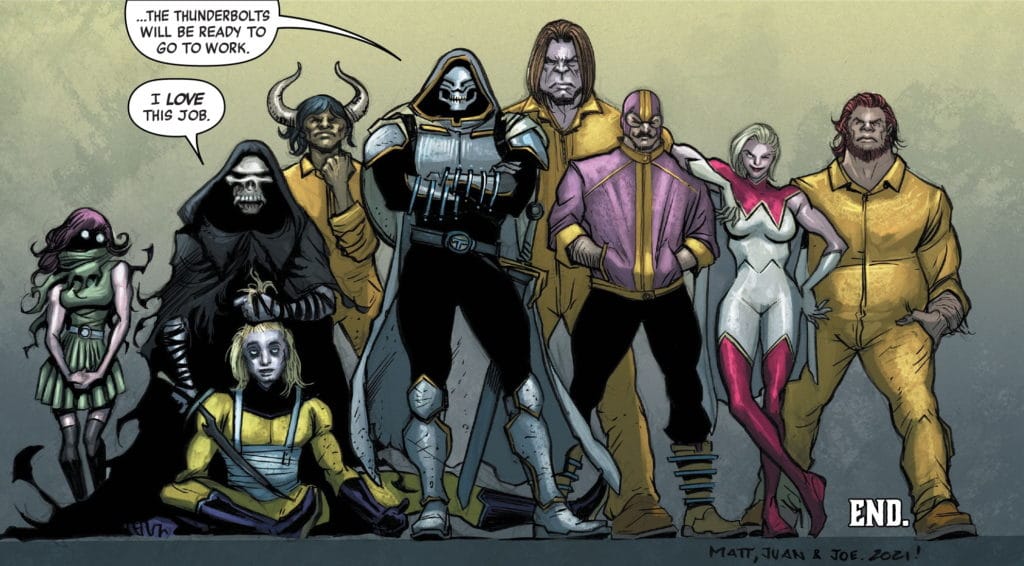 The Thunderbolts made their first public appearance when they fought against the Rat Pack. After a stunt where they save the Statue of Liberty, they were cheered by the people of New York City and recognized as heroes. They were even approached by Dallas Riordan, an ex-NYPD officer. She first served as their government liaison. And later she even assumed the role of Citizen V, a persona assumed by Zemo for the Thunderbolts.
With Riordan acting as the liaison for the Thunderbolts and city hall, the team goes on different adventures. However, after their identities as the Masters of Evil are exposed, Zemo enacts a plot to nearly take over the world. However, the other team members betray Zemo and decide to defect to the good guys.
RELATED: THRILLING THUNDERBOLTS FILM OFFICIALLY IN PRODUCTION WITH JAKE SCHREIER SET TO DIRECT FOR MARVEL STUDIOS!
After the group rejected Zemo as their leader, they were led by a number of individuals over the years, including the likes of Hawkeye, Luke Cage, and The Winter Soldier.
WHO IS AYO EDEBIRI PORTRAYING IN THUNDERBOLTS?
Since Edebiri's character is being kept secret, it's unknown if she is portraying a character from the comics or a whole new character. We already know that the team has already been accounted for unless a new character joins forces with the team. A character could be is Dallas Riorden aka Citizen V. It would make sense for the character to be part of the film, especially when in the comics she's a prominent character.
But this is all mere speculation at this point since we aren't entirely sure what Edebiri's role may be. Thunderbolts will be a sequel to Black Widow and Captain America: New World Order. The film is set to release in theaters on July 26, 2024.
So, what do you guys think? Do you have any theories of what character Edebiri will play in the film? Are you a big fan of the Thunderbolts? What's something you want to see from the comics that will come to life in the film? Let us know in the comments or tweet us your answers at @The_Illuminerdi. Don't forget to follow us on all of our socials!
KEEP READING: DANIEL BRÜHL ON BARON ZEMO'S UNBELIEVABLE ABSENCE FROM THE THUNDERBOLTS ROSTER
SOURCE: Deadline