Ant-Man and the Wasp: Quantumania is the sequel to Ant-Man and Ant-Man and the Wasp, produced by Marvel Studios and distributed by Walt Disney Studios Motion Pictures. Scott Lang and Hope van Dyne (Ant-Man and Wasp), along with Hope's parents (Hank Pym and Janet van Dyne) and Lang's daughter Cassie, wind up in the Quantum Realm via an interdimensional communication device. The family faces Kang the Conqueror, along with confronting Janet's mysterious past.
Phase 5 Begins with Quantumania
Ahead of the release of Ant-Man and the Wasp in 2018, director Peyton Reed felt that the Quantum Realm introduced in the first film and explored in the sequel had story potential. He and Marvel Studios discussed the possibilities for a third Ant-Man film, with several cast members sharing their in the hypothetical project as well. Although Marvel was interested in bringing new filmmakers to bring new imaginings of their superheroes, Reed was hired again because the executives believed that his understanding of the Ant-Man universe made him fit to conclude the trilogy.
RELATED: Nate Moore on How Marvel Studios Changed Internal Screening Policies To Handle Leaks
Because of the COVID-19 pandemic restrictions, filming did not commence until 2021. Throughout 2020, the crew worked on developing the screenplay, hoping to create an engaging, high-stakes adventure that also explores the Quantum Realm for world-building. It would be presented on a grander scale than the first two films, complete with a different aesthetic.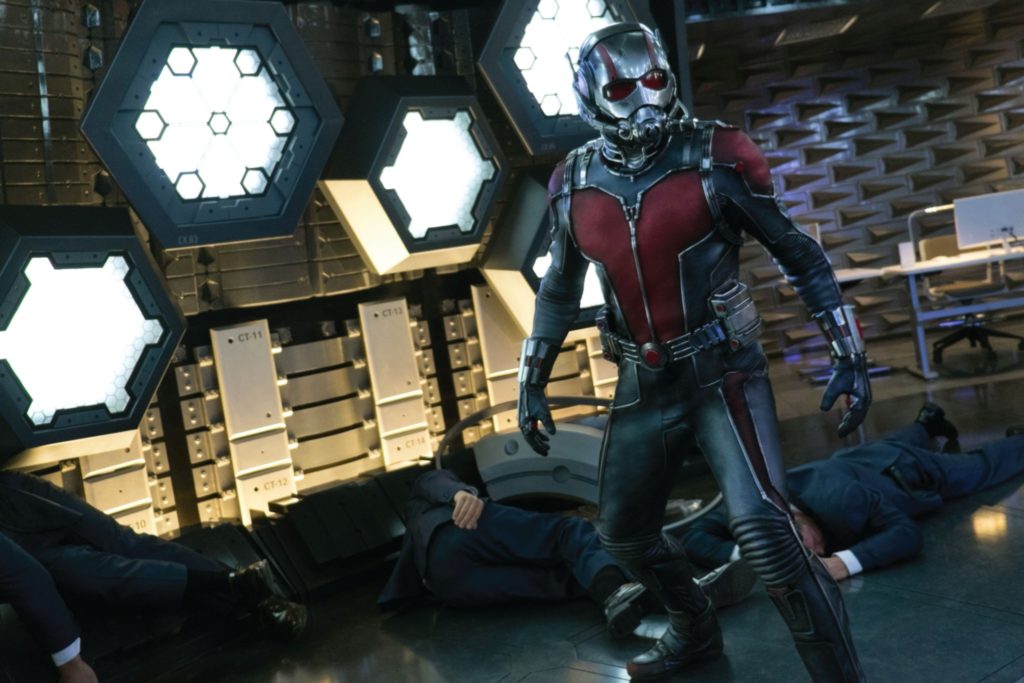 Filming was scheduled for January 2021, but the pandemic delayed it to somewhere between late May and late September. In October, the film's release date was postponed to July 28, 2023, alongside other Marvel projects. However, in April 2022, the release date was moved back to the February 2023 release, exchanging spots with The Marvels, which was still in production. Kang's role as the antagonist of Quantumania would establish the story for The Kang Dynasty, scheduled for release on May 2, 2025.
RELATED: Ant-Man and The Wasp: Quantumania Director Shares the Signature of All of the Ant-Man Movies
Reed directs Ant-Man and the Wasp: Quantumania, with Kevin Feige and Stephen Broussard as producers of the feature. Jeff Loveness, whose writing credits include Jimmy Kimmel Live! and Rick and Morty, wrote the screenplay. The cast includes Paul Rudd, Evangeline Lilly, Jonathan Majors, Michelle Pfeiffer, Michael Douglas, Kathryn Newton, David Dastmalchian, William Jackson Harper, Katy O'Brian, and Bill Murray.
Rudd Reveals Scott's Development
In a press conference, Rudd discussed Scott's character development across the last two features. Rudd relates to Scott in the desire to start a family and become a parent, living a normal life. Although Scott had a love-hate relationship with his new occupation as Ant-Man, he grew to accept it and leave behind his criminal days.
"Well, I think that, you know, he really does -like Peyton was saying- I want to be a dad. And this is, I think, his main focus. So he was always had a kind of love hate relationship with it, I think. But now I feel as if he's accepted it. He's happy that most of it seems to be in the rearview mirror. And now we get to have a kind of a normal life, have some time together. And you know, it doesn't last obviously, as long as maybe he thought it would. But I think that he's kind of grown a lot as over the course of nine years or so that we've been doing these movies.

I mean, this is a guy who like started off, he had a regular job, he was brought into this group, has no innate super abilities, but then he went up and fought Thanos. So he's experienced a thing or two, and he's accepted who he is."

– Paul Rudd, Ant-Man and the Wasp: Quantumania Press Conference
Tracing back to the first Ant-Man, Feige stated that Rudd fits the image of Scott Lang's character. Scott's backstory from a petty thief to a superhero aligns with Rudd, whose charisma makes him sympathetic in the eyes of the audience as he seeks redemption. To prepare for the role, Rudd worked with trainers and underwent a carb-free, fat-free, teetotal diet. It demonstrated how one must endure hardships and build character to earn a happy ending.
Ant-Man and The Wasp: Quantumania releases exclusively in theaters on February 17, 2023. Tickets are now available
ABOUT ANT-MAN AND THE WASP: QUANTUMANIA
Release Date: February 17, 2023 (USA)
Director: Peyton Reed
Cinematography: Bill Pope
Screenplay: Jeff Loveness
Composer: Christophe Beck
Producers: Kevin Feige, Stephen Broussard
Cast: Jonathan Majors, Paul Rudd, Evangeline Lilly, Kathryn Newton, Michelle Pfeiffer, Micahel Douglas, Bill Murray, William Jackson Harper, Katy M. O'Brian, Randall Park
Post-Credit Scenes: 2

Synopsis:
Super-Hero partners Scott Lang (Paul Rudd) and Hope van Dyne (Evangeline Lilly) return to continue their adventures as Ant-Man and the Wasp. Together, with Hope's parents Janet van Dyne (Michelle Pfeiffer) and Hank Pym (Michael Douglas), and Scott's daughter Cassie Lang (Kathryn Newton), the family finds themselves exploring the Quantum Realm, interacting with strange new creatures and embarking on an adventure that will push them beyond the limits of what they thought possible.

Directed by Peyton Reed and produced by Kevin Feige, p.g.a. and Stephen Broussard, p.g.a., "Ant-Man and The Wasp: Quantumania" also stars Jonathan Majors as Kang, David Dastmalchian as Veb, Katy O'Brian as Jentorra, William Jackson Harper as Quaz and Bill Murray as Lord Krylar. The sci-fi adventure opens in theaters on Feb. 17, 2023
Are you excited for Ant-Man and the Wasp: Quantumania? Do you already have your tickets? What do you hope to see in Phase 5? Let us know in the comments and on social media!
KEEP READING: Knock at the Cabin Review – Shyamalan's New Film Recreates Annoyance of Unwanted Solicitors