The Kikai Sentai Zenkaiger Memorial Edition for Twokaizer's Geardalinger has been revealed as an upcoming release from Premium Bandai. The personal changer for the Pirate-Powered Ranger will be released with new features and a show-accurate size. The Changer for the Memorial Edition line will also feature a surprise additional gear for a live show exclusive. Here are the full details regarding the upcoming Zenkaiger Geardalinger Memorial Edition and all that the release will include.  
Kikai Sentai Zenkaiger featured a surprise additional Ranger as Zocks Goldtsuiker debuted as the Gokaiger-Inspired Gold Ranger, Twokaizer. His Changer could be used as a wheel or a tambourine for his transformation sequence and functioned as his weapon, which could be used as a gun or Sword. Played by Atsuki Mashiko, the Ranger was also joined by his sister and twin brothers that acted as supporting characters in the series. This included inventor and genius, Flint Goldtsuiker (Hinami Mori), and his SD-altered brothers, Cuttanner and Rikki.
RELATED: ZENKAIGER STACEASER'S AWESOME MORPHER RELEASED AS MEMORIAL EDITION
The Memorial Edition line has recently released the main Changer for the core team, which included the gears for all the Rangers including Zenkaizer. This was the only release for the 45th Super Sentai series in the line, which included various lines from all 5 Rangers. Diecast Gears were also included for Zenkaizer, along with Zenkai Juran, Zenkai Magine, Zenkai Gaon, and Zenkai Vroon, which are the Kikainoid Rangers representing different Robos from past Super Sentai teams. Flint Goldtsuiker also appeared as Gokai Flint in the G-Rosso Stage show as an exclusive Ranger that didn't appear in the series, which was a Silver and Purple version of Twokaizer with Flint-inspired accessories.
Zenkaiger Twokaizer's Memorial Edition Geardalinger  
The Memorial Edition Geardalinger Changer for Twokaizer features a 130% increase in size, making it a show accurate scale to the Changer. The release will also include diecast Gears for Twokaizer and for the Cuttanner and Rikki forms that represent Shinkenger and Ohranger respectively. The release will also include the first release for G-Rosso stage show exclusive, Twokai Flint, with her personal Zenkai Gear. Voice lines from the actors and sound effects from the show will also feature for this version of the release, which will be exclusive to the Memorial Edition version.
Twokaizer has been a beloved addition to the Super Sentai franchise and even featured in a special crossover with Kaizoku Sentai Gokaiger. His dance-based transformations and iconic past Sentai influences have made him a fantastic addition to Zenkaiger, along with the whole Pirate World family. The Deluxe toy released for the Changer was on a smaller scale compared to the live-action show, so this Memorial Edition will be a fantastic treasure for fans of the Sentai and its Character. The Diecast Gears were an expected feature but it's great that Cuttanner and Rikki Gears will be included in the set.
The Twokai Flint Gear will also make this release even more desirable as the Silver Ranger was only seen in the G-Rosso stage show. The BGM included with this Premium Bandai Changer is going to be loved by many Sentai fans, especially the "Yo-Ho-Hoy" and catchphrases delivered by Mashiko. It will be interesting to find out all the different transformation sounds for this device and what the line will release next for Zenkaiger.
RELATED: WHY KIRAMEIGER AND ZENKAIGER MEMORIAL EDITION MORPHERS ARE VALUABLE FOR COLLECTORS
One of the items that fans have been wondering about is whether Zenkaizer Black from Avataro Sentai Donbrothers will be given a separate release, but no confirmation has been released yet. The set will include the following features and items as part of the set for the release. 
Geardalinger Changer with size increase of over 130% from the original toy, with Screw holes covered.
Diecast Zenkai Sentai Gears for Twokaiger, Cuttanner, Rikki, and the exclusive, Twokai Flint Gear
4 BGM songs along with Zox and Flint modes implemented for dialogue playback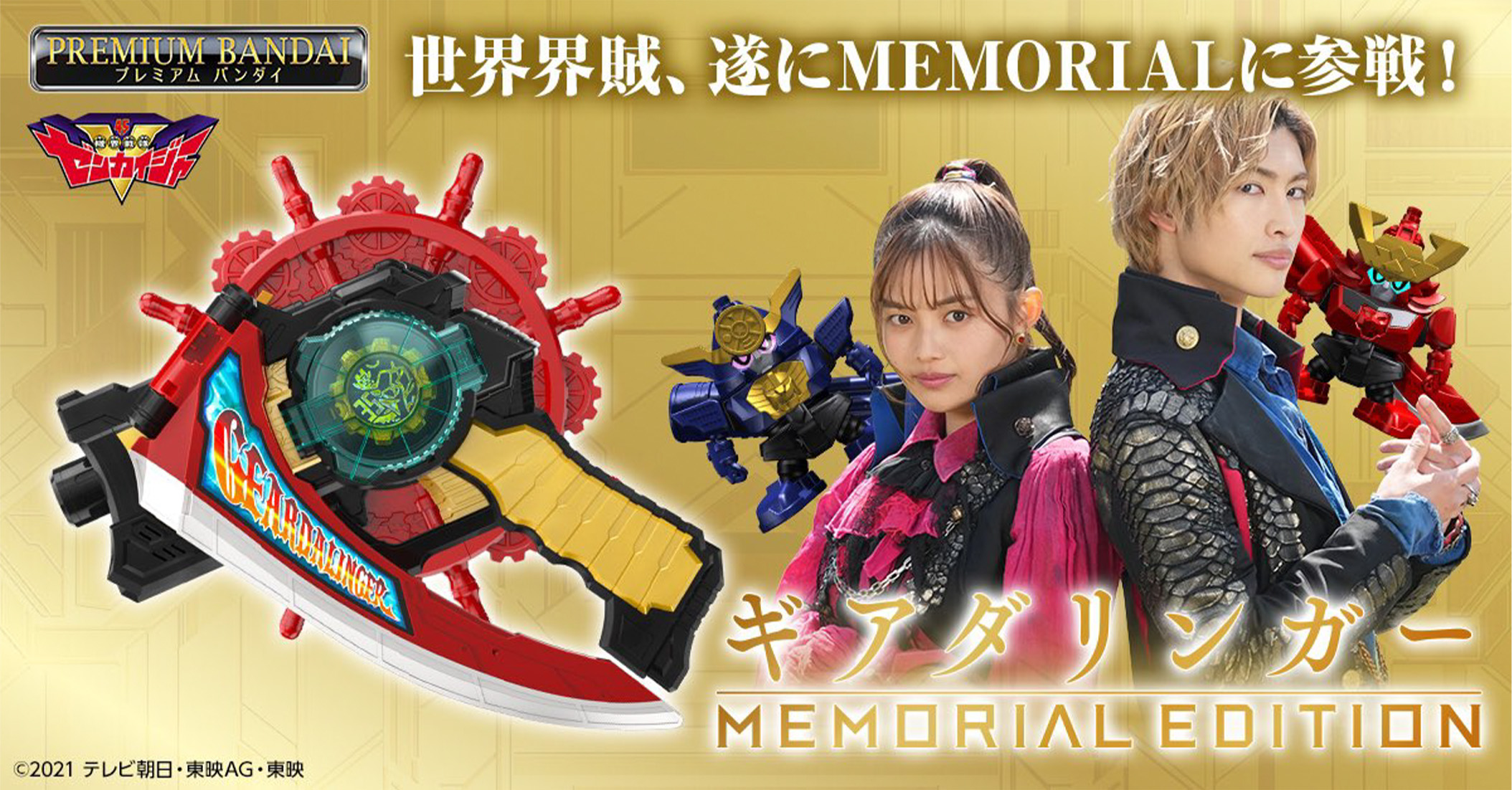 Kikai Sentai Zenkaiger Geardalinger Memorial Edition will be scheduled for release in July by Premium Bandai. This will be released in Japan for 19,800 JPY, with the pre-order period running from February 8, 2023, to March 23, 2023, for Premium Bandai Japan. Check your favorite Toku stores for available stock and pre-orders for this Premium Bandai release.
What do you think of the Zenkaiger Geardalinger Memorial Edition? Are you a fan of Twokaizer from Kikai Sentai Zenkaiger? Are you excited about the exclusive diecast gear for Twokai Flint? Let us know on social media and keep following The Illuminerdi for more Super Sentai content, we're always watching.
KEEP READING: QUANTUMANIA: PAUL RUDD SHARES WHAT GETS SCOTT BACK IN THE SUPER HERO LIFE FROM HIS HAPPY CIVILIAN LIFE
Source: Tokullectiable, SentaiFive