Karrion Kross discusses his disappointment with his current place on the roster and how he hasn't shown his full potential.
Kross looks like he should be one of the top guys in WWE. He is a big muscular man who has an incredible intensity. It helps a lot that his manager is Scarlett who is just as terrifying and looks like Scarlett. In NXT the couple imposed their will on all who opposed them and everything was working for them.
RELATED: THE UNDERTAKER ADDRESSES BRAY WYATT COMPARISONS AND HIS MYSTERIOUS WHISPER
However, when Kross was called up to the main roster in July 2021 he was given a bad gimmick and an immediate loss to Jeff Hardy. He continued to struggle with bad booking and he and Scarlett were released a few months later.
In August 2022 Kross and Scarlett were brought back by Triple H and were one of the first of Triple H's rehires. Fans were excited to see Kross and what he can do with Triple H backing him. However, it hasn't quite worked out like that.
While a guest on Josh Martinez of New York's Z100 radio's Superstar Crossover, Kross spoke about what fans can expect from him in the future.
"I think you're gonna be able to expect compelling storytelling," Kross said.. "If I am granted and allotted the time to romance the audience and 'Shakespeare' them into what it is that I am very good at doing, which is laying down the foundations of eliciting an emotional response to get people interested in what we're doing. You're gonna see some great storytelling.

And one of my jobs that I have kind of given to myself is to help fans see different layers of people that maybe they haven't seen before that I'm gonna be working with. I like to put people in different situations and circumstances that perhaps they hadn't been in prior to working with me. So that's what they're gonna get." (8:20-9:00)

H/T To Wrestling Inc. For Transcription
Back And Facing Top Guys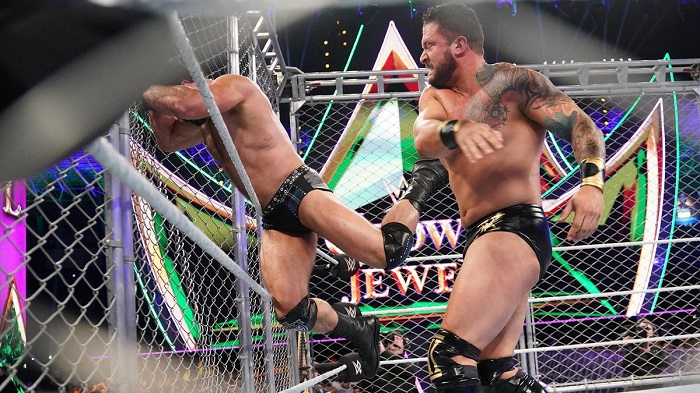 Since returning to WWE Kross has spent the majority of his time feuding with Rey Mysterio and Drew McIntyre. Kross and McIntyre traded wins back-and-forth in some of the most brutal matches in recent WWE history including a Strap match and a Cage match. Recently Kross has begun feuding with Madcap Moss and Emma and recently had a Mixed-Tag match win over them.
RELATED: CODY RHODES TALKS LOW OF SUDDEN INJURY AND ULTIMATE HIGH OF WINNING ROYAL RUMBLE
Kross got very vulnerable talking about where he is currently in his career and how he knows he can do better.
"This is probably unhealthy and I shouldn't say it, but I'm just gonna kinda wing it," Kross said. "I actually get really pissed, because it's not enough. It's not enough. I haven't reached my full potential yet and people haven't seen my best work yet. I know what I can do and at this level.

You need to be afforded certain types of opportunities. Which is difficult with a big roster and only two hours of the program and I know that once I am afforded that particular shot, because I've been afforded a lot, let's not get it twisted. Once I am afforded that particular shot to demonstrate what I can really do, what I've done where people on a major scale haven't seen it. People are gonna be blown away and I'm gonna fight for that every single week. To get closer and closer to that shot and I'm being straight with you, I'm being very real." (10:18-11:07)
Good But Not Quite Great … Yet
Kross has not reached the same level as he was in NXT or his time in Lucha Underground. He seems to be missing something and it is not opportunities for big matches. McIntyre is someone who is in the main title picture and a former champion. Maybe it is a certain shot like he said. Kross and McIntyre's match didn't live up to the potential and maybe he isn't the right opponent for Kross.
An idea fans had for Kross was having Kross join Bray Wyatt's faction. Prior to Wyatt returning to WWE he put out promotional videos referencing a white rabbit which was Kross' name in Lucha Underground and led fans to believe he was joining Wyatt's faction. Perhaps being in Wyatt's faction and being an enforcer will grant Kross the right opportunities.
What do you think of Kross' current run on the main roster? What do you think he is missing to show his full potential? Do you think he is just one of those guys who just doesn't work on the main roster? Is putting him with Wyatt a good or bad idea? Let us know who is an opponent who can bring out his full potential.
KEEP READING: SETH ROLLINS EXPLAINS WHY HE HATES CM PUNK AND LOGAN PAUL
Sources: Superstar Crossover, Wrestling Inc.