WWE Hall of Famer The Undertaker clears up comparisons between himself and Bray Wyatt and what he whispered to Wyatt at Raw 30 during a recent SportsNet interview with Tim & Friends. While the Hall of Famer and former champion is no longer an active wrestler and WWE Superstar, he still continues to make special appearances. 
A few weeks ago we got to see one of those special appearances on Raw 30.  This special edition of Raw took place on January 23 and celebrated Raw being on the air for 30 years. The  Undertaker came out in his classic American Badass attire for last month's surprise appearance.
RELATED: CODY RHODES TALKS LOW OF SUDDEN INJURY AND ULTIMATE HIGH OF WINNING ROYAL RUMBLE
THE UNDERTAKER CLEARS THE AIR ON COMPARISONS WITH BRAY WYATT AND MORE
Even though the fans were excited to see Undertaker the person in the ring trying to cut a promo was not. LA Knight fled the ring to escape Undertaker, but then Wyatt, who he was set to face at Royal Rumble just a few days later came out to make a surprise appearance. Knight was stuck between the two of the scariest individuals in WWE history.
Wyatt and Undertaker double-teamed Knight, allowing Wyatt to hit Knight with his signature maneuver, the Sister Abigail. As Undertaker left the ring, he whispered something to Wyatt in his ear. The wrestling world started buzzing about this little moment between the two of them.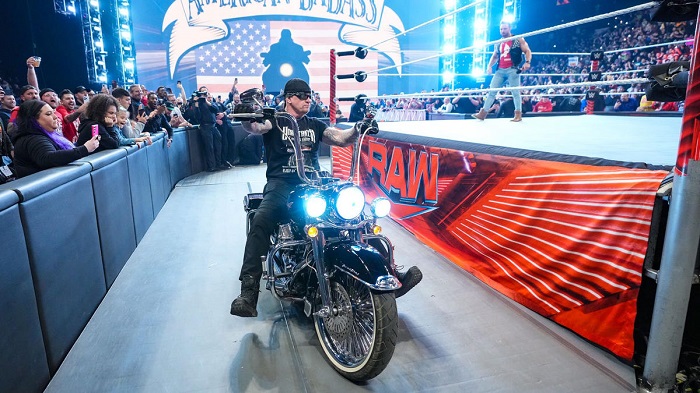 The Undertaker was recently a guest on SportsNet's Tim & Friends, where he talked about this moment and what he thinks about the comparisons between Wyatt and himself. He stated the following:
"[A lot of fans are interested in what you whispered to Bray Wyatt] Yeah, no, they were very interested and I knew that they would be when I did it. That's the moment that Bray and I shared, you know. There's obviously a huge amount of comparisons between his character and mine. I think, you know, he's his own guy. He's his own character. I don't think it's fair to him to compare what he does to what I did.

"In the big scheme of things, obviously it's in the same, you know. It's kind of in that same supernatural. I don't know what genre. But it's 2023, and he's doing his own thing but, you know, I can appreciate, I can see what he's trying to do."

H/T To SportsKeeda For Transcription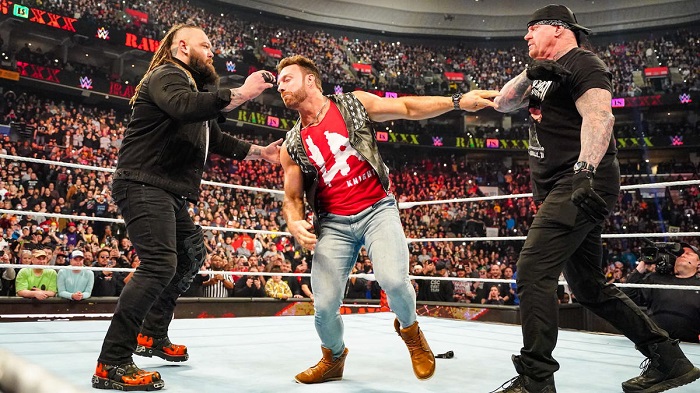 The main reason fans compare The Undertaker and Wyatt is because of the supernatural nature of their gimmicks. However, the nature of their gimmicks are very different. Wyatt's persona is much more of a serial killer, cult leader, and criminally deranged person with voodoo or black magic mixed in. The Undertaker is a demon in the form of a man mixed with blood sacrifices. American Badass is an evolution of his traditional character, but he's more human and rides a motorcycle. The key is the motorcycle.
Seeing them in the ring together makes fans wish they were from the same era in wrestling and not Wyatt breaking in as Undertaker hit the last few years of his career. Both of them facing off in their primes would have truly been a sight to behold.
RELATED: GUNTHER EXCITED AT THE POSSIBILITY OF WRESTLING THIS CHALLENGING WRESTLER ONE DAY
After Raw 30, one of the main topics of discussion by fans was what Undertaker said to Wyatt.  The look on Wyatt's face looked terrified, so people were desperate to know what he might have said.  Speculation ranged from words of encouragement to threats and everything in between. It was even speculated that The Undertaker's whisper could be setting up a future match between the two.
Well, wonder no longer because The Undertaker revealed what he whispered in Wyatt's ear during the interview:
"I just let him know too that, you know, my phone's always on and if he needs to talk to me about things or run things by me, that's cool. I would be more than glad to share my experiences with him and hopefully shine some light on maybe questions that he has moving forward. So, yeah, it was a cool moment, and it did exactly what I thought it would do."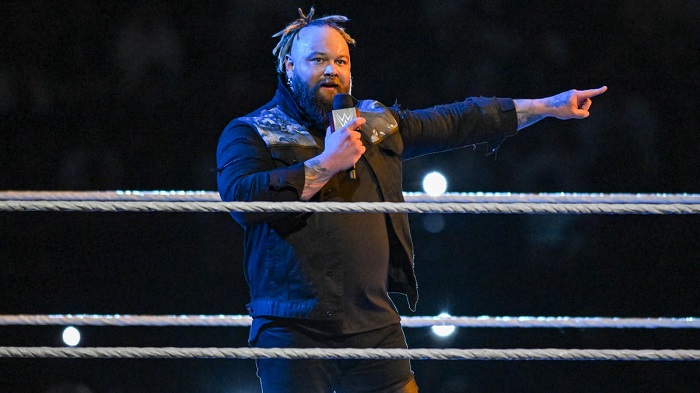 WHO BETTER TO HAVE IN YOUR CORNER THAN THE UNDERTAKER
Having one of the top wrestlers of the '90s, Attitude Era, and into the 2010s saying he wants to help you is such a valuable asset. The Undertaker is one of the greatest wrestlers of all time and being able to bounce ideas off of him, especially when their gimmicks share a lot of similarities, must be an amazing offer from The Phenom.
Wyatt has been back in WWE for a while now and has been cutting a lot of promos. It appears that a new variation of The Wyatt family has been set up to emerge for a while now, but the only new minion we've seen in service of Wyatt is Uncle Howdy.  We still don't officially know who Uncle Howdy is, but rumors say that Uncle Howdy is Wyatt's brother Bo Dallas. Hopefully, The Undertaker will tell him to speed up the storyline because it is taking a while to progress.
What did you think of the intimate moment between Wyatt and Undertaker? Do you think Wyatt and Undertaker teaming up in their primes would have worked, or are they both too good to take a backseat to the other? What do you think of The Undertaker taking Bray Wyatt under his wing?  If there's a wrestler you wish could take you under their wing, let us know who it is by chiming in on The Illuminderi's Twitter account.
KEEP READING: JERRY LAWLER DOING WELL & RECOVERING AFTER SUFFERING MAJOR STROKE
SOURCE: SportsNet, SportsKeeda