WWE Superstar Sami Zayn spoke about how he felt after his main event title match at WWE Elimination Chamber and what it meant to him. During the show's post-fight press conference that took place on Saturday night after the premium live event in Montreal, Zayn spoke to the media about what it was like to headline the show in his hometown.
You can view the full post-fight press conference, featuring Zayn's comments, in the player below:
SAMI ZAYN ADDRESSES ELIMINATION CHAMBER MAIN EVENT LOSS AT PRESSER
Sami Zayn has found himself in the number one underdog position in WWE. Anyone going against Roman Reigns is going to be the underdog at this point because he is so dominant. However, Zayn went into the match in his hometown, as he grew up just 30 minutes from Montreal, with grit and determination.
RELATED: RICKY STEAMBOAT SAYS THIS CURRENT WWE SUPERSTAR LEFT A HUGE IMPRESSION ON HIM IN FCW
Zayn fought with everything he had and almost pinned Reigns for the three-count multiple times. However, Reigns was able to pick up the win and retain his championships.
During the post-Elimination Chamber press conference, Zayn talked about how the match was a dream come true which he echoed on this week's Raw, but the outcome was not. He stated the following:
"I'm feeling very strange, and I can't put my finger on it. It was kind of an unhappy ending tonight. I'd be lying if I said it doesn't affect me. Of course, this [main eventing a PLE in Montreal] is a dream come true … I almost said something inappropriate there. Do you ever have a dream where it's going in a certain direction and you wake up right before? That's kinda what this was.

"It was like a dream, it was surreal, it was everything you could ever want … but the storybook ending obviously has a certain ending to it, and that's now what happened. I can't act like there's a small part of me that wishes I could have given that ending to the people, the story, myself, family, friends, fans and the city of Montreal."

H/T To Wrestling Inc. For Transcription
Reigns came into the match thinking Sami Zayn would be a pushover and an easy day in the office  He couldn't have been more wrong. Early on, Reigns was picking Zayn apart, but Zayn refused to quit and as time went on the hometown crowd gave him superhero strength like I haven't seen since Hulk Hogan used to "Hulk out."
Zayn took every Superman Punch and Spear from Reigns and kicked out. He even delivered some Superman Punches of his own with plenty of Helluva Kicks added in. At the end of the match, the Usos were the deciding factor yet again, and Reigns was able to get his hands on a chair and end Zayn's night with a loss.
RELATED: CODY RHODES TALKS LOW OF SUDDEN INJURY AND ULTIMATE HIGH OF WINNING ROYAL RUMBLE
Zayn talked about how hard it was looking up at the crowd after the loss and seeing a personal hero like UFC Hall of Famer George St-Pierre disappointed in him. He continued:
"Looking into the crowd after the three count, just seeing their faces, I was like, 'This is not fun.' They were so hurt, so deflated, but not in a storyline sense. Georges St-Pierre was in the crowd, and it was almost kismet that he was, because this guy to me was the benchmark of a Montreal athlete. I still don't know if anyone is comparable to him.

"In a weird way, the vibe going into this week was of a big fight feel like GSP was fighting in Montreal. They were chanting 'Olé' and 'FU Roman' throughout, there was just a buzz. It was like GSP coming back to Montreal and losing, it was a downer, even if the fight was great, which it was." 
ZAYN WENT TO WAR WITH REIGNS
Going toe-to-toe with Reigns and coming out in one piece is a huge feat. Not only did Sami Zayn come out in one piece, but he pushed Reigns to his limit, maybe the furthest during Reigns' current run as champion.  
Some good to come out of the loss was Kevin Owens returning to WWE. When Sami Zayn was getting beat up after the match, Owens returned to repay the favor he owed Zayn. The tension was still there, so their friendship may not be completely restored.  We will see what this means for them and if they can put their differences aside to take on The Bloodline. Owens said they have a common enemy and he will work with Zayn, but will that be enough?
Even though Zayn is currently pretty bummed about the loss he can admit what he and Reigns were able to achieve with their match was extraordinary. He went on:
"On a cognitive level, I'm well aware of what we did was awesome," Zayn said. "If I go back and watch, I'd probably ask myself why I'm bummed. We created magic without even touching for like five minutes, and they were on their feet throughout! But at this exact moment, I feel strange. I may have a different answer for you tomorrow."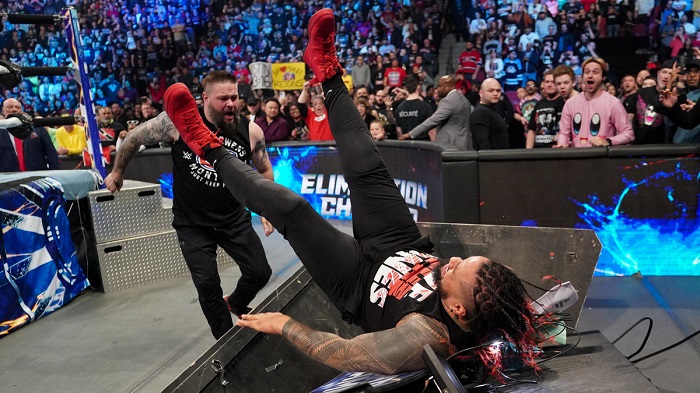 There is no doubt that after that match Sami Zayn has just become a lot of people's favorite wrestler. It was the best match of the night by a lot.
Were you disappointed by Zayn's loss?  Do you think he will get another chance at Reigns?  Is Sami Zayn ready to be the champion?  Do you think Cody Rhodes will defeat Reigns and if so can Zayn beat Rhodes?  Will Zayn and Owens team up at WrestleMania?  Let us know what you would like to see next from Zayn on The Illuminerdi Twitter account.
KEEP READING: TRIPLE H INTERESTED IN SIGNING MYSTERIOUS BIG NAME FREE AGENT FOR WWE
Sources: WWE, Wrestling Inc.