WWE Chief Creative Officer Triple H is reportedly interested in signing a huge-name free agent over some other just big-name free agents. According to a report from Dave Meltzer with The Wrestling Observer Newsletter, a major free agent is said to be an internal priority for WWE to sign at the moment.
With the new year just past us, it seems to be free-agent season. This is a late Christmas gift for Triple H as he is big on signing and re-signing big-name wrestlers.  One of those big names which WWE fans are excited about is the possibility of Jay White joining WWE. White's NJPW contract is set to expire soon.  
RELATED: KENNY OMEGA REVEALS HOW WORKING IN WWE DEVELOPMENTAL ALMOST MADE HIM QUIT WRESTLING
JAY WHITE APPEARS TO BE READYING TO EXIT NJPW
White recently did an interview with Sports Illustrated where he talked about what the future may hold for him in wrestling. He stated the following:
"So much is possible. Impact, AEW, WWE—we'll see." White said: "I'm at peace with it. I don't know if there is much more I could have done. I don't feel like I left a bunch of boxes unchecked. I've been living it, so it can be hard to appreciate it in the moment, but as I move on, I've started to look back at the weight some of it holds. As time goes on, I hope people appreciate it even more. To me, I was doing what I was meant to be doing. Now I'm looking at what's next."
White made his name in NJPW and is a former IWGP World Heavyweight champion and IWGP Heavyweight champion.  He is a member and leader of the Bullet Club. Recently, he has been working a lot in the US having wrestled in AEW and IMPACT Wrestling.  He competed at AEW×NJPW: Forbidden Door in a match against "Hangman" Adam Page, Kazuchika Okada, and Adam Cole where White came out victorious. 
WWE HAS A BIGGER MAJOR FREE AGENT IN MIND THAN JAY WHITE
White is currently at the top of his game, and WWE is taking a strong interest in him. However, according to Dave Meltzer of The Wrestling Observer, WWE is looking at a free agent even bigger than White. Meltzer wrote:
"A much bigger major free agent in play right now that was internally the priority."

H/T To Cultaholic For Transcription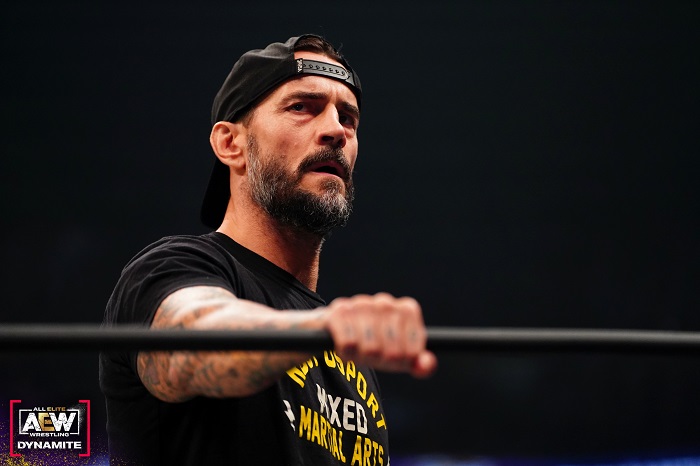 The identity of this mystery-free agent is just that, a mystery. White is a very big free agent so bigger free agents must be the face of their old promotion. Names that have been thrown out there at that level are undoubtedly Kenny Omega and CM Punk.
Both Omega and Punk are currently in AEW. The two have a history that includes a real backstage brawl. Punk is currently out with an injury, but is said to be highly disliked in the locker room and no one knows if AEW wants him back. WWE is an option for him, but with his recent reputation would they want him back? Not to mention, it's unknown if his contract status would enable him to return to AEW, and if he even has free agent status.
RELATED: AEW – BRITT BAKER COMMENTS ON ADAM COLE'S BIG RETURN
Omega on the other hand is extremely well respected. He is considered one of the best wrestlers in the world today. WWE signing Omega would be signing a day-one main eventer and a huge loss to AEW. The only thing which may prevent it is loyalty.  He is an executive vice president and a founding member of AEW.  However, Cody Rhodes had an even bigger role in creating AEW and left so who knows?
It was previously reported by The Wrestling Observer that Omega's AEW contract would expire in February. However, Omega is one of the company's Trios Champions, and he's advertised for the company's debut in Winnipeg in March. Since Omega spent most of 2022 on the injury shelf, that might've added some additional time to his existing contract. However, it's not clear if Omega is a free agent at this point.
Another wrestler who has briefly wrestled in NJPW and for WWE has also expressed an interest in returning to WWE. Kota Ibushi wrestled in the Cruiserweight Classic tournament in 2016.  Even though his name is far from the level of Omega and Punk, he would be a massive get for WWE. Ibushi told Dark Puroresu Flowsion he is keeping his options open but is interested in returning to WWE and possibly helping to train new wrestlers in the WWE Performance Center. He stated the following:
"Just spoke with Kota Ibushi. He has HIGH interest in AEW but said he would not rule out WWE currently 'Of course, I'm interested in it. I'm good at producing players & I've created stars, so I don't think there's anyone who can control me even in that frame. I live so freely'" H/T Dark Puroresu Flowsion

"Kota Ibushi has told me. If the WWE allowed him to also train & create the next generation of wrestlers at the performance center. Among having some high profile matches. He would most certainly work with WWE." H/T Dark Puroresu Flowsion
Ibushi, like White and Omega, is a former IWGP Heavyweight champion and also held the IWGP World Heavyweight championship. If WWE were to sign White or Ibushi I imagine they would start in NXT, but it is hard to imagine Omega going to NXT and obviously Punk would not.
It is hard to imagine who else is out there who is a bigger star than White except for Omega, Punk, and maybe Ibushi. This is one of the exciting parts of being a wrestling fan and seeing big names debuting in a new promotion. However, it's still not clear if Omega and Punk are even free and clear from their AEW obligations in order to sign with WWE.
Do you think White will end up in WWE?  Out of Omega, Punk, and Ibushi who would you most like to see debut in WWE?  If it isn't one of them, who do you think it is?  Do you think Omega would ever leave AEW? Let us know some dream matches you want to see if any of these men debut in WWE on The Illuminerdi Twitter account.
KEEP READING: RICKY STEAMBOAT SAYS THIS CURRENT WWE SUPERSTAR LEFT A HUGE IMPRESSION ON HIM IN FCW
SOURCE: SportsKeeda, Dark Puroresu Flowsion, Sports Illustrated, Dark Puroresu Flowsion, The Wrestling Observer, Cultaholic, SportsKeeda