Tekken World Tour 2023 will return the event for this year with in-person events starting next month. Fans of the Tekken video game franchise will be able to participate in various events, including various tournaments that allow any player to enter. The latest tournaments will be hosted around the world for the latest installment of the fighter game series, Tekken 7. The event starting at EVO Japan will allow players to compete using a leaderboard point system, which will end with the global finals.  
The Tekken World Tour series is a global event that brings fans of the Tekken video game series together for competitions each year. From Bandai Namco Entertainment Inc. along with production partner Reset Gaming, the event brings an international offline tournament series where the best fighters can compete to be crowned The King of the Iron Fist. This event was previously held last year, which saw 'Ashes | Atif Butt' claim the title for the 2022 event.
Get Ready for Tekken World Tour 2023
RELATED: 'Pokémon Together' Campaign Revealed Ahead of Pokémon Day
Bandai Namco Europe S.A.S. announced at the TEKKEN World Tour 2022 Global Finals that next year's tournament, TEKKEN World Tour 2023, is coming this March as an entirely in-person Tekken 7 competitive event. The tournament will feature a global leaderboard, with results tallied from region-free and in-person MASTER+, MASTER, CHALLENGER, and DOJO events held throughout the world. The top players from each event type will be awarded with points, with the highest point earners on the global leaderboard eventually advancing to the Global Finals to fight for the title TEKKEN World Tour 2023 Champion. 
Check out the all-new TEKKEN World Tour 2023 trailer.
This year's initial MASTER+, MASTER, CHALLENGER, and DOJO in-person competitions begin at EVO Japan on 31st March, followed up with MIXUP in Lyon, France on 22nd April. For more information on event dates, locations, and signups, please visit tekkenworldtour.com and spread the word on social media with #TWT2023.
During TEKKEN World Tour 2023, players will have several opportunities to earn points and climb the leaderboards via several types of events. These include:
DOJO Events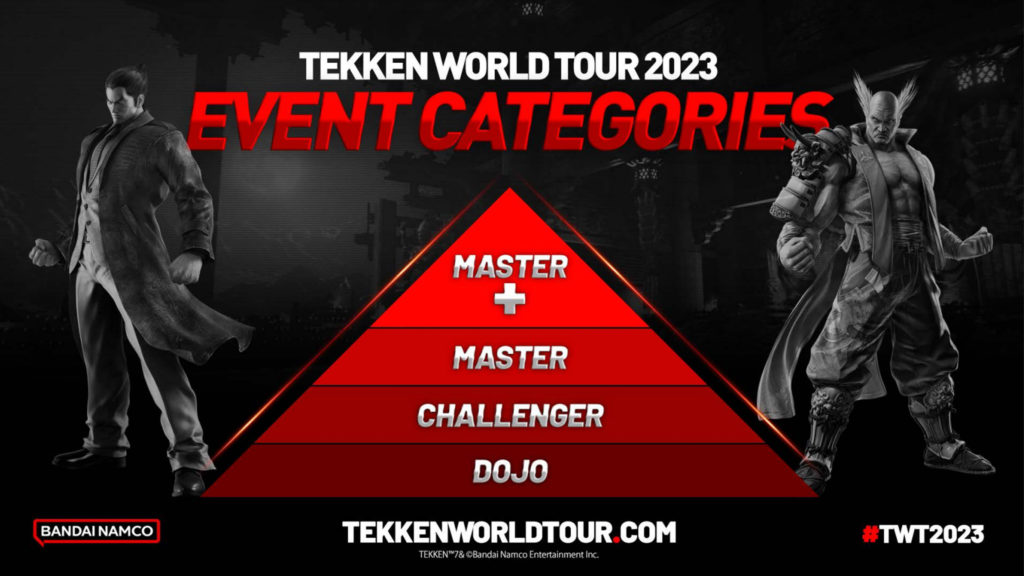 Beginning in mid-March, tournament organizers can enter their applications for DOJO events directly through the TEKKEN Esports Tournament Portal. DOJO events for Tekken World Tour 2023 will start from 31st March. These events are offline, in-person competitions open to all players around the world, with the number of awarded points being scaled according to the number of participants. Live streams and stream verification will now be required for all participating DOJOs. For tournament organizers, more information will be coming soon on the official tekkenworldtour.com website.
RELATED: Nina Williams Joins the TEKKEN 8 Roster
MASTER+, MASTER and CHALLENGER Events 
With these events, players will be able to freely participate and earn points at events all over the world. These are officially supported, and the stakes are higher with more points awarded for the global leaderboard.
This is a fantastic opportunity for fans to test their mettle no matter where they reside, with participation included for everyone. The Dojo events are a great way to connect fans of the fighting game series, which also allows various scales based on the number of players that attend. The global leader board will also be a veteran's player goal, giving fans around the world the greatest challenge. It will be exciting to find out who comes out on top when the event begins at the end of March.
Tekken World Tour 2023 events will begin from March 31, starting with the DOJO events for in-person competitions. Full dates and locations are to be announced soon for the upcoming events in your area.
What do you think of the Tekken World Tour? Do you wish to compete in the tournaments this year? Have you enjoyed playing Tekken 7 on your favored platform? Let us know on social media and keep following The Illuminerdi for more gaming news.
Source: TEKKEN World Tour, BNEesports
KEEP READING: Tetris Official Trailer Showcases The Unbelievable Origin of the World's Most Popular Game