Apple TV+ will tell the unbelievable origin story of the world's most popular game, Tetris.
Today, Apple TV+ has released the trailer for their upcoming film Tetris, starring Taron Egerton, Nikita Efremov, Sofia Lebedeva, and Anthony Boyle. Egerton stars as Henk Rogers. Rogers first played the game in 1988 and became instantly taken by it, then made it his life's work to bring the game to players all around the world. Tetris is the story of how Henk Rogers risks everything to travel to the Soviet Union to join forces with the game's inventor Alexey Pajitnov (Nikita Efremov) and make the moves that turned the game into the most popular game in the world.
Tetris Official Trailer
RELATED: John Wick: Chapter 4 Final Trailer Showcases A Ruthless and Boundless Fight For Life
When the Tetris movie was announced, it was met with a lot of skepticism. Mainly because a lot of people thought they would be turning the tetrominoes into characters. Luckily that is not the case and instead, the story focuses on the origins which lead to Tetris becoming the cultural icon and staple it is today. The game is known globally, as one of the first games to seem to cater to everyone regardless of gender, age, and experience with games. For Gen X and Y, it is likely the only game the whole family has played, and often the only game many boomers are even willing to try.
Tetris Stills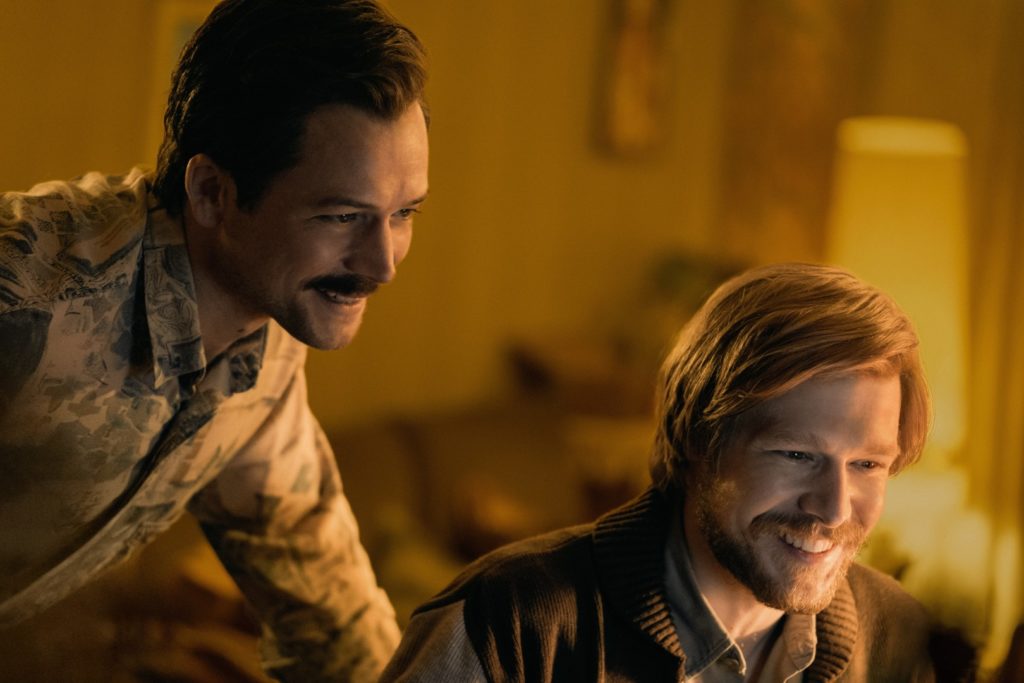 RELATED: Violent Night and Sonic the Hedgehog Writers Reveal What Games to Replay Before Sonic 3
Most would never imagine such an approachable game would have an intense political and, seemingly, physically dangerous origin story. But if the events of the trailer are more truth than exaggeration, Tetris was created by a Russian, represented by an American, and distributed by the Japanese. It is a global collaboration that, to this day, unites players all around the world. There are countless digital matches being played daily and numerous tournaments where players come and try to drop tetrominoes better than the next. If the movie gets even a portion of players who have played the game to watch it, it's going to be a smash hit.
Tetris premieres exclusively on Apple TV+ on March 31, 2023.
About Apple TV+
Apple TV+ is available on the Apple TV app in over 100 countries and regions, on over 1 billion screens, including iPhone, iPad, Apple TV, Mac, popular smart TVs from Samsung, LG, Sony, VIZIO, TCL and others, Roku and Amazon Fire TV devices, Chromecast with Google TV, PlayStation and Xbox gaming consoles, and at tv.apple.com, for $6.99 per month with a seven-day free trial. For a limited time, customers who purchase and activate a new iPhone, iPad, Apple TV, Mac or iPod touch can enjoy three months of Apple TV+ for free.
About Tetris
Release Date: March 31, 2023, exclusively on Apple TV+
Director: Jon S. Baird
Producers: Gillian Berrie, Gregor Cameron, Matthew Vaughn, Len Blavatnik
Production Companies: Marv Studios, Access Industries
Distributed by: Apple TV+
Music By: Lorne Balfe
MPAA Rating: R
Cast: Taron Egerton, Mikita Efremov, Sofia Lebedeva, Anthony Boyle

Synopsis:
"Tetris" tells the unbelievable story of how one of the world's most popular video games found its way to avid players around the globe. Henk Rogers (Taron Egerton) discovers Tetris in 1988, and then risks everything by traveling to the Soviet Union, where he joins forces with inventor Alexey Pajitnov (Nikita Efremov) to bring the game to the masses. Based on a true story, "Tetris" is a Cold War–era thriller on steroids, with double-crossing villains, unlikely heroes, and a nail-biting race to the finish.
What do you think about the Tetris movie? Did you have any idea of how the game came to be? Which version of the game is your favorite? Let us know your thoughts and impressions about the movie on social media!
Source: Apple TV+
KEEP READING: Ant-Man and the Wasp: Quantumania Review – Marvel Begins A New Dynasty