Keith Lee wants to make history in AEW and become the first Black AEW champion.
Keith Lee has become a big force in AEW since joining the promotion in February of last year. He first showed what he can do while teaming with Swerve Strickland to form the Swerve in Our Glory tag team. The pair were a steady part of the AEW Tag Team Championship picture. They eventually won the tag titles by defeating Powerhouse Hobbs and Ricky Starks and The Young Bucks who were the champions at the time.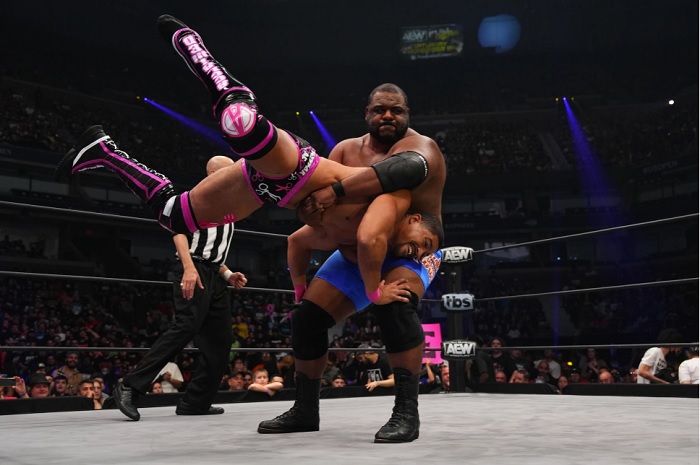 Since then Keith Lee and Strickland have had a falling out. Strickland stomped Lee's head through a cinder block and officially ended their partnership. It's definitely one way to end a partnership, but it seems like just talking about it could have worked just as well.
RELATED: CJ PERRY ALLUDES TO BIG REASON SHE HASN'T APPEARED IN AEW
 Since going solo Keith Lee has set his sights on AEW's top prize, the AEW World Championship. However, he told The Masked Man Show that he doesn't just want to win it, he wants to do a first in AEW.
"Any time an individual goes to a company. It doesn't have to be sports related, it doesn't have to be physical, but you go somewhere, and most people with goals and ambition," Lee said. They want to be that number one talent, that number one person, that number one mind, whatever it may be. The end goal is obviously to become AEW World Heavyweight Champion. And, let's be honest, I'm really good at making history, which in AEW would be a Black world heavyweight champion."

H/T To Wrestling Inc. For Transcription
Wants To Make History In AEW
Keith Lee winning the AEW World Championship is hardly unrealistic. He has the size and experience to be a challenge to anyone on the roster. Since going solo he has been looming in the shadows and mostly dealing with his ex-tag partner, Strickland, but once that is done whoever is holding the top championship needs to be prepared to have their hands full.
RELATED: WWE STAR MARK HENRY KILLED "SILVERBACK" ANGLE BECAUSE OF RACIAL UNDERTONES: EXCLUSIVE
The list of AEW World champions is not a long one. Only six men have held the allusive championship and none of them have had darker skin. Winning would be a big deal and because AEW is still a young promotion it still has a lot of firsts to be claimed.
Has To Overcome Stiff Competition And Not Only One Who Could Make History
If Lee wants to take the AEW World Championship he has to overcome some stiff competition. Currently MJF has the championship, but he will defend his championship against Bryan Danielson on March 5, at AEW: Revolution. Neither of them would be an easy win for Lee when he decides to challenge for the top title.
RELATED: JON MOXLEY TALKS ABOUT HUGE RISK OF LEAVING WWE FOR AEW
Lee isn't the only Black AEW wrestler who could step into the AEW World Championship. Hobbs is also a very real possibility for achieving that first in AEW.
Champions Come In All Shapes And Sizes
Keith Lee also expressed that being the first Black AEW World isn't his only goal. He also wants to show some body positivity to the AEW audience as Lee has a body type which went out of fashion a long time ago.
"I'm more than capable of carrying myself in a way that would be befitting and beneficial to a company," Keith Lee said. "Not to mention I'm setting different standards in terms of what's acceptable in this gross societal industry of people trying to tell you what it means to be beautiful or what it means to represent in a way that they deem as useful. And that's what I intend to do."
Keith Lee doesn't physically fit what wrestling has deemed "ideal body for a champion." He is overweight and has a belly, but it doesn't mean he can't go 60 minutes with the top guys in wrestling. The McMahon era of all the top guys having to be in perfect shape is ending which is great. Determining who deserves to be champion based on how tall they are or how much they weigh and not on what they can do in the ring has kept fantastic wrestlers out of the title picture. I look forward to seeing guys who look like Lee and Otis holding world championships more often.
Do you think Keith Lee is ready to be the AEW World champion? Do you think he will be the first?  If not Lee then Hobbs or someone else? Does Lee have the body of a champion or should it go to someone more "in shape?" Let us know who in AEW would be the biggest challenge for Lee in AEW if he wants to become champion.
KEEP READING: ARN ANDERSON TALKS ABOUT WHY RON SIMMONS WAS A SPECIAL TALENT
Sources: Wrestling Inc., The Masked Man Show